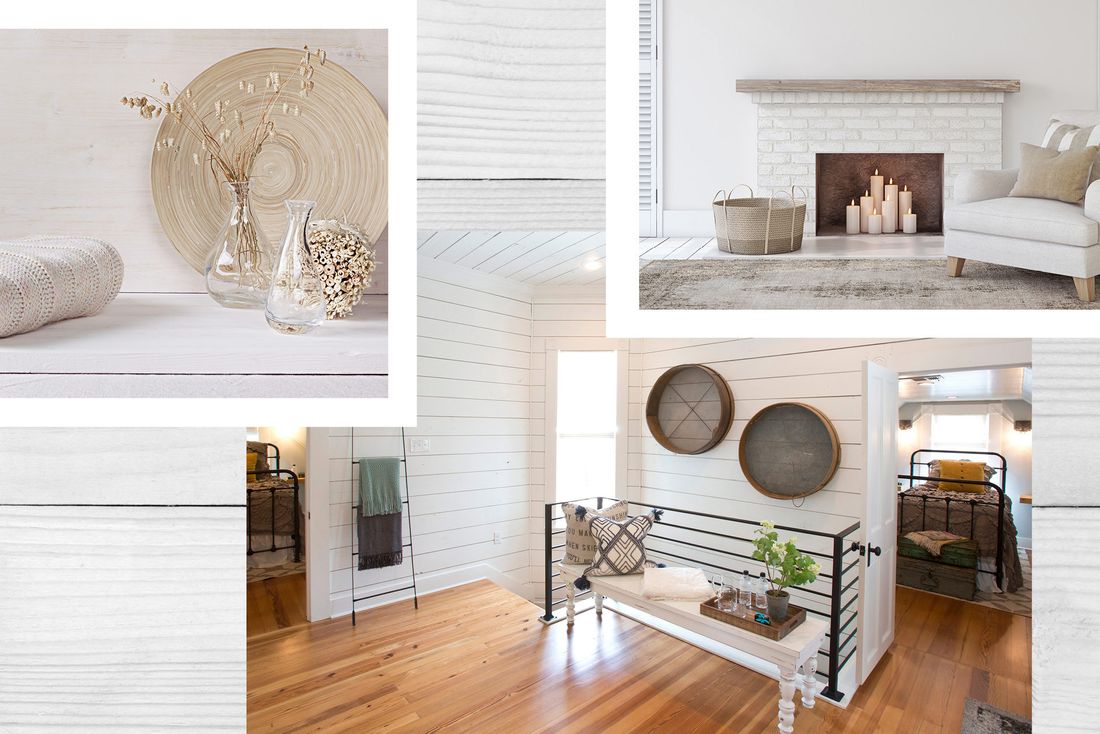 Photo: Shutterstock; Shutterstock; Getty Images
This story was originally published by Curbed before it joined New York Magazine. You can visit the Curbed archive at archive.curbed.com to read all stories published before October 2020.
I was late to the Fixer Upper party. Of course, I'd heard about the show and its hosts, Chip and Joanna Gaines, but I didn't catch on to what a big deal the show was until well into its run. When I finally hunkered down to watch some episodes, I was intrigued by the fact that these people were decking out house after house in one particular style — often a perplexing choice for the homes' architecture — so that they all looked the same. What I didn't know was that this look had a name, and it would become the decorating trend du jour: The now-ubiquitous "modern farmhouse" look.
A decade ago the phrase "modern farmhouse" would perhaps have referred to a newly built actual farmhouse, but today it conjures a checklist of decor elements that add up to something a little bit country, a little bit industrial, and a whole lot of white paint. Shiplap paneling? Check. Reclaimed wood? Check. White walls and wide planked floors? Check, check. A few vintage accessories, an apron sink, and some barn-style lighting? Check, check, check. The look is so predictable, it's formulaic.
What is surprising is that such a readily recognizable look is just a few years old. The New York Times first used the phrase "modern farmhouse" in an October 2016 article describing the work of the Jersey Ice Cream Co., an interior-design firm that gained attention in the early 2010s for home makeovers that layer in reclaimed wood, antique finds, and farmhouse sinks. Google tracks the use of the phrase "modern farmhouse" as nearly nonexistent from 2004 (when the search engine began tracking phrases) to 2015, with a sharp climb beginning in 2016 and continuing upward and upward with each passing month.
Before there was "modern farmhouse," there was "shabby chic." Founded in 1989 by Rachel Ashwell, Shabby Chic started out as a shop in Santa Monica filled with vintage furniture, a sea of white slipcovers, and accents of floral chintz. While the shabby chic look was more feminine than modern farmhouse, the two share several traits, including distressed woods, a whitewashed palette, and vintage everything.
Shabby chic's rise corresponded to the beginning of a recession in the late 1980s. Writing in the New York Times, Penelope Green explained how the look spoke to the country's economic outlook at the time: "Ms. Ashwell intuitively positioned herself in opposition to the buttoned-up decorating styles associated with the financial excesses of the 1980s and the subsequent recession, which was soon to be in full bloom."
Green's observation about the timing of shabby chic's rise could just as easily be applied to the rise of modern farmhouse following the crash of 2008. This time, instead of being a reaction to '80s excess, the trend was a response to the flipper mentality of pre-crash America, which saw home renovation as a guaranteed gold mine. The look of the modern farmhouse style harkened back to a simpler, humbler ambition of homeownership. Plus, the style itself was cheap and DIY-able: You could paint things white and nail up shiplap yourself.
Following Ashwell, there were many decorators who played with this mix of a country look (rustic wood, humble antiques, and simple silhouettes) paired with "modern" furnishings and accessories, whether they were actual midcentury modern pieces or those with the clean lines that we call "modern" — a combination that was even a little daring.
In 1997, years before a casting agent discovered Joanna Gaines through a 2012 blog post on DesignMom.com, Darryl Carter was a Washington, D.C.-area lawyer with a passion for decorating when his home landed on the cover of Metropolitan Home magazine. The home was an instant sensation that let him quit his day job and start his design firm, now part of the Architectural Digest 100. Looking at Carter's home, you can see many of the hallmarks of the "modern farmhouse" style: white walls, old furniture, and a somewhat sparse feeling. Decorator Thomas O'Brien's Long Island home is another early example of the emerging "modern farmhouse" style. An actual centuries-old schoolhouse, graced with the wide-planked floors so beloved by modern farmhouse fans, the house is filled with a modern farmhouse mix of furnishings, like 1930s aluminum chairs paired with more traditional slat-backed mahogany ones. O'Brien called the effect "warm modernism," as if the home-y accents were warming up a fundamentally modern scene, but you could also argue that it was more "modern traditional," with the modern accents bringing the traditional decor into the present, the same way that "modern farmhouse" updates the traditional farmhouse look today.
Meanwhile, the appropriation of industrial elements in residential and hospitality interior design was gaining popularity. Firms like Roman & Williams, designers of New York City's Ace Hotel, used industrial lighting and even basic plumbing fixtures in their hugely influential design. Schoolhouse Electric, a company that makes reproduction "schoolhouse" style fixtures, was founded in 2003, and five years later, Barn Light Electric, a company hawking newly made "barn" fixtures in a rainbow of sleek enamel finishes, was born. Both have been huge successes.
Natalie Warady, an interior stylist who worked as the style director of Country Living magazine from 2009 to 2014, saw the shift happening firsthand. "When I came to Country Living, we shot more homes that were full of color, but slowly that all-white look took over," she says. "We finally gave up and devoted a whole issue to it each year with our annual White Issue." Warady points to Leanne Ford's home, published in the September 2013 issue of Country Living, as the first example of "modern farmhouse" that the magazine ran. It was a career-making moment for Ford, a former fashion stylist whose phone immediately started ringing with homeowners who wanted her to recreate her country-modern look in their own homes. (HGTV wasn't far behind: Ford and her brother are now the stars of their own show, Restored by the Fords.)
The Fords' show is, of course, a product of the post-crash Fixer Upper phenomenon. "Back when banks were handing out mortgages as if they were lollipops, the fun [of home improvement shows] was in seeing what all that easy money could buy: 6,000-square-foot McMansions in freshly landscaped exurbs; high-rise condos with granite counters, marble tubs and top-of-the-world views. And when most shows of the pre-2008 era did feature older, more modest houses, as on "Bought & Sold" (HGTV), "Flip This House" (A&E) and "The Real Deal" (TLC), it was to illustrate how easily those homes could be turned into cash machines," critic Steven Kurutz explains in a recent article for the New York Times. Post-crash, the networks pivoted their programming to shows like DIY Network's Rehab Addict with Nicole Curtis, a single mom whose show emphasized restoring old homes—not flipping them — and Fixer Upper, which showed the Gaineses renovating modest homes for real people in decidedly unglamorous Waco, Texas.
Beyond the realm of reality television, Chip and Joanna Gaines have given birth to their own modern farmhouse industry. Meredith Corporation inked a deal with the Gaineses in 2016 to publish the Magnolia Journal, and the magazine has been a runaway hit, selling out and going into additional print runs. Earlier this month, Joanna Gaines published her own home design book, Homebody: A Guide to Creating Spaces You Never Want to Leave, and it debuted as the No. 1 best-seller in the Interior Design category on Amazon. The Gaineses also have their own Hearth & Hand line of home accessories at Target, which launched in November 2017, as well as several other licensing deals. And they've transformed Waco, a town whose name once brought up memories of cult leader David Koresh, into a tourist destination with their Magnolia Market at the Silos, a restaurant, and two bed and breakfasts. Several homes featured on their show are even for rent via AirBnB, capitalizing on the new tourist interest in once-sleepy Waco.
Book and magazine publishers, furniture manufacturers, and retailers have all jumped on the modern farmhouse bandwagon. Book publishers embraced the trend with recent titles like City Farmhouse Style (fall 2017) and Modern Farmhouse Style (winter 2018). The same summer that Meredith launched Magnolia Journal, the company also launched a special-interest publication, Modern Farmhouse Style — in effect doubling down on its bet on modern farmhouse's popularity. Stone & Beam, one of Amazon's first two furniture lines, was a modern farmhouse brand (the other was the popular midcentury modern style). Ashley HomeStore recently launched its largest lifestyle collection to date, Mane + Mason, which the company describes as "a modern approach to classic farmhouse design."
Cristina Button, director of case goods for Ashley HomeStores, says that the company watched the market closely before committing to the launch of Mane + Mason. In addition to seeing competitors go long on farmhouse and testing modern farmhouse pieces in its stores, Ashley's digital team could see that its customers were typing "farmhouse" into their search bars. Button cites the warm, cozy style and the weathered, rustic look as reasons the style appeals to so many consumers; those rustic finishes are less prone to show bumps and scratch less readily than traditional or midcentury-inspired pieces. Finally, Button believes the eco-friendly angle increasingly appeals to consumers. A portion of the Mane + Mason line's pieces are made from reclaimed lumber, and actual vintage farmhouse pieces are decidedly green.
Social media may be partially to blame for the popularity of modern farmhouse. Instagram and Pinterest are the realms of a wished-for life, not the one we're actually living every day, and the modern farmhouse look aligns with many of the values of this idealized life: simpler, low-tech, tradition-oriented — a world in which we have time to curl up with a cup of tea on our white slipcovered sofa or share a meal at our rustic farmhouse table.
Meanwhile, the magazine industry, once the arbiter of interior tastes, has been in decline for the last decade, with circulations falling and readership aging. In its place, many young people are looking to Instagram and Pinterest for their interior design inspiration. As these people like and save images, the platforms note their tastes and feed them more of what they already like. If you enjoy a particular style, such as modern farmhouse, you can end up in a visual echo chamber of that style. Likewise, bloggers now have almost as much influence as celebrated decorators and the rich and famous people who usually hire them. Ironically, some of the uber-rich are now re-creating the once-budget modern farmhouse look in their own mega-mansions.
I had lunch the other day with a blogger here in New York City. We found ourselves discussing the seemingly endless stream of influencers on Instagram, many of them fellow moms, who have adopted the modern farmhouse look. We laughed about everyone posting pictures of the same peg rails, natural-fiber brooms, and baskets to their nearly indistinguishable feeds. But it was an uncomfortable laughter, as we too each live in white-washed homes with touches of distressed wood, industrial elements, and schoolhouse-style light fixtures. I worried aloud that maybe it was time to paint my walls a color — just to defy the popularity of the modern farmhouse look. We parted ways toasting the idea of turquoise walls. That night I ordered paint samples.
Laura Fenton is a writer based in New York City. Her work has been published in Better Homes & Gardens, Country Living, New York magazine, and Parents, where she is the lifestyle director.
Editor: Sara Polsky