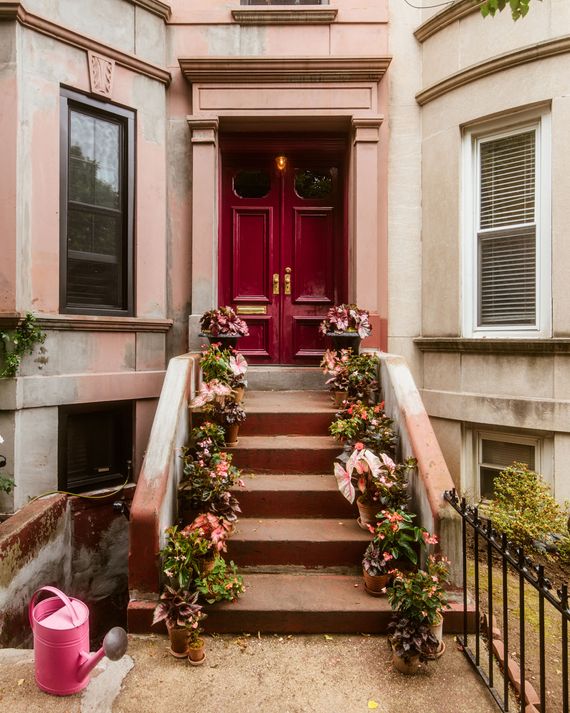 The Stoop:
Worrell replaced the front doors with a pair of salvaged ones she found at a warehouse in Albany. "They're from the 1800s, older than the house," she says. Its color, "Bordeaux," was suggested by an expert at
Fine Paints of Europe.
Photo: DeSean McClinton-Holland
"I was born and raised in Flatbush," Shelley Worrell tells me while we're sitting in the breakfast room of her circa-1910 brownstone. "It was very important for me to live here."
Flatbush is home to a large and diverse Caribbean community, including her Trinidadian family. Back in 2009, when she was working for A&E Networks running digital distribution and business development and living on the top floor of a building near Church Avenue (a.k.a. Bob Marley Boulevard), she considered leaving for Williamsburg or Bed-Stuy to shorten her commute to the city. Then this house found her.
"I was at a friend's garden party two doors down," Worrell says, "and they were like, 'You really should see it.'" She knew immediately. "I was standing in the formal dining room and called my mom and said, 'I'm making an offer.' I hadn't even gone upstairs."
Almost every detail of the house has since been restored, repainted, or replastered. It's been an ongoing project for Worrell and her husband, Janluk Stanislas, a filmmaker, with some help from cousins, uncles, and her mother. "When I bought this house," Worrell remembers, "there were popcorn ceilings, but I saw the bones of the house. I saw the wainscoting, I saw the pocket doors and the built-in cabinetry, and then I discovered the skylight; it had been hidden with a dropped ceiling! Who does that?"
And in the process, she's changed her life: She quit her corporate job in 2014, shaved her head, and moved her father into the garden apartment downstairs to better take care of him. She realized that Flatbush is the epicenter of Caribbean diaspora culture in the city, but it didn't get the attention other enclaves did. To that end, she founded CaribBeing, "a hub for creativity and collaborations with some of the Caribbean's most visionary talent and innovative brands," and its mobile gallery space, CaribBeing House, made out of a shipping container.
She mobilized community business partners and local politicians, including Jumaane Williams and Eric Adams, to get onboard with recognizing parts of Flatbush and Prospect–Lefferts Gardens as "Little Caribbean", and her pioneering work was recently recognized during One Love Little Caribbean Day by the city as part of Caribbean American Heritage month.