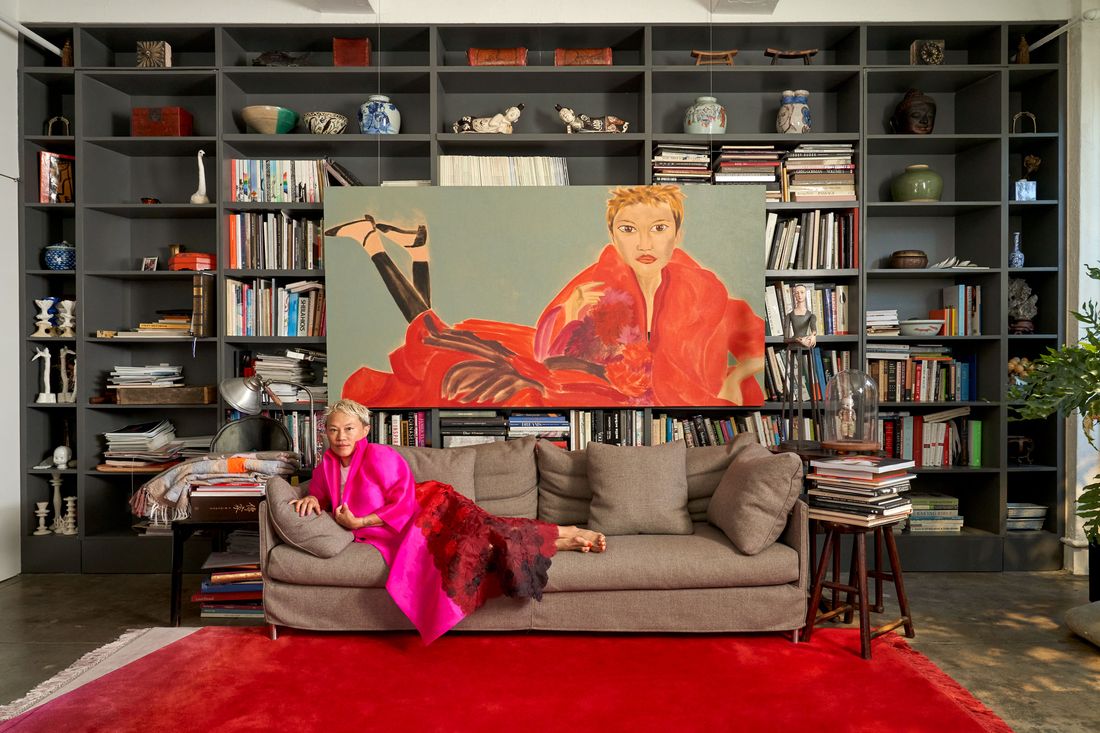 In the Living Room:
Han Feng in her loft under her portrait painted in 2016 by Francesco Clemente. "We met when he was having a show in Shanghai, and I cooked for him at my apartment," she says. She's since cooked for him and his wife, Alba, in New York, and the three remain friends.
Photo: Seth Caplan
I first visited Han Feng's Flower District loft for one of her spectacular multicourse dinner parties, where she would always have a mix of fashion, theater, and art people from her circle. Back then, it was drenched with light from a series of windows looking east.
She grew up in Nanjing and Hangzhou during the Cultural Revolution in China — "I was thinking I should get a factory job," she says — and studied graphic design at the China Academy of Art. She came to New York in 1985. In 1993 she launched a ready-to-wear line, and in 1997 she rented this sunny loft, which she would later buy. Along the way, she designed the costumes for Anthony Minghella's Madam Butterfly, which debuted in London with the English National Opera in 2005 and was later performed at the Metropolitan Opera in New York, and became an expert in Chinese contemporary art, which she collects and advises other people on collecting.
In 2015, the shorter building next door was demolished for the construction of a hulking hotel, which would obscure three windows and her view east. "Oh my God, I'll have to move!" Han Feng recalls thinking. "What am I going to do without the windows?"
It was only after a friend observed that the loft had previously gotten too much sun to be a good place to display art that she changed her thinking. She contacted her friends the architect Richard Gluckman and his partner, Dana Tang, to reimagine it as a gallery space with new movable walls. It's now the perfect place to show the work of the artists she collects — some of whom she also represents — including the large ink paintings of Gu Wenda, digital drawings by Shao Wenhuan, and the ceramics of Robin Whiteman and Maria Robledo.
Before the pandemic, she would split her time between New York and China. She still has her made-to-measure custom-clothing business and represents artists. In 2017, the developer of the Amanyangyun resort in Shanghai invited her to open a gallery space, and in 2019, she moved her design studio into an apartment there. Back in New York during the lockdown, she turned part of her apartment here into a photo studio and started taking still lifes, which are displayed in the area of one of her former windows.
Han Feng still remembers what one of her art teachers told her: "You have a big beautiful life. You shouldn't be a frog inside a well; you have to get out of the well and look at the world."
"That" she says, "changed my life."