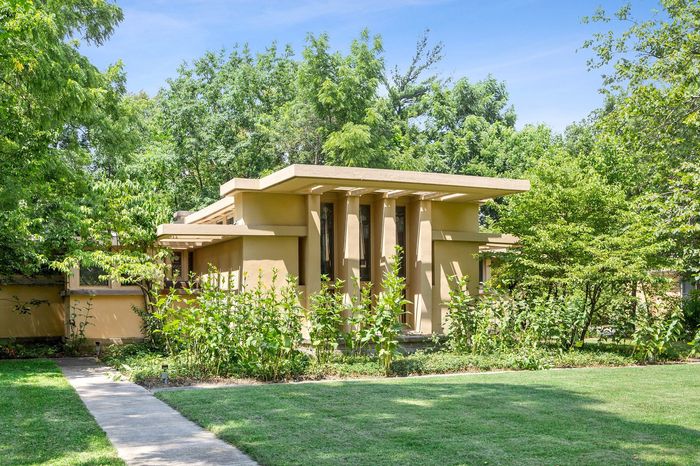 Frank Lloyd Wright's Avery Coonley House —
on the market for $550,000
— began life in 1912 as a private elementary school.
Photo: Photo by Nick Miller/VHT Studios, courtesy of Compass listing agent Mike McCurry
Itchin' to surround yourself in architectural history all day, every day? We've found six different homes — all currently for sale — designed by the legendary American architect Frank Lloyd Wright.
Some are Prairie School gems that look out onto verdant gardens. Others were built in the Usonian style, with large windows and plenty of angles. And there's even a former schoolhouse that Wright designed with a bold cantilevering roof. They range in price and location, but all six homes are fantastic Wright creations just waiting to be snatched up.
If buying a Wright home isn't in the cards, don't fret — consider a vacation in one of these Wright-designed homes for rent instead.
Price: $2,750,000
Details: This three-bedroom, three-bath beauty in Minneapolis, Minnesota, was designed by Wright in 1951 and first hit the market in 2018 for $3,400,000. Wright designed the property for Henry Neils, a stone and architectural materials distributor, and Neils worked closely on the project. Unlike many of the architect's other houses, the structure features aluminum window framing instead of wood and boasts unique marble walls.
Other elements are peak Usonian, including the L-shaped floorplan with large window expanses, angled corners, asymmetrical layouts, and wood paneling. Wright's trademark red flooring is easy to spot, as are the gorgeous built-ins. Want more? See the interior photos of the Neils house, over here.
Price: $2,850,000
Details: One of only three Wright-designed homes in Texas, the Thaxton House was originally constructed in 1955 as a modest 1,800-square-foot Usonian. A 1995 renovation added 6,300 square feet and used Wright's L-shaped, single-story building as a centerpiece.
The home retains many original features like redwood and mahogany woods, polished concrete floors, concrete blocks, and plate glass. A parallelogram-shaped pool was part of Wright's initial design, and the kitchen in the older structure is still largely what the iconic architect envisioned. See the interior photos over here.
Price: $2,275,000
Details: While the Chicago suburb of Oak Park boasts a wealth of early Frank Lloyd Wright designs, the Charles F. Glore House is the only Wright work in Lake Forest. Built in 1954 in the Usonian style, the home features Wright trademarks like clerestory windows, built-in bookshelves, mahogany panels, four fireplaces (three of which are cantilevered), and an abundance of brick. The home also incorporates some updates, including an expanded dining room after enclosing a deck, new windows, and gray concrete floors in place of the badly patched-up original red radiant-heat floors.
Price: $975,000
Details: This three-bedroom, four-and-a-half house began life in 1912 as the stables of a 10-acre property. Located in Riverside, a suburb of Chicago, the home is part of the Avery Coonley Estate, one of just three Prairie-style estates completed by Wright. Converted to a home decades ago, this 3,417-square-foot residence's most striking feature is its 94 art glass windows.
Extensive renovations — including updates of the mechanical and climate systems — combine with other perks like a lily pond, a private walled garden, a two-car garage, and heated floors.
Price: $724,000
Details: The Keir House is a concrete beauty built in 1914 in the Ravine Bluffs subdivision of Chicago. An evolution of Wright's 1907 Fireproof House for $5,000 concept, the house is all Prairie School — with a wood and stucco exterior, broad overhanging eaves, and an attached porte cochere.
While the millwork and brick fireplace are consistent with Wright's original vision for the home, other aspects of the interior are less authentic. The North Shore property has seen a number of changes, including a family room addition, updated bathrooms, and a newer kitchen. See more over here.
Price: $550,000
Details: This suburban Illinois home was first built in 1912 as a private elementary school known as the Avery Coonley Playhouse. Located on the grounds of Wright's larger Avery Coonley House in Riverside, Illinois, the former schoolhouse features a bold cantilevering roof and contrasting horizontal and vertical elements.
In 1917, architect William Drummond expanded the structure and converted it into a home. Since then the playhouse has seen multiple modifications, additions, and — more recently — a restoration back to Wright's original vision. The stand-out feature is the reproduction art glass windows with playful, balloon-like designs.