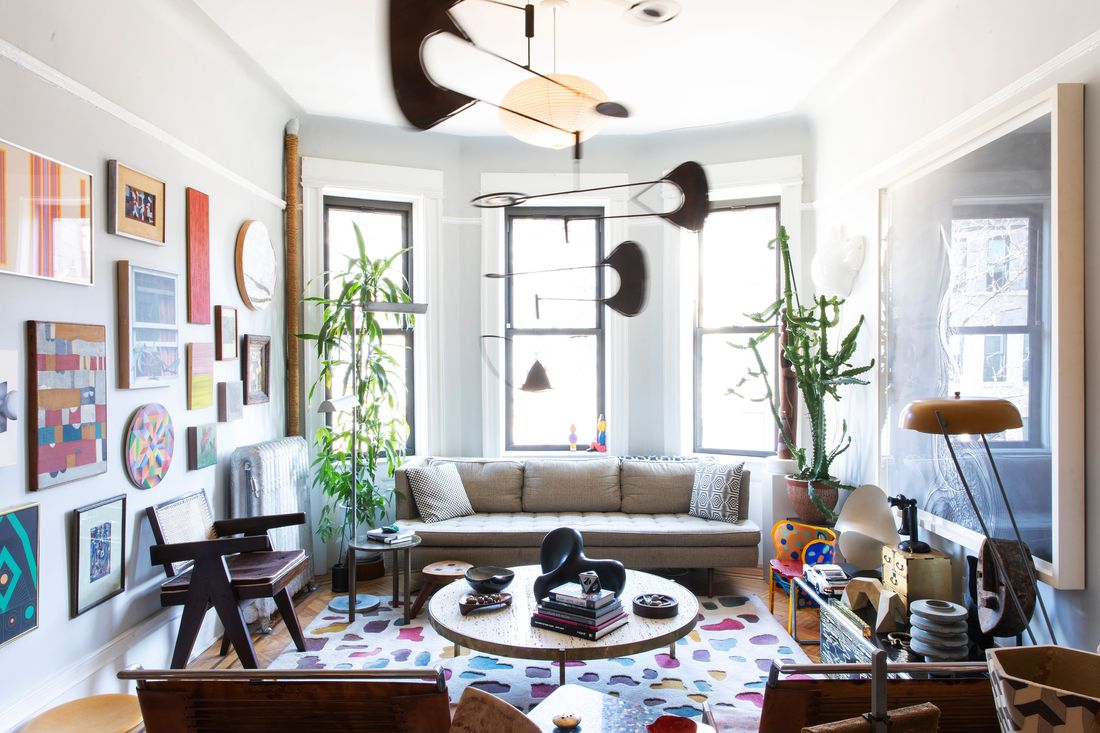 Alex Gilbert, a director of Friedman Benda gallery, and her husband, Patrick Parrish, whose gallery shares his name, have a story, or an explanation, for everything that has found its way into their Clinton Hill apartment. "Nothing is arbitrary to me," Gilbert says of the vetting process, from the Adam Fuss photographs and the vintage Ward Bennett sled chairs to the rare, large Gaetano Pesce all-white urn — and even the Miro-esque painting by an unknown artist in the front hall.
They moved here in 2018 from a 450-square-foot rent-stabilized place in Chelsea that had become too small after their son, Clyde, was born. "We'd still be in that apartment if we didn't have Clyde," Parrish says. At first, they tried to find an upgrade in that neighborhood, until a friend of Gilbert's suggested they check out the three-bedroom apartment she was moving out of. The landlord, who lives nearby, let Gilbert and Parrish paint and do some work on the kitchen and bath to bring everything in line with their taste.
Parrish describes the century-old apartment house as "formerly grand," dating from the time when living in Clinton Hill meant living among some of Brooklyn's most prominent Gilded Age families, including the Pratts, the Wyckoffs, and the Lefferts (many of their mansions are still there). Its amenities included all the modern conveniences of that era, like dumbwaiters and "all the high technology of pushing a button where you could ring a bell and you could talk between the rooms."
Parrish started out as an artist before opening his first gallery, Mondo Cane, on West 22nd Street in 2000. His gallery has been on Lispenard Street since 2013, and he opened the Secret Watch Shop on its lower level last year because he has a passion for timepieces. In 2018, he wrote a book called The Hunt: Navigating the Worlds of Art and Design. Gilbert graduated from Parsons in 2009 and worked at Sotheby's Home, Surface Media, Artsy, and Phillips before joining Friedman Benda in 2019; she is also the artist liaison for Misha Kahn.
Which means the couple do not take the choice of having an Eames lounge chair with an ottoman in the living room lightly. "It's a little too mainstream for us," Parrish says. "But you can't argue with that chair. We needed a reading chair, and it's so good."
"I feel like a minimalist trapped in a maximalist environment," Parrish jokes about the ever-expanding collection of art. "Everything in the apartment can stand on its own," he continues, "but everything looks better with the things around it. Before we even bring something in, we intrinsically know it will be friends with — I guess it's like a dinner party, or a party: All these people come together, and they work together somehow."