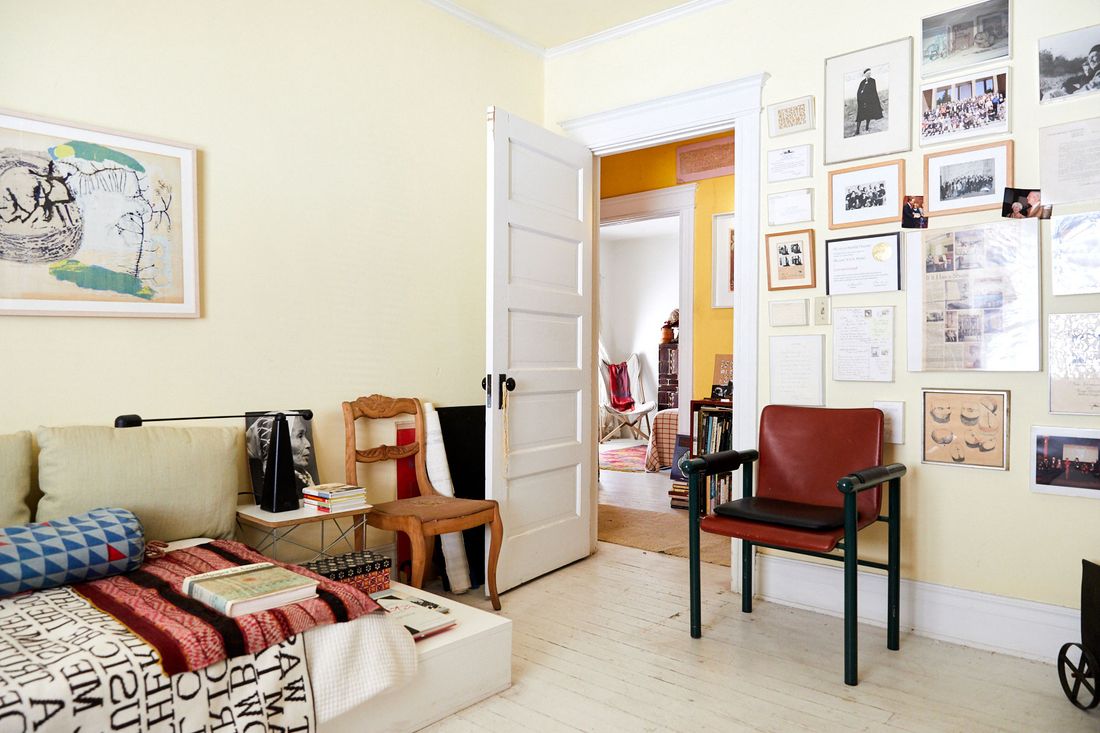 This story was originally published by Curbed before it joined New York Magazine. You can visit the Curbed archive at archive.curbed.com to read all stories published before October 2020.
Designer Gere Kavanaugh bought her two-story Victorian house in Los Angeles's Angelino Heights in the early 1980s, slowly transforming its rundown interior into a showcase for treasures made by friends, artisans, and, principally, herself. "What I like in a house is organized chaos," she told Women's Wear Daily in 1969. "Everything I have has special meaning. It all relates to my work." She would say the same today.
Over the course of her 65-year career, Kavanaugh designed trade shows for General Motors, department stores for Joseph Magnin, fabrics for Isabel Scott, 10-foot-high metal flowers for shopping malls, and a city-planning playset for children. Reminders of each of these phases, her maximalist sense of color and texture undisturbed by the passage of modernism, postmodernism, deconstructivism, and neo-modernism, pepper Kavanaugh's house, demonstrating the truth of a statement she wrote decades ago for her Cranbrook Academy of Art graduation: "Design is an accumulation of everything that you perceive. It is all taken in, chewed and digested and stored for a future time. When the proper time comes, an idea is born of this."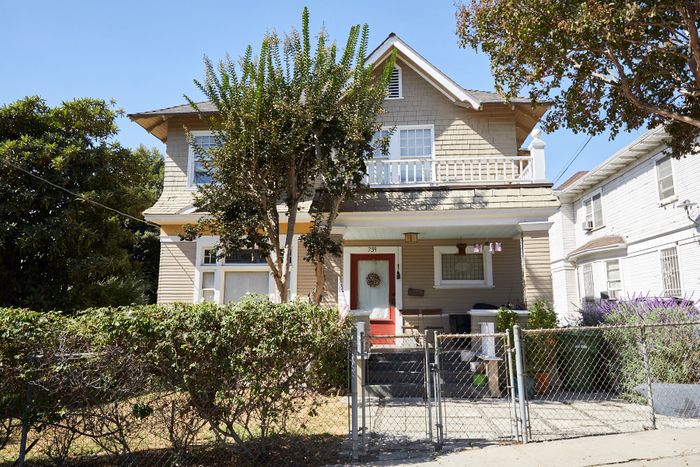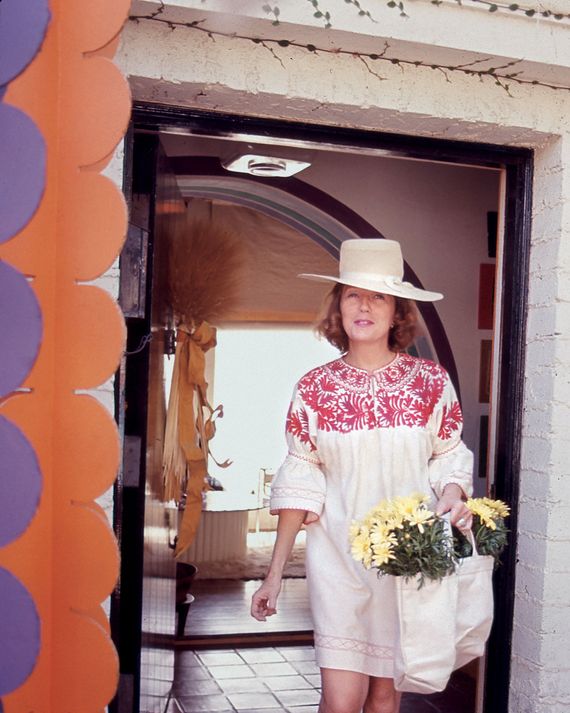 You can see more of Kavanaugh's work—and houses—in the recently published book A Colorful Life: Gere Kavanaugh, Designer, by Los Angeles-based designers, historians, and educators Louise Sandhaus and Kat Catmur.
Her previous house was a Spanish-style duplex on Selby Avenue, with arched doorways she painted with rainbow stripes, low soft furnishings, and a rambling floor plan. The new house, built in 1906, was a bigger challenge: "It was a wreck, honestly, and I didn't find out until months later it had been owned by a drug dealer," she says. "I had to do it in bits and pieces because of finances and the first downturn."
In the new house, which is far more upright and light-filled, she removed walls and a brick fireplace to make a large, open first floor where the furniture can be rearranged at will. Like Alexander Girard, the designer whose colorful style and folk art obsession are mirrored in Kavanaugh's home, she has a knack for creating systems that disappear into the walls so that you don't really see the architecture. Her dining table, for example, has a glass top and a Sol LeWitt-esque open-sided cube base, as minimal as they come.
"I know a lot of architects, I'm fond of a lot of architects, but they are mostly like this," says Kavanaugh, putting her hands on either side of her head to indicate tunnel vision, "and it is sort of like, if they deviate, they will lose their religion, whatever that religion is." But the architects she worked with as a designer — Eero Saarinen in Detroit, Victor Gruen in Detroit and Los Angeles, Frank Gehry in LA — weren't like that.
Arranging things has been a lifetime preoccupation. As a child, her mother would let her play with colored spools of thread. "I would stack them up and she would say, 'That one's good. That one's not.' And then the ones that weren't good, I would knock 'em down," she says.
In the dining room, long glass shelves hold her collection of teacups and teapots; one shelf is mostly white, while the other runs the color spectrum. Kavanaugh painted the wood countertop below the shelves herself, a royal red spattered with black, gray, and white paint so that it looks marbled.
One gold-rimmed cup is a Frank Lloyd Wright design, while the chunky, square-handled cup nearby is Kavanaugh's own design for CB2 in 2015. Extras live in glass-front cabinets below, but Kavanaugh likes to get them all out for a tea party once a year.
Kavanaugh built out her kitchen with open shelving about 15 years ago, wanting to open up the space and spare herself the annoying slam of cabinet doors. "People say, 'Your shelves and dishes are going to get dirty,' and I say, 'So what? Clean them!'" Her everyday dishes include a variety of colorful postwar housewares, from the stackable plastic Max I dinnerware designed by Massimo and Lella Vignelli to Tiffany blue Fiestaware to Metlox pottery made in Manhattan Beach.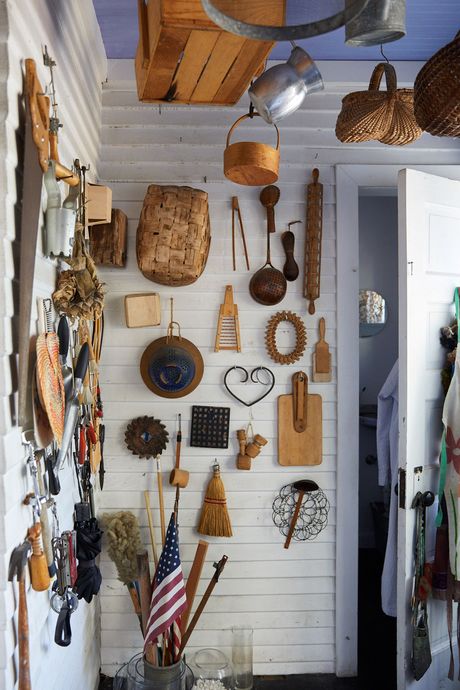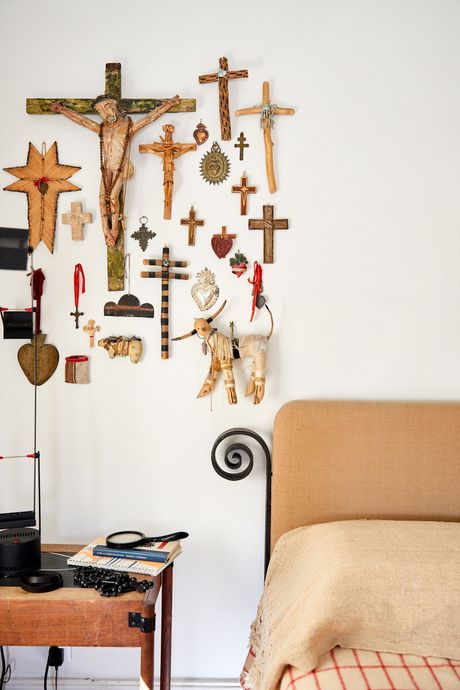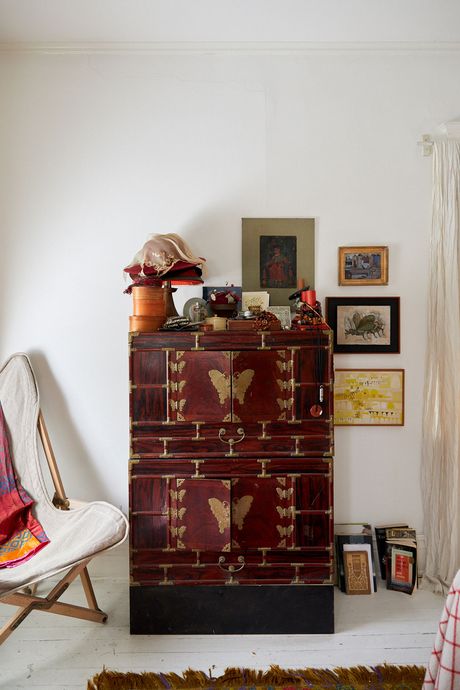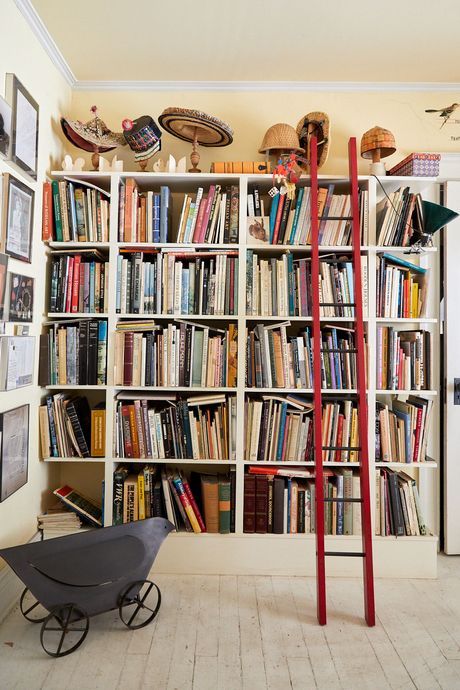 A portrait of Gere (pronounced Jerry) drawn by sculptor Ruth Asawa, whom Kavanaugh recruited to make hanging sculptures for the San Francisco Magnin store, is propped against a folded plywood chair that Kavanaugh made in 1985. Atop the marigold-colored and zinnia-shaped ceramic coffee table — also her own design — the stacked books include volumes by Le Corbusier and Umberto Eco and a paleo cookbook. Kavanaugh cut the kitchen "curtains" from drafting paper, drawing on Swiss dots and folds. Her hand-hooked floral rug, made in 1965 in the hot reds, oranges, and pinks she favors, creates a garden on the floor of her bedroom.
Even the light fixtures demonstrate Kavanaugh's ingenuity. In the combined living room, she needed a light that could span between the two original ceiling outlets. So she took off-the-shelf track lighting and draped it with the kind of fairy lights she associates with parking lots. "Then I wanted a clock," she says, "because I'm always passing back and forth between the kitchen and the front door." She found an antique clock face at a vintage store, and a metalworker friend made her a simple steel plate to hold it that she could slip over the track. A few wrought-iron flowers, repurposed from an altarpiece, made it complete.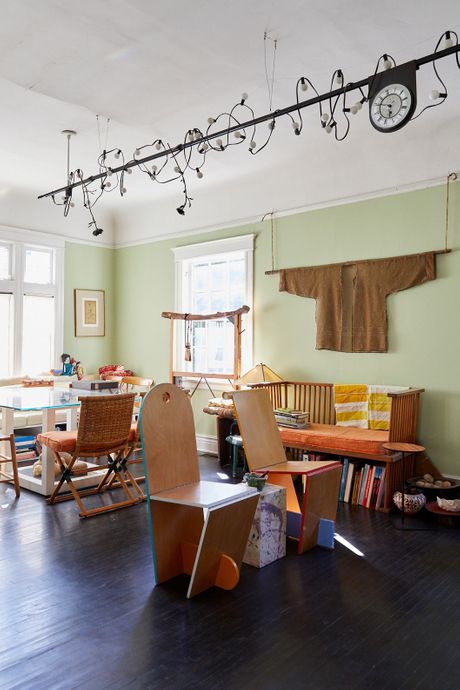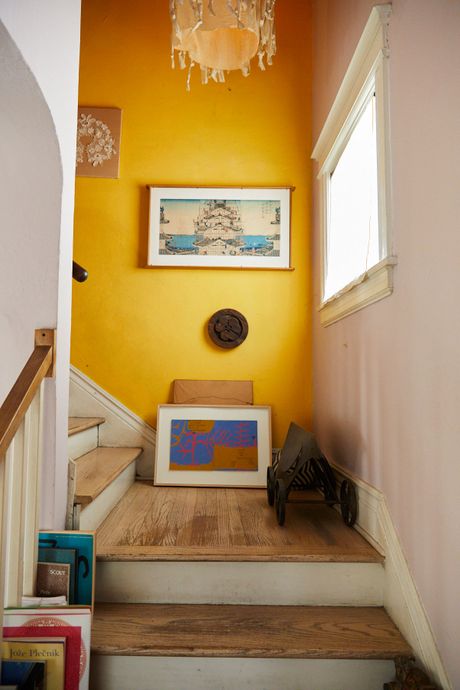 "Everyone should make their own collections, because that reflects them," she says to anyone daunted by stuff. "I live with my collections. I love looking at the houses of people who collect books — it feels like picking someone's brain." Her friends are constantly giving her gifts to add to her pedestals, shelves, and cupboards, and she likes to return the favor whenever possible. Her latest purchase, on a trip to Detroit to receive an alumni award at Cranbrook, was an array of handmade Pewabic tiles to distribute along with her thank-you notes.
"We've become too bland," Kavanaugh says with a groan. "It's part of your job to tell people that!"