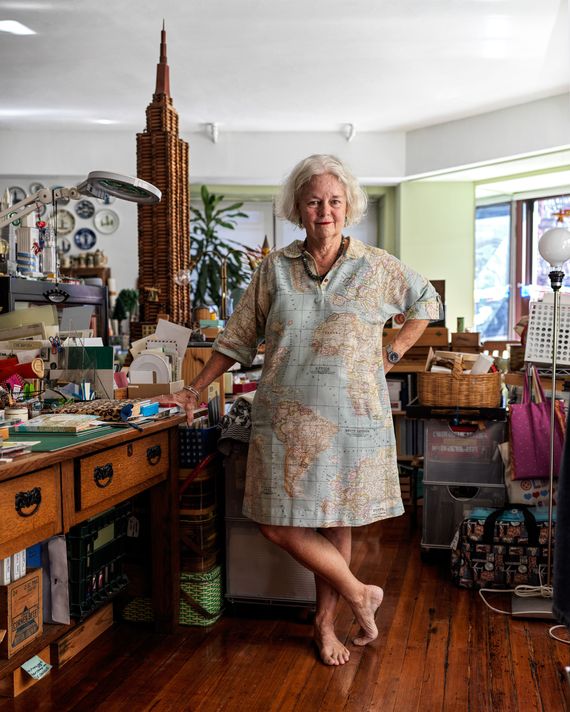 Dorothy Globus in her loft workspace. She has several desks.
Photo: Chris Mottalini
Dorothy and Stephen Globus have been married for 49 years and have lived 47 of them on the seventh floor of the onetime Gorham Manufacturing Company Building on Broadway, just north of Union Square.
Before they moved in, the space had been home, as Dorothy remembers it, to a Chia Pet warehouse. But it had glorious floor-to-ceiling windows, a fireplace, and lots of room to raise their two kids. The couple would spend their weekends scouring antique fairs and novelty stores, and their house became filled with all manner of things. "We were doing it in lockstep," Dorothy says of their accumulating. "But then he sort of turned away from it. I think it was in the '90s, when he went to Japan, he began to change his mind about how much he wanted to be surrounded by."
Dorothy worked for the Smithsonian when it moved its design collections into the Carnegie Mansion — home to today's Cooper Hewitt, where she was curator of exhibitions from 1972 to 1992. Later, she was director of the Museum at F.I.T., then the curator of exhibitions at the Museum of Art and Design, from which she retired in 2013. Stephen had helped start various businesses, including the Media Factory in Union Square, and had sold one he was involved with to Panasonic, which meant spending time in Japan.
Dorothy's attitude remains: "Marie Kondo says throw out anything you don't love. Well, I love it all, Marie! What am I going to do?" Fortunately, at 4,000 square feet, there was room enough for their separate worlds, especially after the kids moved out.
Her Side Is a Stuffopolis
Her side includes the family kitchen, living room, and two bedrooms, with every surface accommodating the ongoing repository for any number of collections, including hose nozzles, stamps, beads, buttons, souvenir buildings, a pie safe, dental cabinets, tiny toys, and a salvaged Corinthian-column capital.
Dorothy moved around a lot growing up, so she wasn't able to accumulate much. Then she met Stephen, and they made forays to auction houses and vintage stores near his parents' house in Bucks County. "This was back in the '70s, and I ended up buying a little dental cabinet and a chest, and I have all this commercial stuff, and, I don't know, I just have always just loved objects. I think that working at the Cooper Hewitt — well, first I was a summer intern at the Smithsonian, and I spent a lot of time in storerooms all over the place — you know, the world's largest collection of pickled fishes, bird skins — and I love the taxonomy of how things are sorted and stored, and I also learned about conservation."
What does she think of Stephen's side? "I love it. When was a kid, I lived in Japan for a couple of years. I love going in there. I just sit quietly."
His Side Is More Minimalist
I wouldn't call myself a scholar," Stephen says. "I am a Japanese enthusiast." His work as a venture capitalist brought him to Japan in the '90s, when he sold one of his companies. The trip had a lasting impact on him.
His side in what had been two rooms for their children is now what Stephen calls the globus ryokan, a place originally created to conduct tea ceremonies that offers quiet reflection and guest quarters for visiting artists who are familiar with the ryokan way of life: no western furniture to sleep on, but rather tatami mats and futons.
He researched artisans and discovered the Japanese carpentry company Miya Shoji, owned by Hisao Hanafusa. "I had to ask him like six or seven times to come and do it because he wanted to make sure there was a commitment. These rooms are very unique," Stephen says of his side of the seventh floor. "And painstaking to build." The first room to be built was the one by the windows with six tatami mats and shoji screens and a bamboo ceiling that hides the mechanics. "A teahouse requires certain things: a tokonoma, which is a sacred alcove that needs two entrances, so in the end I decided to create a teahouse upstairs and to make it a residence for myself."
Stephen converted space he acquired on the eighth and ninth floor to his interpretation of a Japanese teahouse. He hid a Murphy bed behind a shoji screen and added a Japanese soaking tub. There is also room for exhibitions and gatherings to host events for his work with Asia Society and Japan Society.
When Stephen is asked how he feels in Dorothy's space, he replies, "Not that comfortable. Dorothy has given me enough leeway so I can live; I mean, we are old enough that we have done our duty of raising children — we're not pinned down to one set of rules. I respect what Dorothy has done. She's a museum person, she's a collector; it's not my aesthetic now."