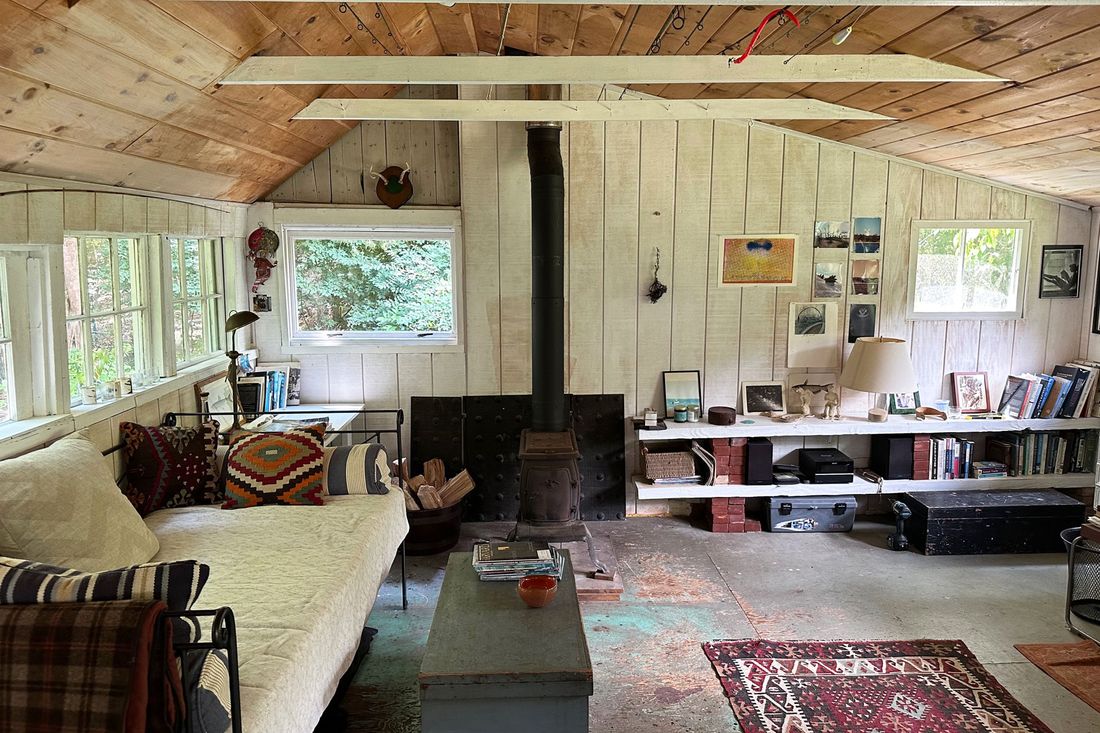 Glyn Vincent made the thick white bookshelves on the right from boards he found on the beach. The cast-iron daybed is from
Charles P. Rogers
. The wood-burning stove was there when he moved in.
Photo: Wendy Goodman
My brother-in-law, the writer, sailor and fisherman Glyn Vincent, and my sister, a specialist in pre-Columbian art, Stacy Goodman, spent years driving past a modest shingled house with a red wooden airplane on the lawn with three smaller outbuildings in the Springs neighborhood of East Hampton.
In 2008, they bought the place from Ben Tyler, who made duck decoys, archery bows, and any number of other things in his carpentry workshop at the back of the property. "When he moved to a retirement home, he left behind many of his creations," Glyn says, "among them a belt-driven table saw and an expertly wrought wood toolbox with his saw and chisels still inside."
A few years before they bought Tyler's property, Glyn had published his first book, The Unknown Night: The Genius and Madness of R.A. Blakelock, an American Painter. Soon after they had settled in, Glyn decided to fix the shed up to become his year-round writing studio, replacing roof tiles that were leaking and cutting out a window above Tyler's worktable, which he would use as his writing desk.
"I wanted to leave the space as close as possible to what it was when we bought it," Glyn says. The building still has Tyler's spirit with his original floor, wood-burning stove, and handmade chest of drawers, where Glyn stores his fly-tying materials. "The small, unassuming property reminded us of a simpler place where fishing, gardening, creating art, and getting by went hand in hand," Glyn says of the area where Jackson Pollock, Costantino Nivola and many other artists also lived.