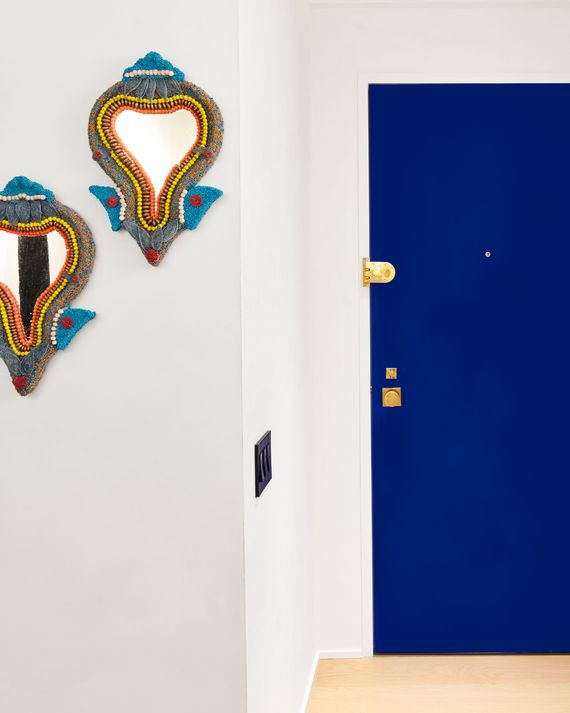 The Entry:
The door is painted Yves Klein blue. On its left hang antique Venetian mirrors.
Photo: Annie Schlechter/B) Annie Schlechter 2021
I never imagined I would be in a postwar building," Alexandra Pappas says. Indeed, for 18 years she rented an apartment across the hall from me in the five-story 1854 West Village brownstone where I live still; she threw wonderful parties. "I remember walking into that building on 9th Street and thinking, Oh my God, I found the place of my dreams," she says. "I loved it there so much."
So I was intrigued when she said she was moving a few blocks but a world away to Butterfield House, designed by Walter Gropius protégés William J. Conklin and James Rossant and built in 1962. Constructed of beige brick with distinctive bay windows, it was lauded for how well it blended in with the historic streetscape and for the graciousness of its layouts and details (not always the case with buildings of that era). It fronts on both 12th and 13th Streets and has a large garden courtyard filled with trees. Pappas's terrace off her living room is veiled in privacy thanks to the leafy scrim.
Pappas, whose family is in real-estate development, grew up in Boston and Greenwich. She started her firm, Pappas Miron Design, in 2003 with her best friend and design partner, Tatyana Miron. The apartment she ended up buying was in a hangover state from its past renovations, with a dining alcove closed off from the kitchen and aged-out parquet floors.
"When I first saw it, I had come from this European crumbly brownstone, and I was thinking that I wanted it to be very severe and Bauhaus," she says. "All my references were from that era. But then it sort of morphed into something more Italian mid-century." She worked closely with the architect David Mansfield and Miron. The building's modernism seemed refreshing, up to a point. "Knowing what I had to work with in terms of furnishings and art and the way I want to live, the severity of going totally architect-y Bauhaus was not realistic," Pappas says. "I think there is a way to keep it clean and spare but also have it be homey and highlight some of the interesting finds that I have collected over the years, so it was pretty organic.
"It was a long process," Pappas reflects, "but I'm happy. I finally had a dinner party the other night. It was really wonderful to get to enjoy it."