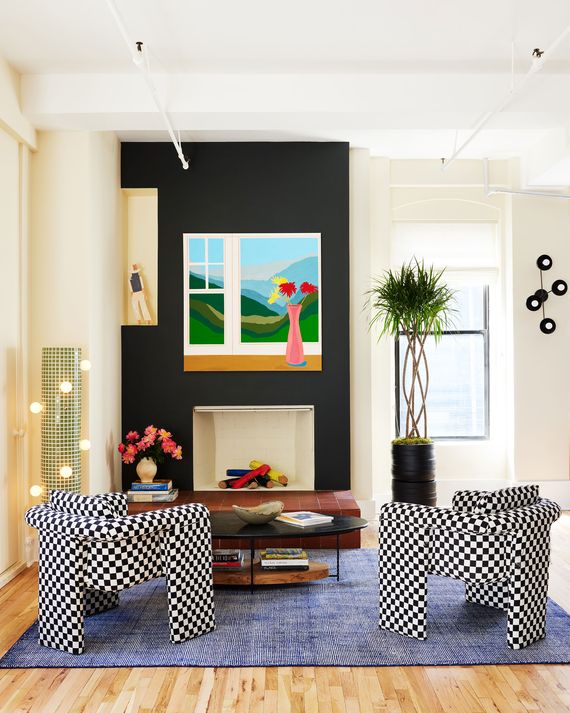 Alvin Wayne played up the fireplace in a corner of the living room, painting the wall a dark gray and adding colored logs. The chairs are from
Urban Outfitters
. The still-life painting above is by Greg Griffith.
Photo: David Land
We loved the apartment as we found it," says Greg Griffith of this 4,500-square-foot "old-school '80s loft" he and his partner bought in 2019, complete with an undulating glass-brick wall between the bedroom and the kitchen. "That made for interesting viewing for anyone eating a bagel at the kitchen counter," he notes with a laugh.
It had previously been the home of conceptual painter Jennifer Bartlett, who died last year. "But with all our children," Griffith says — a blended family of four kids ages 4 through 18 — "we needed to make it a bit more functional."
In 2021, Griffith saw a segment on Open House NYC about designer Alvin Wayne, who gave a tour of his Long Island City one-bedroom apartment. "Not ashamed to admit we love watching NBC's Open House," Griffith says. "It's part of our Sunday-morning routine. We reached out to him after that, assuming he wouldn't have time, but he did."
First to go was that glass-brick wall. The work progressed to include enlarging the family room and creating a music studio and more wall space for art. "I'm a musician and music producer by profession," Griffith says, "but I took a few years off to really paint and start a gallery in Brooklyn. And I do love painting, so a lot of the art is my own or from amazing artists I met through the gallery." (Established Gallery is located in Prospect Heights.)
"They really love color and pattern," Wayne says of his clients. "They wanted it to feel designed but to keep the true essence of a Soho loft that matches their casual lifestyle." It took more than a year of collaborative work between Wayne and Griffith to create a kid-friendly home where nothing is too precious and everything feels comfortable and fun.
"You want a place where the kids can run around or knock something over and no one is going to get angry because you've got a kid in the house," Griffith says. "We want our house to be fun — and theirs." And there's enough room to roller-skate indoors.