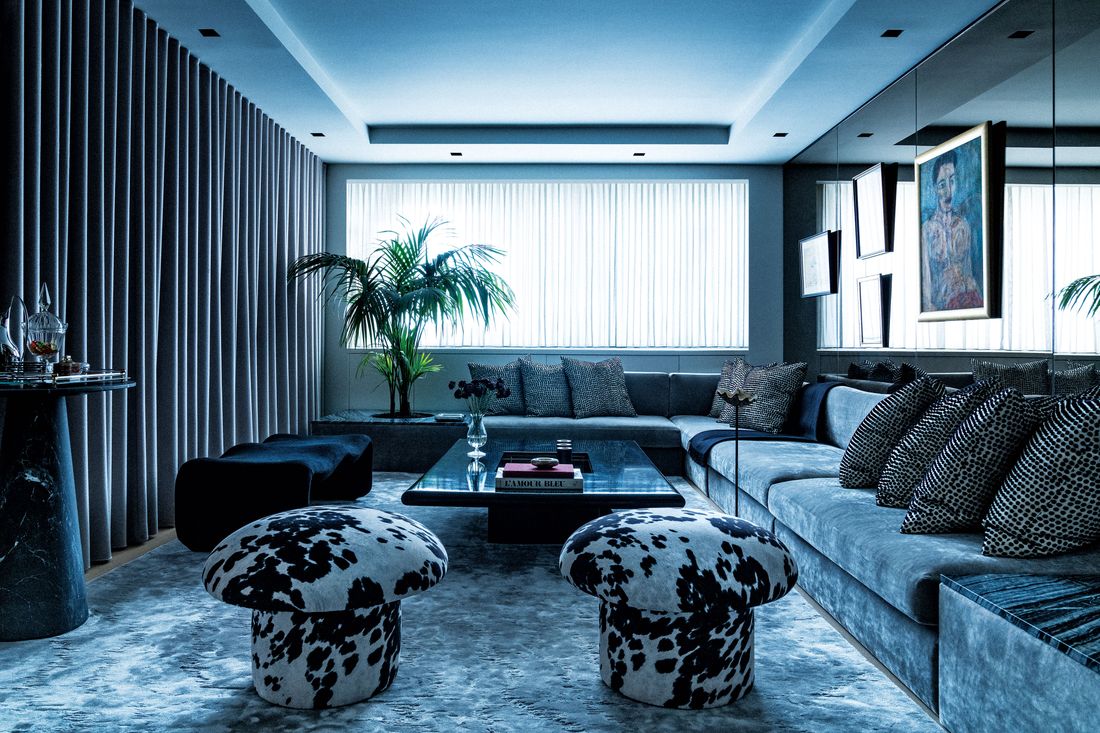 The Living Room:
The custom-built sofa was upholstered in Romo velvet. Pillows are by Pierre Frey, window drapery by Dedar, and a curtain wall of brushed alpaca by Sandra Jordan. The custom silk rug is by Inigo Elizalde Rugs. The mushroom poufs are custom.
Photo: Ori Harpaz
When anesthesiologist John Martins and a director of legal tech sales, Zorik Pesochinsky, bought this two-bedroom apartment in a perfectly practical but entirely unglamorous brick mid-century co-op building near Lincoln Center, "it looked like it hadn't been touched in decades," Martins says. The ceilings were low, the parquet floors worn, and the track lighting out-of-date. There wasn't much light either, though from some windows you can peek at the Lincoln Center Plaza and the pretty old church next door.
But they had a vision for it: a luxurious, Halston-esque cocktails-and-conversation entertainment cocoon. So they brought in the designer Darren Jett, says Pesochinsky, "to give us permission to make the bold choices that our gut instinct wanted but we were far too afraid to make." Jett adds, "Something provocative and sensual."
According to Jett, he worked with architect Rodman Paul to create a theatrical, moody environment evoking "the spirit of a bygone hedonism." Jett says, "We kept everything low-slung and deep, which not only helped to make the ceilings feel intentional; it also gave them the 1970s only-in-Manhattan bachelor-pad feeling they wanted."
His design scheme included bronze mirrored walls, a custom silk living-room carpet, a brushed-alpaca curtain hiding the flat-screen, and velvet upholstery. Even the galley kitchen was given an edge of drama and seduction with anthracite cabinets and a black-mirror backsplash.
What Martins and Pesochinsky didn't get was their fantasy sunken living room — the ceilings were just too low and the room too small — but they are happy nevertheless. "We asked Darren to use every trick in his book to re-create" that feeling, Pesochinsky says. "We didn't know how he'd be able to do it, but he somehow did it."
Martins agrees. "It feels like a firepit in the middle of the room with ultralow seating that draws you in and seals you off from the outside world."