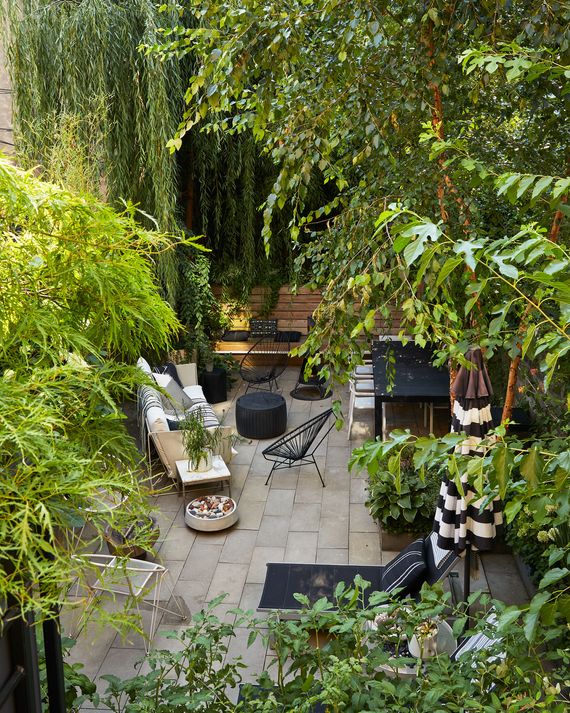 The garden room, accessed from a stair off the kitchen, is used with a wood-burning stove from
Hayneedle
when the weather gets cooler.
Photo: Annie Schlechter
"It's got the vibe of a sunken living room," says real-estate broker George Fesser of the garden that he and his partner, stylist Juan Carlos "JC" Garcia-Lavin, cultivated during the pandemic behind their house in Bedford-Stuyvesant. They had bought the house in September 2019 and planted eight bamboo plants and a river birch that, Fesser recalls, was around seven feet tall; today, it's more than 30 feet tall.
"I thought that to get a garden like this would take ten years," Garcia-Lavin says, as we sit under the giant willow tree in the corner. "The willow came by mail. It was a tiny raggedy thing, only three or four feet high, and rail thin. I was insulted," he remembers. "We get this Charlie Brown one stem with three little arms, and I thought, I am getting rid of this thing." But he didn't; he let it grow along with the other trees, flowers, vegetables, herbs, and fruit bushes that he and Fesser planted from scratch, save for a few inherited tea roses.
Because they had time on their hands (it was during the lockdown), they did research, watching how-to YouTube videos to figure what would help the garden grow. "I think it is all in the dirt," Fesser says of the sauce of ingredients he mixed to make a rich cocktail of soil that includes fish carcasses and bat manure.
Garcia-Lavin adds that "we learned the most from our mistakes." That included growing squash and zucchini. "They took over, and it was a mess, so we don't do it anymore." But not before Fesser made fried zucchini flowers.
"We have scheduled it so that there is always something blooming in the garden," Fesser says. "When the tulips die, they let me know it's time to plant the tomatoes."
There are two fig trees that will soon be ready to harvest. The smaller tree, in the back of the garden, has turned out to be an effective squirrel decoy, as they're so busy pillaging that one they haven't noticed the larger one nearer the house.
And one thing about gardens is that you can't rush them, Garcia-Lavin has learned. "Because I am a stylist and used to getting results right away visually, I would have ordered enormous trees and everything big," he says. "But literally everything had to come in the mail, so everything we got was so tiny, so it was nerve-racking, but, boy, when it took off, it really took off."