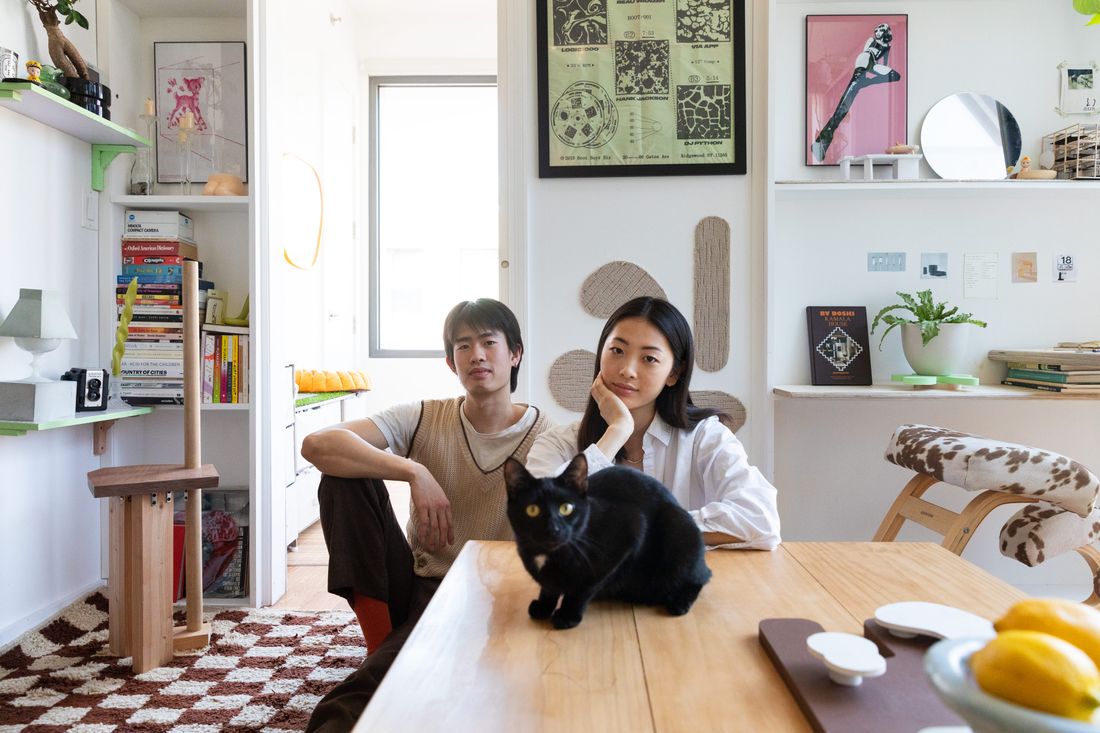 David Zhang and Sarah Kim in their living room. They designed the abstract patches on the wall as scratching pads for Tomo (pictured) and Uncle.
Photo: Dean Kaufman
Sarah Kim and David Zhang met living floors apart in the same dorm at NYU. They went on to share separate apartments with roommates: Kim in the East Village, Zhang in Bed-Stuy. A few months before graduating last year, they decided to move in together. But where? Many of their friends lived in Bushwick, and on visits they would often pass by the brand-new complex the Denizen, with its trusswork façade, which sprawls across two city blocks, contains 900 apartments, and is the sort of place that brags about having a craft brewery, a dog spa, and an arcade room. Kim says they always thought it was "so weird and big. And who would want to live there?"
When a broker took them to look at that very same rental behemoth they had dismissed, the deals were so good that they ended up signing a lease for a two-bedroom to share with a friend of theirs.
It had that "freedom of newness," Zhang says, and the couple decided to decorate it with furniture of their own design. Zhang had spent the previous summer apprenticing with Fernando Aciar, maker of a variety of home goods, from tableware to tiles to lighting and textiles, and owner of the Bed-Stuy co-working space OStudio. Zhang and Kim were given a small workspace rent-free until they could afford to pay. Eventually, they relocated their workshop to a larger spot downstairs, began collaborating with Aciar on the Stair Spread project (building the desk area on OStudio's former service ramp), and launched their own design studio, Homeroom.
"Our first tangible item that we made together," Zhang says, "was a small lamp. It was made of wood, rice paper, and light." They called it Lampu and put a photo of it up on Instagram, and soon requests were coming in from people asking to buy one.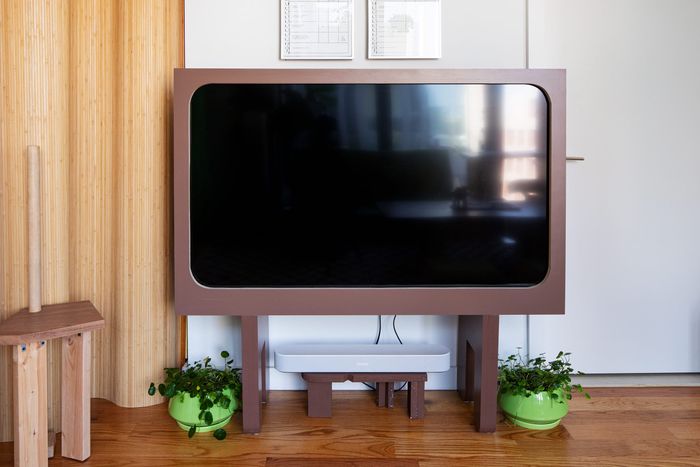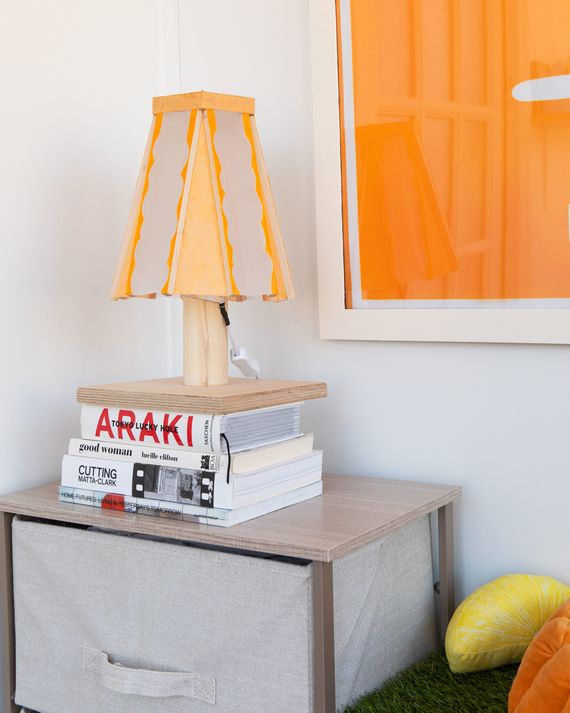 The Bushwick apartment became a testing ground for their ideas, which they still made by hand at OStudio. Partly, their work was in response to the apartment itself: They chose to design pieces that were low to the ground to avoid overwhelming the close quarters and to accentuate the generous light and the views from the large windows.
Over the course of the year, the apartment came together: They created a table, benches, a couch, and a sort of cabinet for their TV ("inspired by old 1950s television sets," says Zhang). Even their cats, Uncle and Tomo, got their own Homeroom-designed bed.
"Ultimately, Homeroom exists because of our home; it is the extension of our private space to the outside world," Zhang says. After a year at the Denizen, he and Kim decided to take advantage of the current era of low rents and move to the West Village, leaving Bushwick behind.