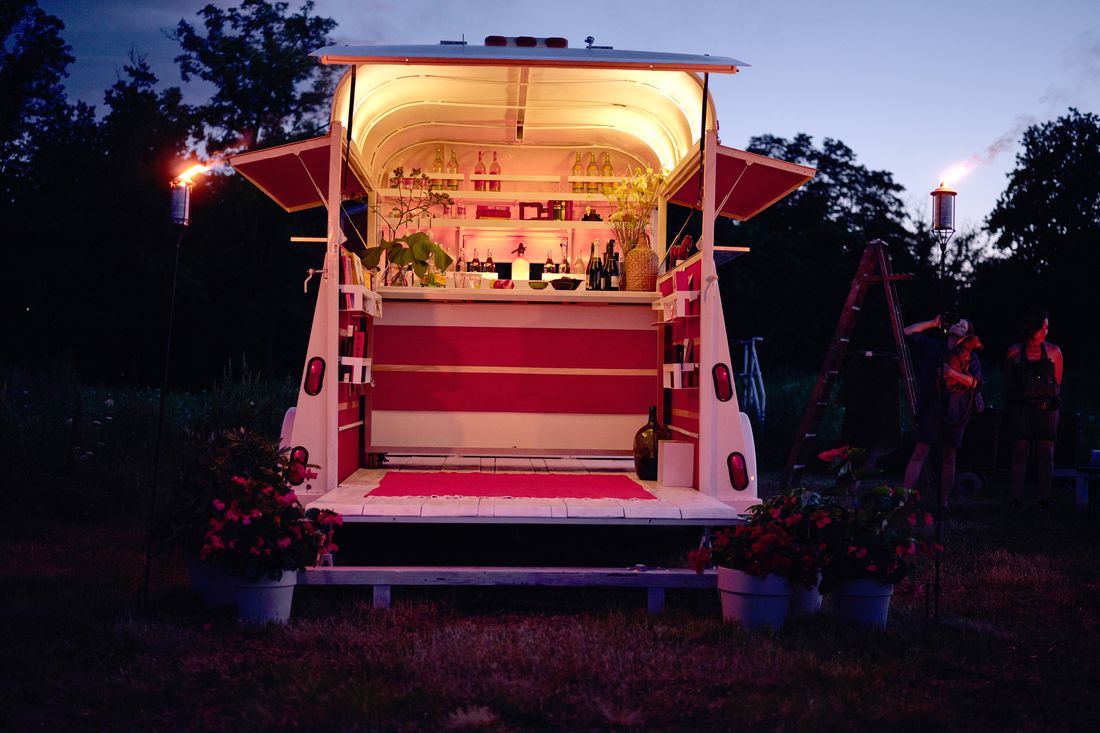 Beauty by night.
Photo: Chad Wagner and Steven Trumon Gray/
Some of the most beautiful things on this planet are found in the most unusual places, in discarded objects that once served a purpose," says graphic designer Laura Valenzuela of the decades-old double horse trailer, which, mostly during the pandemic, she converted into an events space with a little help from her many friends upstate.
Valenzuela, who was born in Costa Rica, had been living in New York City. She moved to Beacon in 2018, feeling burnt out from the city hustle. She ended up renting a space in a converted textile mill dating from the 1870s, the Lofts at Beacon. She downsized her agency, took on fewer jobs, adopted a rescue dog, and dug into her new life.
"For the last four years I have been covered in dirt and mud," she says. "There is a creek on the property that was abandoned, so I began working at that creek … I walked from the path to the creek and started by removing some of the debris. So that became such a nurturing treat for me because aside from the solitude and cleaning up … other people get to use it, and that is how this began."
She found this old trailer online, in Millbrook, and decided to make it her next project. It was rusty and cobweb-filled. Valenzuela thought it was beautiful, so she called it Beauty.
Once Beauty was delivered, it took a moment for her to figure out what she was going to do. "After I took out all the cobwebs and the grime and dirt, I took one of my old Pendleton blankets and that beautiful Saarinen Tulip chair, and I just sat outside looking at it, thinking, What am I going to do with this?"
The restoration was the issue, as she didn't know a thing about the nitty-gritty hands-on labor it would take. The work really got going just before lockdown. But through sharing her project with her artist neighbors, one contact led to another, and she found a circle of pros who helped her. Valenzuela met welder Vince Murray, who helped her learn the ropes. "He told me what I would need and helped me buy the right tools," she says. "He taught me to weld, cut metal, to grind, to use sanding disks, to use a plasma cutter, showed me the hidden gems for powder coating and what to buy as far as fasteners and metal supplies. He was patient, kind, and generous, and he makes a delicious spaghetti sauce."
Now she's realized her dream of turning Beauty into a mobile set available to rent for events, product launches, and celebrations.