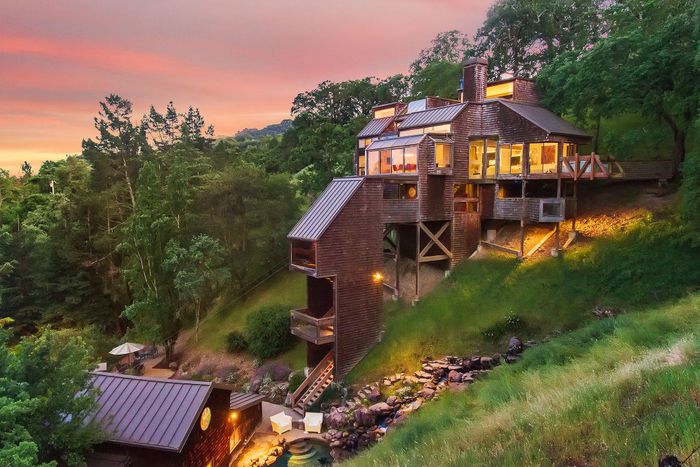 Photo: Photos by Open Homes Photography
This story was originally published by Curbed before it joined New York Magazine. You can visit the Curbed archive at archive.curbed.com to read all stories published before October 2020.
Location: Alamo, California
Year built: 1981
Architect: John Nance
Specs: 3 bedrooms, 3 bathrooms, 2,729 square feet, 2.51 acres
Price: $3,295,000, includes two parcels
When native Californians Joan and John Jamieson set out to build a house near a wilderness preserve just 29 miles east of San Francisco, they were inspired by Sea Ranch, the famed mid-century planned community on the Sonoma coast known for its sloped-roof wooden homes. Although the Jamiesons' architect, John Nance, designed mostly commercial projects, he won them over with one of his few residential projects, which featured a shed roof similar to Sea Ranch's Binker Barn.
The couple wanted the house to blend into the hillside site as much as possible and for nearly every room to have a mountain view. So instead of building on the ground level, they chose to sit the house atop 35 eight-foot piers, which are drilled deep into the ground and are connected by grade beams. This building method, which does not require excavating the land, also helps to reduce the environmental impact of construction as it does not contribute to erosion. In lieu of a concrete driveway that would have covered the hill, they opted to put in five flights of stairs, concealed within a ramrod-straight, shingled structure that matches the house.
The interior combines elements of mid-century-modern charm — like exposed beams and floor-to-ceiling windows — with an over-the-shoulder wink to '80s postmodern whimsy (think geometric cutouts in the walls, colorful exposed ducting, and sunken beds). The property, notably, also comes with a cable tram for stair-free access, plus a detached garage, barn, pool, and horseshoe pit.
"[John] passed away last year, and the house isn't the same without him," says Joan Jamieson. Their home is now on the market for the first time in its 40-year existence.