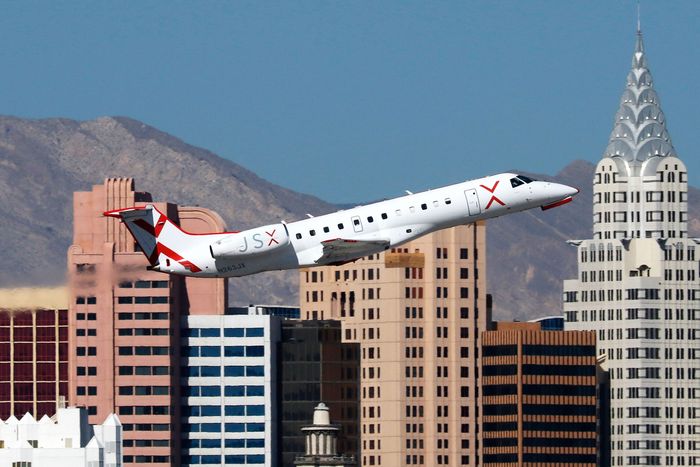 Photo: Larry MacDougal/AP
In recent years, a handful of new companies have launched with "semi-private flights." Each airline has its own slate of services and destinations, but all allow you to bypass the airport (you'll go through a private jet terminal instead), and many cost little more than a business-class ticket. To understand the differences between each service, we spoke to passengers, flight attendants, and pilots.
.

Consider ditching a major airline for these routes:
"Semi-private" flights from New York City are mostly geared toward Miami or Northeast vacation spots. Top companies in this market are Surf Air, JSX, Tailwind, Tradewind, and Blade (it has seaplanes alongside its better-known helicopter option). Because these companies rarely, if ever, show up on sites like Expedia or Kayak, you'll have to seek them out and book directly.
.

Acclimate yourself to their unusual pricing structure.
While on-demand charters can cost tens of thousands of dollars, scheduled shuttle flights are priced comparably to first-class tickets from major airlines. JSX offers at least four flights per week to Miami starting at $769 one way and departing from the Westchester County Airport, where you'll need to arrive only 20 minutes before takeoff (no busy TSA lines!). Mohammed Munshi, who works for an e-commerce start-up, recently flew JSX to visit family. "Regular airline prices were outrageously crazy during Christmastime," he says. The tickets were less expensive on JSX, the seats had more legroom than commercial first class, and his Maltipoo flew for free. "I feel like I could have been a ballplayer, like six-foot-five, and I would have been good," he says. Tradewind, which has daily flights under an hour to Nantucket and Martha's Vineyard and periodic flights to Newport, starts at $500 one way. "In the heat of summer," says Jimmy Broder, who works in real estate and flies to Nantucket, "the prices are fairly similar to what you'll find on a commercial flight."
.

If you must fly to the Hamptons, consider Tailwind.
With flights to Sag Harbor or Montauk Wednesdays through Fridays, Tailwind has tickets that start at $695 each way ($100 cheaper than Blade's). Its fleet of amphibious seaplanes takes off from an East River dock at 23rd Street; as with JSX, you can arrive 20 minutes before departure. Its seaplanes also fly to Boston, Plymouth, Bridgeport, and Shelter Island for as little as $75 one way. (A first-class Amtrak ticket to Boston costs roughly $300, and the trip takes over four hours, compared to Tailwind's under two.) Psychotherapist Jonathan Alpert, who recently flew to Boston on Tailwind, says he was able to walk to the dock from his apartment: "The views of Manhattan from the plane were just spectacular. Once you land in Boston Harbor, you take a small boat downtown. It's an adventure."
.

Know when to book.
Fares move less in the hop-on-jet world than they do with commercial flights. In winter, last-minute flights to Miami can balloon to over $1,000. For Tailwind, book at least two weeks ahead — a $395 flight to Boston can surge to $695 the week of. And Tradewind sometimes has lower prices for Monday and Tuesday flights (for Martha's Vineyard, it's $427 on a Monday versus $855 on a Friday).
.

Probably give up on the dream of flying across the country.
Most semi-private operators use relatively small planes (around 10 to 30 seats). Few offer semi-private cross-country flights, but Set Jet — a members-only private jet service — plans to begin scheduled flights between New York and L.A. this year. To book those flights, you'll need an "elite membership" ($1,000 per month), then seats are expected to start at $3,800 one way. Which is expensive — but less than chartering a truly private jet, which can cost at least $25,000.
.

Consider a membership if you plan to do this regularly.
Wheels Up lets you book private charter flights at an hourly rate; it has a $3,000 first-year membership fee, which drops to $2,500 annually after — a good value if you fly at least four times a year, says John, a family-office manager who has used the service. Its flight to Nantucket, on a nine-seater with leather recliners, leaves from White Plains and costs $795 one way. Members have access to "shared flights," too, where you can buy a seat on another member's private charter (partially booked flights are posted on the app) or even propose your own trip to split among members (the airline conveniently bills each party). Set Jet has an entry-level membership option ($100 per month) that gets you a flat-reclining seat on a plane with roughly a dozen others across the Southwest starting at $560 one way. And for an annual fee of $2,995, Tailwind offers one-way seaplane flights from Manhattan to Bridgeport for $35.
.

And if you do want the full plane, get an "empty leg."
Sometimes private jets have to fly without passengers — if, for instance, the plane's last drop-off was in Chicago but there's a charter leaving from Aspen the next day. To recoup some operating costs, they offer discounts up to 75 percent off to fill a plane that otherwise would fly empty. "Empty legs" often open up at the last minute and rarely include a return trip. Websites like Victor and New Flight Charters allow you to book empty legs at the last minute. You can set alerts for a destination — recently, an empty leg that popped up on Victor could fly 13 people from New York to the Bahamas for roughly $2,100 per person.