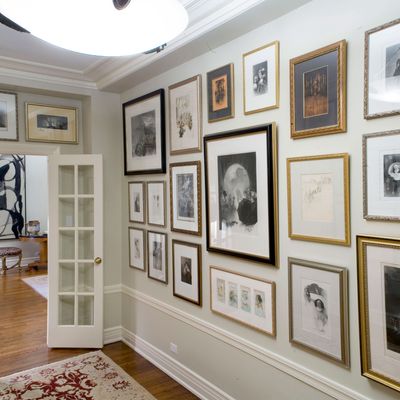 Photo: Bill Hogan/Chicago Tribune/Tribune News Service via Getty Images
If you've had home improvement on the brain over the past few months, you're not alone. According to a recent poll of 1,054 people, 70 percent said that they've decided to take on in-house projects over the past few months. Home improvement doesn't have to mean taking a sledgehammer to a wall, though: One of the simplest ways to spruce up your home is to put up some framed pieces, a task that can often seem strangely daunting. To find out the easiest ways to hang framed pictures, mirrors, and even decorative plates, we consulted with David Kassel, the owner of art placement and installation company iLevel — who also installed decorative plates in Martha Stewart's "Winter House" earlier this month. Kassel assured us that hanging stuff on the walls is easier than we might think: "Don't be terrified of putting a nail hole in the wall," he says. "Most likely if you don't like it, there's going to be another picture that will cover it." Below, the best tools and tips for hanging pieces at home, according to Kassel.
How to hang a framed picture, according to David Kassel
First, you'll need a level, a hammer, picture hooks, nails, tape measure, and a pencil. I suggest using a 24-inch level. The price can reflect how sturdy they are, but any one in the $15 range is fine.
I suggest using blue painters' tape to put a little piece at the bottom of where you're planning to put the frame on the wall. That way, you can mark it with the tape, then easily peel it off, without marking the wall, in case you make an error.
People get stymied by this idea of hammering into their walls, but these picture hook nails will not do any structural damage — you're not going to hit a pipe or an electrical thing with these nails that go in maybe three-quarters of an inch. And any hole you make can easily be touched up. You can literally fill the hole with toothpaste — or that's what we used to do at summer camp in New Hampshire, anyway. You can do that if you're so quarantined that you don't even want to go to the hardware store for spackle, and then touch it up with even a little bit of watercolor paint or something that will match the wall.
OOK hooks are sold at hardware stores, and they're all weight-rated on the package — which refers to the weight each individual hook can hold. We always suggest hanging everything on two hooks so that it stays stable, and so that every time a bus goes by or the subway rattles your building the picture will stay in place and not become crooked.
Typically, the back of frames are wired with either little screw eyes and a wire that runs across the back, or D-rings, which are metal hooks shaped like a letter D, and that can be fastened to the frame with screw. We prefer to use just the D-rings, rather than a wire, because they keep the piece stabler. D-rings usually come with a screw that's about three inches, so you just need to use a screwdriver to screw it into the back of the frame on the left and right sides. They should be screwed in equidistant from the top of the frame; about third of the length of the frame down.
Our go-to is that there are no rules and you should hang things where they look best. But if you do want a formula for hanging a painting, here it is. The go-to is to hang things so that they're at 60" center, meaning that the centers of the paintings, even if they're disparate sizes, all line up at 60", measured from the floor up the wall. It's what you'll see in galleries and museums when they're having several things of different sizes in a row.
To start, take one painting and measure from the top to the bottom of the frame. Divide that number of inches in half: So if the painting is 24" from top to bottom, then the number after dividing would be 12". Then, measure the distance from the top of the frame to the D-Ring — let's say it's 6". You would then subtract that 6" from your first calculation of 12", which would leave you with 6". Add this number to the height of your center line (60") — in this example, that adds up to 66" inches from the floor up the wall. Mark that spot on the wall. Now measure across the width of your frame. Divide that number in two, and measure out that number of inches to the left and then to the right from your first mark — these are the two sides of the frame, where the left and right hooks will go. If you follow those steps, you'll have a straight painting, picture, photograph, anything.
But it's rare we actually hang things 60 inches to center. It's really about personal taste. And accommodating perspective. For instance, to me it always seems insensitive to me when people hang art in children's bedrooms at an adult height, where the children can't see it.
When you're putting the nails into the picture hook, they should go in at a slight angle. If you don't, that 30 pound picture will pull that tiny little brad out of the wall very, very easily.
Hanging a mirror
Hanging a mirror is similar to hanging a picture, but you'll want to bulk up the hardware a bit because a mirror is generally heavier than a painting. Use the blue tape first so you can see how it'll look in the space, then go with D-rings. There are three basic sizes of D-rings: a one hole one that's good for thirty or forty pounds, then a three hole that you should use if you're hanging something very heavy. Each of those three-hole D-rings is rated for 75 to 100 pounds, so if you're using two, the whole thing holds up 150 pounds.
Hanging a plate
We just did this big project recently for Martha Stewart at her home in Bedford where we hung these plate arrangements. To do something like that you'd use plate hangers, which you can find at most hardware stores. The plate hooks you use will depend on the plates. The grips themself that hold the plate are either brass or white, and they usually have a little nylon sleeve on them to protect the plate. So if your plate is white, you would try and buy a white plate hanger. If you're hanging a group of them, I suggest laying them out in a configuration on the floor first. To hang them, you just have to start somewhere. You're only using one hook for each plate, so it's a little bit easier. If you have a specific spot where you want the plate to be, put the hook two inches lower.
The Strategist is designed to surface the most useful, expert recommendations for things to buy across the vast e-commerce landscape. Some of our latest conquests include the best acne treatments, rolling luggage, pillows for side sleepers, natural anxiety remedies, and bath towels. We update links when possible, but note that deals can expire and all prices are subject to change.