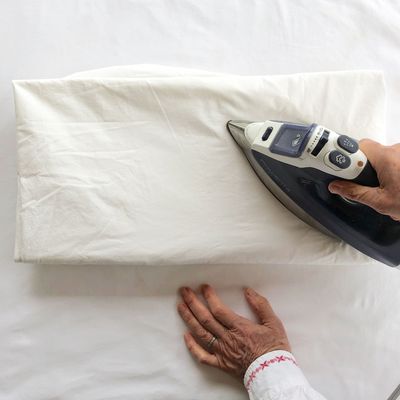 When we talked to Maira Kalman, whose illustrated edition of Gertrude Stein's The Autobiography of Alice B. Toklas was published last month, about the things she can't live without, a Rowenta iron and a container of Linit starch were both high on her list. "I'm a big ironer, and I could talk about ironing at great length," she told us at the time. "Getting into bed is one of the great moments of life. But it has to be in a beautifully made bed with white linens that are starched and ironed." That sounded pretty good to us (as does anything that might help with a good night's sleep these days) and we wanted to hear more. Kalman was happy to share how to properly iron a set of bed sheets — an activity that she says she "loves, loves, loves to do." "When there are so few things you can control," she added, "it can be extraordinarily soothing to find little things to be in charge of, and that give you solace."
Maira Kalman's steps for ironing sheets
There's a legacy of ironing and starching sheets in my family — one that starts in Belarus, long before I was born. My grandmother, my aunts, my mother — everybody did it. It wasn't unusual at all. It's certainly a dying art, but basically the idea is that if you get into a bed that's phenomenally beautifully starched and set, with the linens you love, getting into bed becomes this kind of ecstatic moment. You know, if you have a book and bed and a cup of tea, I think there's nothing more that you really need. I mean, you may want somebody with you, but that's another conversation. Back then, nobody had an ironing board — they just covered their tables with a towel or a sheet. Of course, people have ironing boards now, and you can use them. [Editor's note: If you do want to opt for an ironing board, these two were favorites among Amazon reviewers, with one describing the Brabantia as "rock solid with no shifting when pressed on. Substantial without being overpowering in weight."]
And then, of course, the iron. The basic iron of choice, if you're not in a serious professional mode, is the Rowenta Professional Micro. It's a basic iron, there's nothing unusual about it — it's not like a giant steaming machine, or anything like that. Just a really good, basic, nobody-needs-more-than-that kind of iron.
You'll want to put your starch concoction in a spray bottle. Depending on how starchy you like things — personally, I really believe in my things being quite starchy— you adjust the mixture of starch and water in the bottle. There's Linit and Sta-Flo starch, which both come in a liquid, and you can make a mixture in your spray bottle of half starch and half water, or a third starch, and two-thirds water, whatever it is that you like. For napkins, pillowcases, shirts, and sheets, I do about half and half. Then you spray that on the item you're ironing, and the mixture of the steam from the iron and the starch-water makes it so you can iron them really well. In the olden days, you'd wash and boil your clothing with starch so that everything could basically stand up and be part of the house. This kind of starch is not so much that — it'll just make everything soft and smooth and lovely. It won't make things too stiff or harsh.
The things that I think are easiest for people to tackle are cloth napkins for dinner and pillow cases. Napkins are wonderful to do because they're just these big squares that you can iron and they're very satisfying and fast. The same for pillowcases.
For pillowcases, spread them out on top of your table or ironing board. I do the backside first, with the iron very hot on a cotton or linen setting. Then you hold the iron down and start sweeping. Not long, but medium, sweeps. Hold the iron a little longer or spray a little extra of the starch spray on any crease or place that needs extra smoothing. You do that across the front side, too, and then fold it in half the short way, and then iron that.
Ironing the flat sheet is a similar process to the pillowcase. Fold it, iron a side, unfold it and refold it to do the different sides — so that you're not trying to tackle the entire thing at once. You can fold it in halves or thirds. By doing it while it's folded, you're managing the size of the sheet, but you're still ironing all sides of it.
Ironing a fitted sheet is a bit more complicated. You first have to find the corners. Then you place one corner inside another corner on both ends — like you're folding it into an envelope. One corner is tucked under the other, making a nice edge. Once you've ironed that side, fold the sheet in half again, and fold the side facing up. A long time ago, I was with a friend of mine and we were shopping, and she said, "Do you know how to fold a fitted sheet?" And I said no, and she showed me this, and it was one of those moments of — I'll never forget it, this kind of revelation of somebody showing you something that you had no idea was so easy and you could do it for the rest of your life.
Sometimes it's nice to have lavender-scented water, and of course lavender sachets, in wherever it is that you happen to be putting your linens. The farmers' market had a fantastic lavender person from Long Island, and they sell every kind of sachet or bunch that you could ever want. [Editor's note: Lavender by the Bay is closed for the winter, but its loose dried lavender and sachets are still available to order online.]
I always listen to music while I'm ironing, and today I'm listening to St. Matthew's Passion, which is appropriate for the season, but it's also good for every day of the year. It gives you hope. But you should listen to whatever you love. I'll listen to any Bach, of course. But then you can go to Leonard Cohen, or whomever you like.
The Strategist is designed to surface the most useful, expert recommendations for things to buy across the vast e-commerce landscape. Some of our latest conquests include the best acne treatments, rolling luggage, pillows for side sleepers, natural anxiety remedies, and bath towels. We update links when possible, but note that deals can expire and all prices are subject to change.