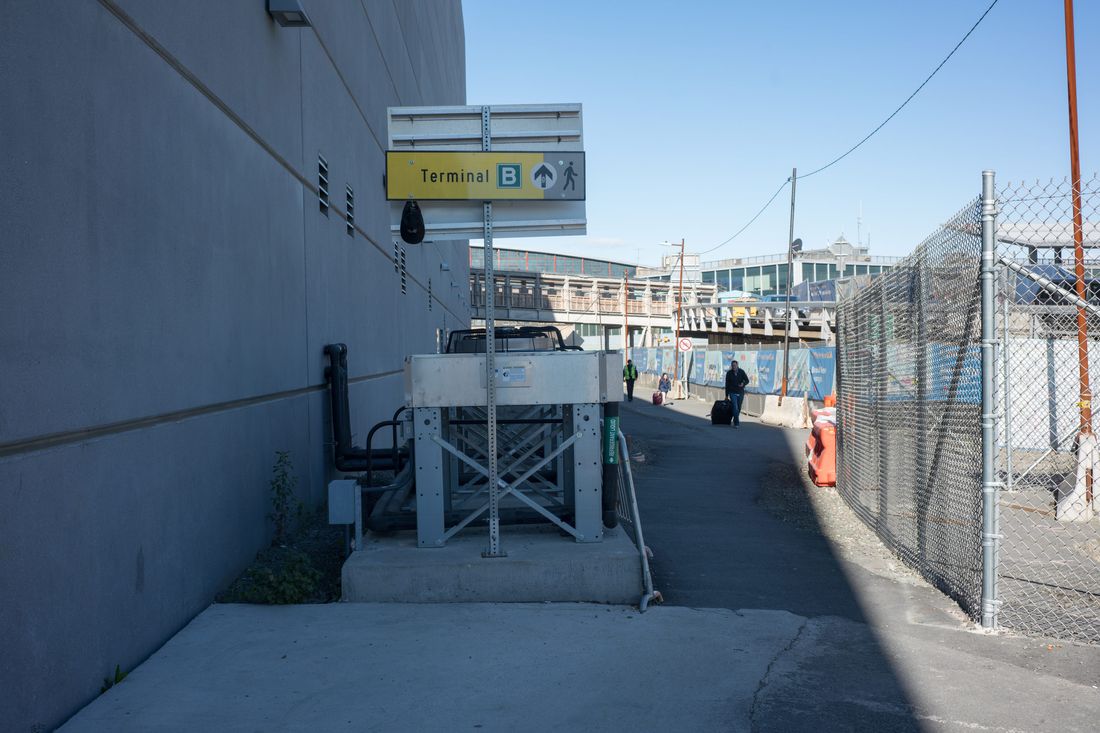 This story was originally published by Curbed before it joined New York Magazine. You can visit the Curbed archive at archive.curbed.com to read all stories published before October 2020.
On a crisp and sunny autumn day, not long ago, I walked to LaGuardia Airport. I wasn't one of those people you've seen on the news who get so panicked by gridlock on the Grand Central Parkway that they abandon their taxis and drag their wheelies across eight lanes of traffic and up the exit ramps to their terminals. I wasn't even in a hurry. I didn't have a plane to catch.
I wasn't going anywhere except the airport.
Accompanied by Stanley Greenberg, a photographer whose primary interest is urban infrastructure, I walked to the airport simply to see if it could be done. It was an expedition, like Magellan circumnavigating the earth or Lewis and Clark trekking to the Pacific Ocean, except we were heading to a place that had already been thoroughly discovered — by some 30 million passengers a year — and is only five miles, as the crow flies, from midtown Manhattan.
The walk was partly motivated by curiosity and partly by principle. I had this theory that airports would be better — both as transportation facilities and civic spaces — if they were more intimately intertwined with the cities they serve. Jets taking off and landing require a lot of space, meaning there's a limit to how centrally located an airport can be, but that doesn't mean they need to be difficult to access.
Many if not most European and Asian cities (Amsterdam, Frankfurt, and Hong Kong come to mind) deftly weave air and ground transportation, while US cities are taking baby steps in that direction. Denver, as of 2016, covers the 23 miles to its airport with a train called the A Line. Portland, Oregon's light rail line, Max, has been carrying passengers to PDX since 2001. And in Chicago, O'Hare has been the last stop on the CTA's Blue Line since 1984. (A recent New York Times report even identified US airports, such as Boston's Logan, that are accessible by bicycle.)
But in New York City, where more people commute by public transportation than in any other city in the country, our airports are only tangentially accessible by transit. They are much harder to get to than other major outer borough facilities, like Yankee Stadium or Citi Field, both of which are directly served by the subway system.
I'm not arguing that airports should be like heliports, or immediately adjacent to densely populated neighborhoods, but rather, that they should behave more like neighborhoods. What if the psychological and physical barriers separating us from air travel were less daunting — or maybe eliminated altogether?
These aren't completely irrational questions. As London-based architect Stephen Barrett, a partner at Rogers Stirk Harbour + Partners (the firm behind acclaimed terminals at London's Heathrow and Madrid's Barajas) frames it, "At one stage, [the New York area's airports] might have been on the perimeter of the city, but they've certainly been absorbed, in large measure by the growth of the city, which immediately means that they are neighborhoods of greater New York City, and they should be treated as such."
Barrett suggests that technological improvements to aircraft might make more neighborly airports possible. "As flying becomes, we hope, cleaner and quieter, I think it's going to be easier to cohabit with airports."
I chose to go on foot to LGA rather than the larger and more remote John F. Kennedy International Airport for a number of reasons. For one thing, I'd heard of people walking to or from JFK. In fact, the New York Times featured one of those walks; novelist Will Self was profiled in 2006 hiking the 20 miles from JFK to Manhattan. Self had given up drugs and alcohol and replaced his vices with exceptionally long walks. His route, which began on Conduit Avenue, long a favorite of savvy car service drivers (and drag racers), sounded logical to me. I was fairly sure that walking to or from JFK was, if not pleasant, than possible.
On the other hand, I'd never heard of anyone walking to or from LGA which is, in a way, even more isolated than JFK, thanks to the fantastic tangle of highways plotted and built in the mid-20th century by the legendary Robert Moses. Logically, because LGA is so close to the center of the city, it should be as accessible as, say, MoMA PS1 or the Asian food courts of Jackson Heights. (Its site on Flushing Bay was once home to a waterfront amusement park, so it must have been easy to get to, once upon a time.)
However, earlier this year, when I first started researching the trip, Google Maps informed me it was impossible to get there by foot. The pedestrian directions ended by a car rental place on the wrong side of the Grand Central Parkway. All of which, of course, made me more determined to try.
One weekday morning in October, Stanley and I rendezvoused at the Court Square Diner in Long Island City and set off on a five-mile sojourn that began with a jarringly unpleasant tour of Jackson Boulevard's glassy residential towers. Somehow no one seems to have given a bit thought to the basic needs, like the ability to safely cross the street, of thousands of new residents. (The area is slated for a major reconstruction of the streets that will, presumably, make them less overtly hostile.) This was followed by a saunter through Northern Boulevard's industrial leftovers, like the epic white concrete Standard Motor Products building, originally a furniture factory and later taken over by its namesake auto parts manufacturer. Then we hit Steinway Street's pedestrian-friendly, multi-ethnic patchwork of mom-and-pop businesses. It was shaping up to be a great walk.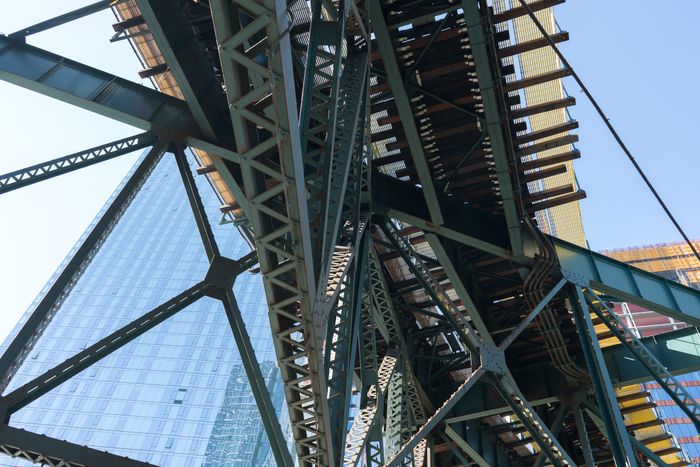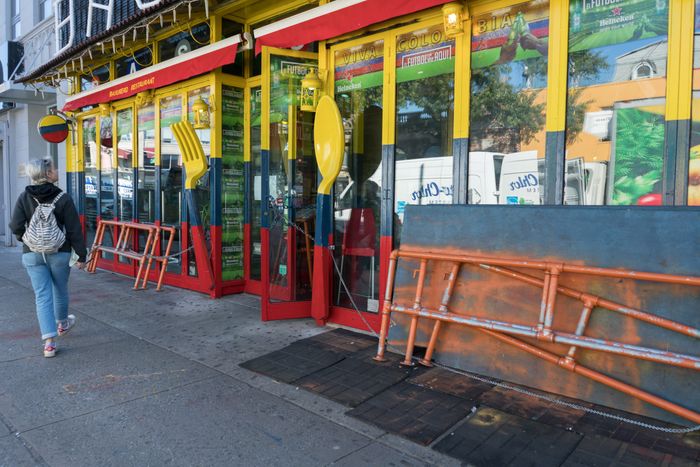 Somewhere along the way, as we were geeking out over manhole cover insignias and ventilation shafts that indicated that one of New York City's water tunnels was directly below, I was reminded of my very earliest trip to the airport. In 1968 or so, my sister, who is ten years older, became the first member of my immediate family to fly. She traveled to England to spend a college semester abroad. A few months later, she was on her way home, and my parents, my brother and I drove from New Jersey to JFK to pick her up.
Her flight was on Icelandic Airlines (now Icelandair) which, at the time, still flew propeller planes across the Atlantic. She was due to arrive late that night, but her flight was delayed in Reykjavik until early the following morning. So my family spent the night at the airport. My father dozed in a chair. My mother listened with unbelievable patience as a bizarre woman in the waiting area narrated her life story. And my brother and I wandered.
As dawn broke, we were at the Tri-Faith Chapel Plaza, which comprised two circa-1966, now-demolished Modernist churches and a synagogue around a lagoon at some distance from the terminals. The lagoon was ringed by trees that were crowded with birds, more than I'd ever seen in one place before, except in that Hitchcock movie.
Later I tried, without success, to explain to my fellow sixth-graders how cool it had been to be there, on the edge of the airport in the early morning light, with thousands of birds chirping in unison. For me, it was like standing on the brink of the wider world.
Back then, airports were open, approachable, almost liberating places. It's hard to imagine now. That openness, I assume, is gone forever, wiped out by a security routine that was jury-rigged into place after 9/11 and seems unlikely to ever go away. But the freedom to wander unimpeded from landside to airside was curtailed long before 2001: Metal detectors were introduced to airports in 1973 in response to a wave of hijackings.
Indeed, I was reminded in a conversation with Curtis Fentress, the architect best known for his design of the Denver International Airport, a white tensile structure that looks from the air like a giant meringue, that one of the most destructive early incidents of air travel related terrorism happened right at LGA.
"It was very convenient and easy to use," Fentress, who began his career in New York, says of LGA. "And then somebody planted a bomb in the lockers." He was referring to a 1975 act of terrorism in which a terror group — it's still not clear who — dropped a pile of dynamite and a crude timer in a coin-op locker in a baggage claim area. As a result, 11 people were killed and another 74 injured.
The increasing complexity of the airport security gauntlet is one obvious obstacle separating LGA, or any other airport, from its surroundings. But in New York City, infrastructure, or lack thereof, is a bigger impediment. Getting to and from our airports has long been a test of skill and cunning. We are a city of walkers and transit riders, but when we go to the airport our best option is usually to drive or be driven. According to Port Authority statistics, 90 percent of LGA passengers arrive there by private car. Only six percent take public transportation, which, in the case of LGA, means taking a bus to or from a subway station.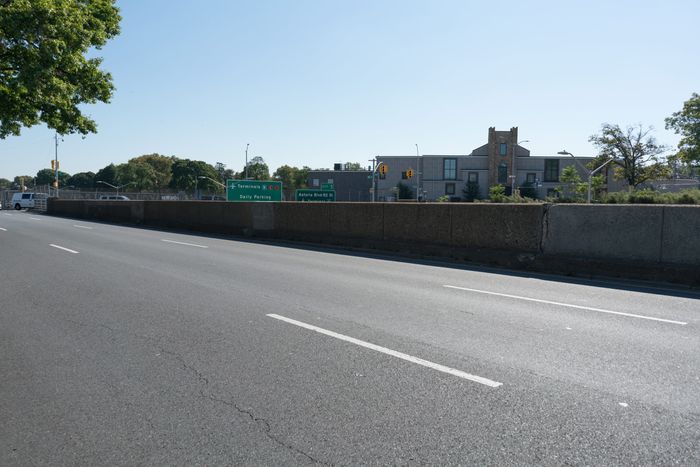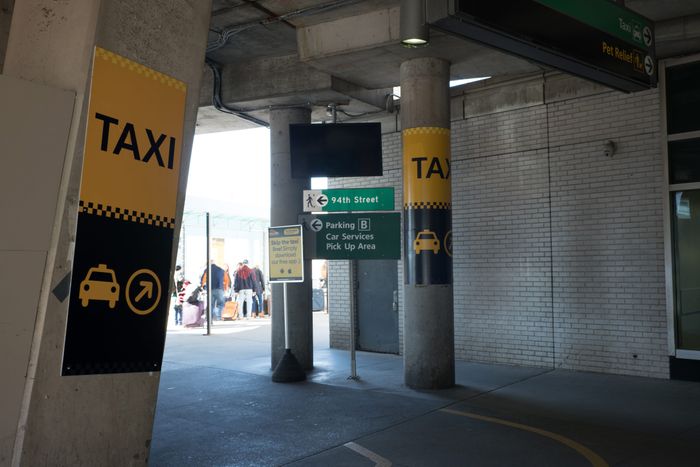 And, as a recent study commissioned by the Port Authority noted, the trip by car is getting slower. Between 2014 and 2017, the average travel time from Times Square to LGA increased from 31 to 35 minutes. That alone doesn't sound so bad, but the maximum time for the same trip increased from 47 to 54 minutes. And the number of "extreme travel days," on which at least one trip takes 70 minutes or more, quadrupled.
One problem is that there are more cars on the road in Brooklyn and Queens due to "the dramatic increase in the for hire vehicle market." In other words, Uber and Lyft are making your drive to the airport slower. The larger problem is that the number of travelers passing through New York's airports keeps growing (LGA handled 4.5 million more in 2017 than in 2007), while New York City's non-car routes to those airports have stayed about the same.
The drive to JFK, which handles twice as many passengers as LGA, is generally much longer, but the transit situation there is a bit more multi-modal. A "people mover" called the AirTrain opened in 2003. It runs on eight miles of elevated track and connects the airport to the Howard Beach A train subway station and the Jamaica station on the Long Island Railroad.
The AirTrain is used by just over 12 percent of JFK's passengers, but it can be befuddling, especially for tourists. You pay a fare when you disembark before you can transfer to the subway that will actually get you to your destination. In April, artist Ben Rubin, who's made videos about airports, toured JFK's Eero Saarinen-designed TWA terminal (soon to reopen as a hotel) with a group of a dozen air transportation experts. He described the chaos that ensued as this hyper-competent crowd hit the transfer point between AirTrain and Long Island Rail Road and discovered that their seven-day MetroCards, a type favored by visitors to the city, aren't accepted by the Port Authority's turnstiles. "It was such a clusterfuck, trying to work the vending machines," Rubin recalls.
And AirTrain is only as dependable as the subway and train lines it feeds, which is to say, not very. By European standards, where airports usually sit atop fast, efficient train lines, it's an embarrassment. But the Port Authority, which owns and operates New York City's airports, regards the AirTrain as an accomplishment.
In a recently announced $13 billion overhaul of JFK, which will include new terminals and a reorganization of the airport's ring roads, the Port Authority has recommitted to the AirTrain model, expanding its capacity rather than investing in a direct rail connection (aka a one-seat-ride) to the airport. Plans also call for adding lanes to the perpetually backed-up Van Wyck Expressway, eternally wedding JFK's future to the car.
Meanwhile, LGA is being rebuilt under the auspices of a public/private consortium called LaGuardia Gateway Partners. The rebuilding will create "a single, unified hub" instead of the present-day amalgam of four terminals. Recently, 11 gates of an 18-gate concourse in the new central building opened to great fanfare, with another 61 gates and five concourses to go. The airport also boasts a new parking garage with a dedicated floor for those for-hire vehicles.
The plan at LGA is to replicate the AirTrain approach, connecting the airport to the city via a Long Island Rail Road/MTA station at Willets Point, near Citi Field. LGA passengers who are traveling to or from Manhattan, if they decide to use mass transit, will have to go deeper into Queens to access the airport. Transportation advocates have pointed out that something more direct, like an extension of the R or N train, might make more sense, but that doesn't seem to be in the cards.
There used to be a ferry from Manhattan to LGA, which operated as part of Delta Airlines' shuttle service but it was discontinued in early 2001. When Gov. Andrew Cuomo announced the rebuilding of LGA in 2015, there was talk of reestablishing ferry service, but there's been no mention of that possibility lately.
Note that New York City's successful sales pitch to Amazon for its forthcoming Long Island City headquarters promised a 25-minute trip to LGA via public transportation, and 15 minutes by car. According to Google Maps, the weekday afternoon travel time from Anable Basin, where Amazon's HQ2 will likely be built, and LGA via public transit is currently in the 38 to 49 minute range. It's hard to say whether the travel time will be as quick as promised once LGA's AirTrain is operational because, as with JFK's version, travel time is a function of how well the subway system and/or the LIRR are running.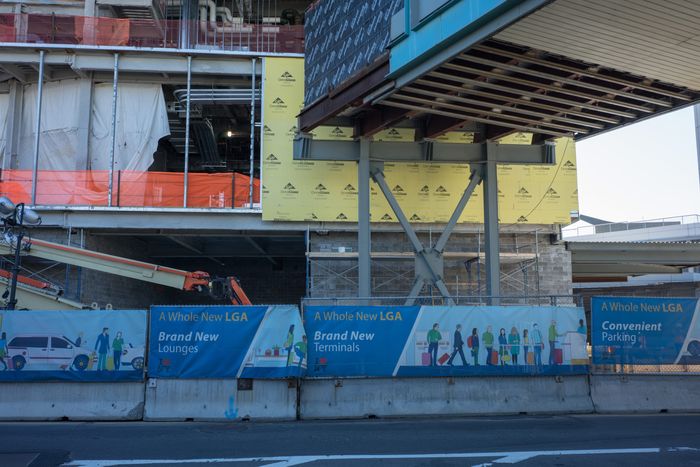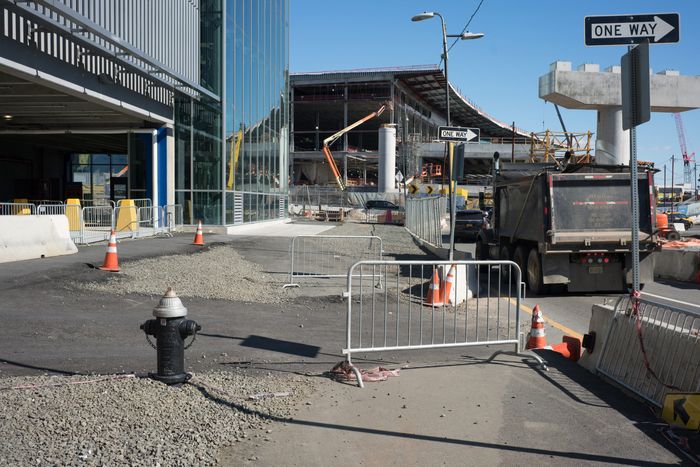 The rebuilding of LGA comes on the heels of a period in which the world's airports have been reinvented, especially the areas on the far side of security. The first decade of the 21st century reintroduced beauty to the design of airport terminals, such as employing light and color as wayfinding devices, as seen in Foster + Partners' T3 in Beijing, the world's largest building when it was constructed in 2008.
Less dramatic evidence of this trend can also be found in airports all over the United States, a phenomenon that seems to have escaped the attention of Cuomo. At the LGA ribbon-cutting this November, the governor declared, "New York once again shows the way forward for this nation. If we can do it here, and set the example, you will see the nation follow." But New York City is behind the curve. Across the US, other cities have spent the past ten years jazzing up terminal design, added local food vendors, and even begun to position airports as civic gathering places.
Denver's airport, for example, uses the plaza between its hotel and its main terminal for public events. Currently, it's serving as an skating rink open to the general public. And Robert Chicas, director of HOK's global aviation and transportation practice, tells me that the firm's 2014 Indianapolis airport terminal contains a publicly accessible central space that's 300 feet in diameter with a 30-foot ceiling. "When anybody has a major announcement to make, they don't make it on the steps of City Hall," Chicas notes. "They make it out at the airport."
The new LGA will, in theory, come with a dose of that civic goodness and commercial luster. "There will be large public spaces for community events and to showcase the airport's rich history," according to Port Authority senior public information officer Alana Calmi. New concessions, she says, will be "best-in-class" and include a branch of McNally Jackson, the beloved bookstore that's will soon be dislodged from its Nolita location; a Shake Shack (of course); and an Italian osteria from Scott Conant, with a cocktail bar by nightlife impresario Rande Gerber.
But there's a difference between a terminal that radiates civic virtue and one that's a true public space. Andrés Ramirez, a writer and curator who heads an organization called Aerial Futures, tells me he's "very interested in how airports are laboratories of civic expression." In particular, he was excited by the way airport terminals became magnets for protest in January 2017, when President Donald Trump announced his first round of travel bans. Ramirez had been told by one participant in the demonstrations that took place at LAX that it was one of the "best protests she'd been to." Why? Because airports have tons of bathrooms and reliable sources of food, both rare in most protest situations.
Terminal 4 at JFK, the airport's largest facility for international arrivals, also attracted demonstrators. Charlotte Alter, a Time reporter who covered the protest, told me at the time that she was booted out of the terminal by Port Authority police officers, who cited its status as private property—which it is. As strange as it may seem, an airport that is owned by the city of New York and operated by the Port Authority, a public agency, is full of terminals that (like the one now under construction at LGA) are the fruit of public/private partnerships.
And often those agreements privilege private control over public interest.
After following Steinway Street for about a mile, Stanley and I crossed Grand Central Parkway and headed east on Astoria Boulevard North, which is in essence the big highway's service road. But it didn't feel that way. For one thing, there was a decent (but totally depopulated) sidewalk. For another thing, there were lots of substantial trees — big oaks and maples that we guessed predated the highway, which was built in the 1930s.
Our walk skirted the edge of a residential neighborhood full of well-tended brick houses. There was a bit of commercial activity on our route: a vintage diner, originally called The Airline Diner but now a branch of the Jackson Hole chainlet; a motel, a wee flower shop, and an abandoned balloon stand. But mostly it was just us and the highway.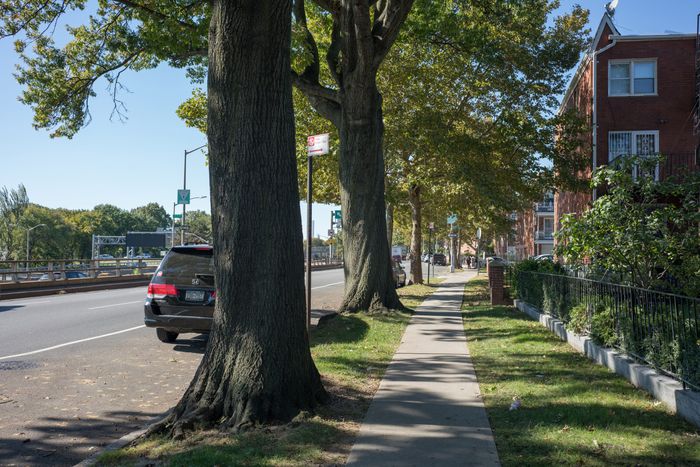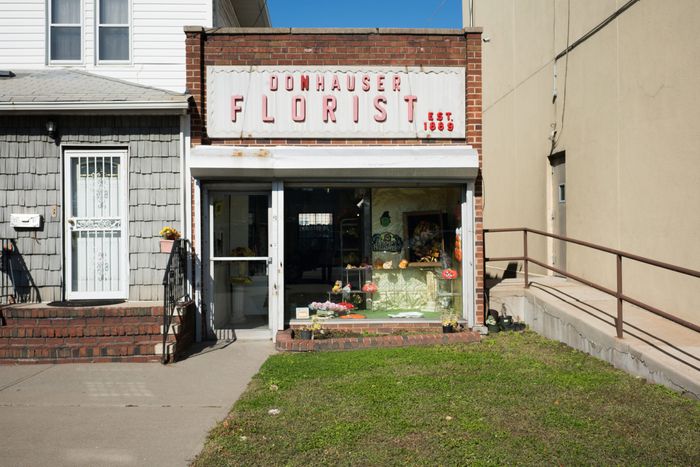 After about a mile and a half, Astoria Boulevard led us back across the parkway — opposite the airport, but on the wrong side of the highway — and we followed Ditmars Boulevard, which is lined with businesses. Some were airport-related, like parking lots and rental car companies, and some were conceptually linked, like the Vaughn College of Aeronautics and Technology, which boasts its own miniature air traffic control tower. There was also a pattern of grassy open spaces and parks, mostly used as smoking areas by employees of the adjacent businesses, and small fields reserved for runway lights.
What I found most striking were the side streets full of borderline-modern houses dating from the 1950s, meaning they were built well after LGA opened in 1939. It began to dawn on me that — never mind all my theorizing about how airports should be more like urban neighborhoods — LGA pretty much is an urban neighborhood. People may not live in the airport, as the character played by Tom Hanks did in The Terminal, but they live awfully close by.
During our walk, Stanley and I speculated about what we'd do if we wound up on the wrong side of the highway and there wasn't a pedestrian-friendly way to get back across. Would we risk our lives to somehow get over the highway? We needn't have worried, because at 94th Street, there was a bridge that even had a pedestrian crossing signal. Not only was there a wide, welcoming sidewalk on one side of the bridge, but there was signage indicating that Terminal B was a ten-minute walk. On the other side of the bridge we found pedestrian operated signals, a bike route indicator, and signs pointing out the "pedestrian walkway."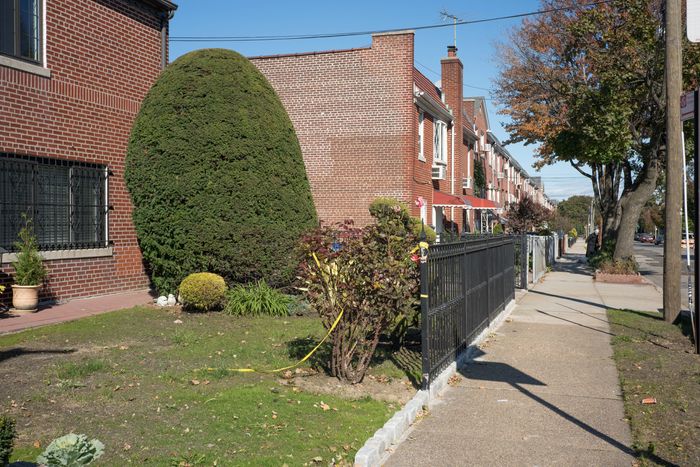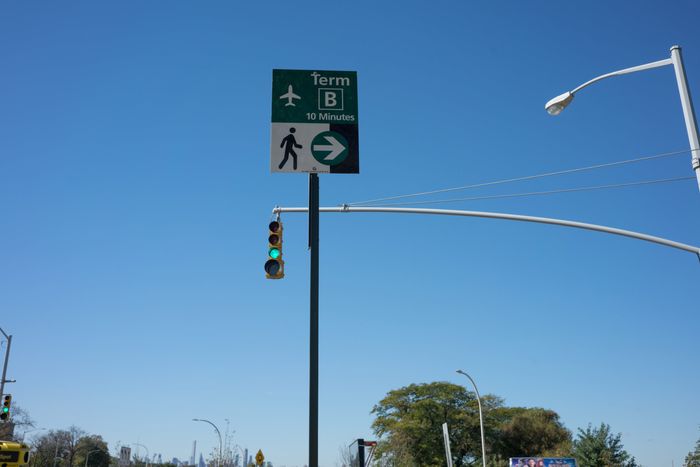 Granted, it wasn't the safest, most pleasant place to be a pedestrian. LGA is, as I mentioned, currently a construction zone. But as we approached, weaving between all sorts of temporary barricades and fences, we began to notice other pedestrians, mostly airport workers with their OSHA approved neon orange vests, walking toward us.
I finally buttonholed a couple of workers who looked like they were dressed to guide taxing planes into their gates. Here's what they told me: A lot of airport workers — there are 12,000 of them total — park somewhere in the adjacent neighborhoods and then walk the rest of the way to work. They could pay $130 a month for employee parking, but that's a lot of money, and the construction workers rebuilding the airport have monopolized the parking areas that are closest to the airport. Regular employee parking is far away, "practically on Riker's Island," according to one LGA worker.
According to a Port Authority study released in October, one percent of workers arrive at the airport by "non-motorized modes." Stanley and I thought we were explorers, discovering an unknown route to the airport, but it turns out that roughly 120 people go that way every day. And I realized something that should have been obvious from the outset: For those employed at LGA, it's as much a neighborhood as the Financial District is for those who work on Wall Street.
When you ask about transformative trends for airports, you tend to hear the same things again and again. Yes, there is sunlight and greenery and food halls full of artisanal fare, but the bigger changes tend to be high tech, not low tech. For example: Uber has displaced private cars and rental cars; autonomous vehicles will further advance that displacement.
And there's the Uber-fication of air travel itself. Fentress tells me he's tracking the development of the TriFan, hybrid of a helicopter and a jet. It takes off and lands vertically, and flies 500 miles per hour. Which, I guess, suggests a future of neighborhood airports, although not in the way I'd imagined.
"Where are these vertical takeoffs going to fly?" Fentress speculates. "They're going to fly in the right-of-ways of the highway. So this is going to look like Bladerunner. You could see a level on the surface of trucks driven by robots or automation, cars that are automated, and maybe there will be a lane for people who still drive."
Fentress pauses, then adds, "You might prefer walking when I get through describing it."
Indeed I do. I'm beginning to think that walking is an act of civil disobedience, a last hurrah for the autonomous pedestrian.
Ultimately, I wearied of talking with airport consultants steeped in the gospel of the driverless car and decided to check in a walking consultant. Jeff Speck, the author of Walkable City Rules: 101 Steps to Making Better Places (2018), earns a living teaching cities, mostly smaller ones, how to be pedestrian-friendly.
"I have a one word answer," Speck replies, when asked about walkable airports. "Templehof."
He was referring to the old airport, pretty much in the center of Berlin, which was decommissioned in 2008 and turned into a vast park. Speck had flown out of Templehof in the 1990s and recalls the experience with fondness: "It's the only time I've had an interface with an airport that was that urban train station experience. Templehof was designed with a proper city square in front of it and this lovely hall, like a great train station."
Granted, the airport was rebuilt in the 1930s under the supervision of Nazi architect Albert Speer, but to Speck it still exuded a rare virtue: It was an airport designed to be an integral part of its city.
The best part about my conversation with Speck, though, is he convinced me that any meaningful implementation of autonomous vehicles is at least 20 years out and may never happen in a truly transformative way, at least not in this country. "You know that picture where a man's walking down the street with his girlfriend and another girl walks by?" Speck asks, referring to the ubiquitous Twitter meme.
Speck's skepticism cheered me up because, after listening to airport experts tell me about how disruptive autonomous vehicles promise to be, I stumbled on a passage in a Port Authority study pointing out that the supposed benefit of autonomous vehicles — that they will be able to safely drive closer together, thus increasing the capacity of existing highways — becomes a problem when the cars exit the highway. Because the capacity of the highways has increased, the number of cars streaming into urban neighborhoods will also increase. And that's where cars driven by algorithms will encounter streets full of unpredictable humans.
If the future of airport design and transportation will indeed be disrupted by autonomous vehicles, the future of urban design and transportation will be similarly disrupted. Just envision the routine conflicts between robot drivers and people walking, biking, or simply hanging out and you can see how this might turn ugly. In that version of the future, someone's freedom of movement will, by necessity, be impeded, and I don't think that someone will be the robo-driver.
While I still believe airports should be more like neighborhoods, I'm now forced to confront the disturbing possibility that neighborhoods will wind up being more like airports.