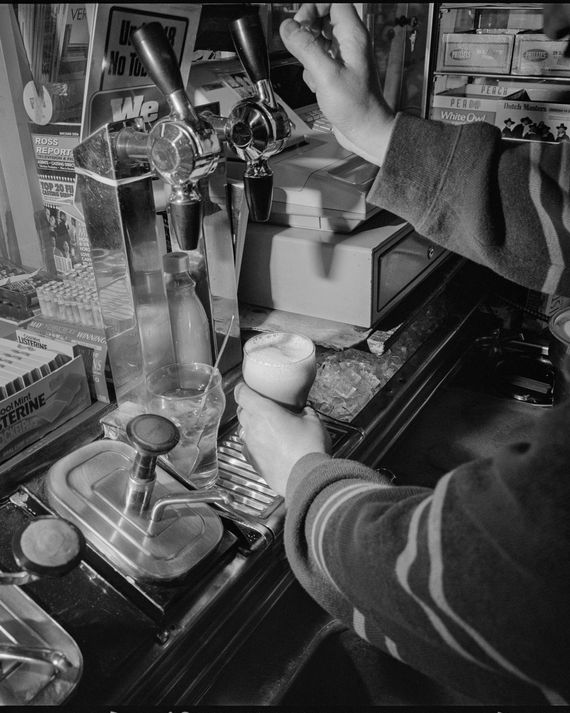 The making of a Gem Spa egg cream, 2006.
Photo: Larry Fink/
This year, we have devoted New York's annual "Reasons to Love New York" issue to a celebration of the go-tos that have closed since the pandemic struck. A wake for the places that defined our lives here — that gave us community and let us try on new identities in return for our money. The bars where we came together for after-work drinks, the boxing gym where everybody thinks they're in an action movie, the gallery that trusted you to build a cloud, the coffee shop where you were left alone to read, the restaurant with the full bar where you'd find yourself trying to eat after an all-night bender, the place that was so of its moment that it became a relic and then (deservedly) an icon. All gone. And sadly, probably, more to come before the city returns to its purpose: a place of gathering. We'll be sharing these tributes all week on Curbed.
Retailer
Little Italy, first opened in 1911
Anthony Imperato, third-generation owner:
I remember going to the shop with my father when I was 7 or 8 in the mid-1960s. Centre Market Place was a fascinating block. There were six gun and police-equipment shops; Louis Luncheonette, which served the everyday police officer; and, on the corner of Grand Street, Headquarters Tavern, which served the upper echelon of the NYPD, and the reporters' shack full of guys from the Brooklyn Eagle and the Journal-American. All of these newspaper guys would wait outside. It was a vibrant street that smelled of gun leather, oil, and coffee. It was the backstreet of police headquarters, so there were police officers everywhere. The fingerprinting station was across the street and down the steps, so police cars would pull up in the morning, and the night's catch of gamblers, prostitutes, and bank robbers would be lined up to be photographed.
My father came back from the Korean War, and his family was in the upholstery business but he started helping out in the gun shop, which was owned by my mother's father. My father eventually transformed it into a wholesale police-equipment business and bought out my grandfather.
The other shops survived on police headquarters and new officers buying their equipment and the rest of the guys replacing their equipment. Then the city, at some point, went to its own equipment bureau and began selling those items at near cost. Jovino and one other had wholesale businesses, so they kept afloat, but in fact the retail business for the store was over by the mid-1980s. We moved around the corner to Grand Street in 2003. My father passed away in 2007, but I kept it open all this time just for sentimental reasons. You can't make a living selling guns in New York City.
We had an incredible clientele. Literal kings and queens, United Nations people, actors, comedians, rock-and-roll stars. For the sake of privacy, I won't mention their names. Actually, I'll tell you one story. One day, in comes the comedian David Brenner. He had been driven down from the Upper East Side by a chauffeur. He purchased a pair of Colt Python revolvers. Somehow we forgot to give Brenner his change. So Brenner leaves and goes back to the Upper East Side, but soon after, he calls and says, "I paid for those things in cash, and your guy never gave me my change. What do I have to do to go to a gun shop and get held up?" I brought him his change. —As told to James D. Walsh
corner store
East Village, first opened ca. 1921
A St. Marks Place mainstay. " 'The candy store' was what our family called it," remembers Diana Stewart, a descendant of its founders.
It was Goldfeder's from around '21 to '57, until it was renamed. Family legend is that my Great-grandpa Nathan 'invented' the egg cream. He made the chocolate sauce with a 'secret recipe' in the shop; thus Gem Spa became known as the birthplace of the egg cream." More recently, it was a bodega, selling drinks, bongs, magazines, and, in the summer, an extensive selection of cheap sunglasses.
Department store
Bay Ridge, first opened in 1961
Original store founded in Bay Ridge, later expanding to its flagship near the World Trade Center; high-fashion bargain palace for New Yorkers and tourists alike. Eventually grew to 13 locations but went into bankruptcy liquidation in September. All branches were closed by December.
I try not to pay full price for anything. So a few months before my wedding, I went to Century 21, where I have successfully hunted bargains since I was a teenager. There, hanging in a far-off corner next to some skirts, I saw a Valentino dress. It was covered in intricate, hand-embellished crystal and sequined embroidery and had panels of rose lace, layers of tulle, and concealed-zip cuffs (for rolling up my sleeves on the dance floor). It cut in at the waist in just the right spot, had just-puffy-enough sleeves, and hit below the knees. It was originally many, many thousands of dollars but on sale for 90 percent off. Later, googling, I found out that Leslie Mann wore the same style to the Valentino show in Paris, fall-winter 2012. —Alexis Swerdloff
restaurant
Greenwich Village, first opened in 1984
David Rockwell, architect:
I first went to Gotham in 1985 or 1986. I thought of it as this ultimate kind of urban experience. It just felt like a destination, a sort of fantasy of what a New York City restaurant was from every point of view.
One of the things that creates such a strong memory of a restaurant is the movement path. I remember the experience of coming up to the host and then making a left to step up to the bar; that elevated bar gave you a kind of stage. When you came into the dining area, you had to turn left to look into the room where you've got that long view down toward the window. I was also attracted to the quality of light in the space. Those balloon light fixtures went from being original to being dated to being iconic. They cast a light that was a lot like a photo studio's — just soft, beautiful light. It had this urban-loft feeling that was so comforting. I took inspiration from it when I designed Nobu back in '94.
I went to Gotham over and over again at different parts of my life. It was a very grown-up room, and I had a chance to grow up in that room. I always was drawn toward eating in the open space in the middle, which is interesting because I tend to like banquettes and corners. A lot of the restaurants I designed would give me a hard time about why I was having lunch at other places and not theirs. Gotham always felt like neutral territory to me. It was kind of like a living room for New York, which is a rare quality restaurants can achieve. —As told to Diana Budds
Restaurant
Soho, first opened in 1989
Grand Street between West Broadway and Greene was the center of the vanguard art world in the early 1990s. Artists Space, the Drawing Center, and influential galleries like Pat Hearn and Colin de Land's American Fine Arts drew a hundred or more visitors every Saturday afternoon. Many of us ended our gallery visits at Lucky Strike: Keith McNally, the proprietor, understood the type of understated retro décor and simple menu that the art crowd preferred. The restaurant had a slightly shabby, welcoming feel. It looked like it had been there since the 1940s. The menu was an updated version of what would have been served at a bar and grill in the 1950s. Artists don't like to talk about food when they go to a restaurant.
In the early days, the crowd at the bar in the front room of Lucky Strike was three deep. I would visit regularly around 10 p.m. on weekdays with Jeff Koons, who liked to talk about art over a few beers (back when we both drank beer). It wasn't just artists and writers at the bar — there were Wall Street traders and the other New York types who knew where to find the liveliest scene.
In 1995, I was offered the lease on a garage on Grand, across the street from Lucky Strike, and from the day of our opening, the restaurant was our canteen. The artist Eric Fischl, whose studio was around the corner on Greene Street, had lunch at Lucky Strike every weekday with the photographer Ralph Gibson. When I would stop by for dinner after the gallery closed, I would often find Tom Sachs, whose studio is still a few blocks away on Center Street. I often arrived alone, but by the end of dinner, the table would fill up with friends.
The servers at Lucky Strike were an elite group. All of them were artists, writers, or working to support some other creative pursuit. When the crowds thinned late at night, the wait staff would mingle with the clientele. One of the artists we showed, Noritoshi Hirakawa, would spend hours chatting up one of the waitresses. He talked her into starring in one of the strangest art performances ever presented in New York — it consisted of her depositing a turd on the floor of a gallery and then sitting on a chair next to it during gallery hours. Noritoshi had prescribed a special diet and a regimen of Japanese pills that eliminated the odor of the stool.
When I returned to New York and reopened my gallery in 2016, I was sad to see that the lunch crowd at Lucky Strike had diminished. Eric Fischl had moved his studio to Sag Harbor, and the younger generation of artists and writers now congregated elsewhere. But I would try to visit from time to time to help keep it going.
Our dinner in honor of the artist Peter Nagy on March 6, 2020, was one of the final evenings at Lucky Strike. We took over the entire restaurant, but half of our expected guests were afraid to show up. —Jeffrey Deitch
art gallery
Soho, first opened in 1994
It'd be easier to capture a quark than contemporary art. The second you try to nail it down, someone tapes a banana to the wall. Gallerist Gavin Brown began in 1994 with a teensy alt-space in outer Soho exhibiting '90s art-quakers like Elizabeth Peyton, Rirkrit Tiravanija, and Chris Ofili. Brown then moved to a bigger space on West 15th Street in outer Chelsea. He made it clearer (and also cloudier) how much more conceptually slippery what he called Gavin Brown's Enterprise would become when he installed a bar in the front. Named Passerby, it had a Saturday Night Fever floor (made by Piotr Uklanski) and a Pabst Blue Ribbon vibe, and it became an instant magnet for disciplined art operatives who wanted to get messy. It was a showy but shrewd move — his openings often felt like sprawling, squiffy overflow from the Passerby scene.
Next he moved to the West Village, opened a space in Rome, and an auxiliary project space on the Lower East Side. Finally, he opened what was maybe too ambitious a space in Harlem.
My favorite moment of GBE genius was at a show of Tiravanija's work in 1999. A year or two before, a friend had taken me to a (very fun) New Year's Eve party at Tiravanija's East Village apartment, where he lived with his then-wife, Peyton. I went to the 1999 opening with the same friend and slowly pushed through a crowded gallery-filling plywood installation that was made to look like an apartment. And when I was standing in the kitchen, drinking and eating curry next to the bathroom, an intense feeling of déjà vu overwhelmed me. My friend realized it first. Tiravanija had re-created his own apartment in the gallery, and there I was standing in the same kitchen eating the same curry as I had when I'd been in his home. It may have been Rirkrit's show, but the basic gesture was all Gavin Brown. Theatrical but subtle. Lyrical but brash. Accessible but abstruse.
Gavin Brown can be a bitch, and he's never a bigger bitch than if he thinks you don't get something about one of his shows or artists. (Do not get me started.) But as is clear in his gallery's shows and acts and events, Brown understands deep in his viscera how important maintaining these balances can be, and, truth be told, he gets that better than most artists do. Maybe he didn't make enough money in the end, but he made culture. —David Colman
Minor league baseball team
St. George, first opened in 1999
Minor league baseball is fun in ways the major leagues are not. It's still real professional baseball, ultimately feeding players to clubs with hundred-million-dollar payrolls. But it's also silly and marvelously small-time, embedded in the fabric of communities that often wouldn't otherwise be home to a pro sports franchise. It's about cheap hot dogs and dizzy-bat races and easy autographs, and when my son was born, in 2016, I couldn't wait to introduce him to all of it. Last year, I took him to Richmond County Bank Ballpark on Staten Island, where he met Scooter the Holy Cow, the Staten Island Yankees' Phil Rizzuto–inspired mascot. At the pregame autograph table, he high-fived two very patient players who didn't mind that he was too shy to pose for a photo. He ate french fries, dropped french fries, and snagged a foul ball off the concourse floor on the way to buy replacement french fries. And then there was the view that only a game in St. George could provide: the Manhattan skyline in the distance and — more thrillingly to a toddler — the huge container ships passing just beyond the outfield fence and the ferries approaching the terminal, only steps from the stadium. ("That's a big boat!")
Now the Staten Island Yankees have been eliminated as part of a restructuring of the minor leagues. Even in a best-case scenario, any new team won't be affiliated with the Yankees or any other big-league team, and fans won't get to watch future hometown stars early in their careers. The worst-case scenario is the stadium remains empty, save for the occasional college matchup, and we lose of one of the most pleasant ways to watch a professional ballgame anywhere. —Joe DeLessio
Pub
Midtown, first opened in 2004
Desus Nice:
I've lived here my whole life, and this is the most heartbreaking loss I've ever experienced. Foley's is a bar on 33rd Street; I used to work at a night club a couple blocks away, and I would go there and watch Yankees games. I was there for '09 when they won the World Series. And every time I left MSG, I would go to Foley's. I've been there after years of Knicks losses. In New York, things you love are going to come and go, but, man, I know once we get the vaccine and we're back watching the Knicks lose by 35 points, I'm gonna wanna go to Foley's afterward.
They had so much memorabilia. They had seats from the old Yankee Stadium and Shea Stadium on the back of the bar. They had a Hall of Fame for Irish American sportscasters, players, and managers. They had some of the oldest urinals in NYC. Their urinals were from, like, the George Washington era, and Foley's would put ice in the urinals so when you went to pee, you'd be like, Wow, I'm melting ice in the oldest urinal in New York City. What a flex. There's a wall in the back with autographed baseballs from famous players and celebrities. When I used to go there in '05, I would tell the owner, "One day, Imma have a baseball there." He was always like, "You're never gonna have a baseball there." And last year, I got one. The look on his face was kind of just like, Yeah, I knew you'd eventually make it. I just wanted to push you. What I wanna do right now is maybe make a really shitty movie that people really like and then reopen Foley's. Foley's will live again. But not on 33rd Street. —As told to Jane Starr Drinkard
Tattoo parlor
Williamsburg, first opened in 2005
Virginia Elwood, co-owner: We've both been tattooing for a long time. I'm almost 20 years in, and she's almost 28 years in, and, yeah, we wanted an environment that was different from the male-dominated one we had come up in.
Stepahnie Tamez, co-owner: I came to tattooing later in life after working in graphic design. I wanted to find a way for my art to have a greater purpose, to help people.
VE: That was one thing I really loved about Saved. We worked with groups like P.ink to help cover up mastectomy scars for women who have had breast cancer. We partnered with the Women's Prison Association, covering up the tattoos and scars of women who had been sex-trafficked. Each artist was given a woman to work with who had a tattoo or a scar or literally a branding — you know, some of them were given to them nonconsensually by the person or persons who were trafficking them. So events like that were so, so rewarding. Our clients hopefully feel like we've made a difference in their lives.
ST: Like one client I tattooed through the Women's Prison Association; she was a young, vivacious woman. She needed to cover up a tattoo that was associated with a gang, but she didn't really know what she wanted to get done. I was like, "I can do anything. What do you want?" She saw a phoenix on my wall and asked me what it was. I explained, "It's an amalgamation of these different animal characters rising from the ashes and having this new reality." And she was so excited. "Let's do it!" Those are the kinds of tattoos that made me feel like I was in the right place at the right time. —As told to Jane Starr Drinkard
art gallery
Bushwick, first opened in 2015
The Chimney is a 23-foot brick cube with no windows. It very much felt like a part of the Bushwick landscape: the wind biting against the large metal roll gate, the silence of Newtown Creek out back. I had attended many openings there before having my own exhibition. Even though I knew the space had no natural light, I hadn't fully absorbed what it would feel like without light. My show was scheduled for an early-November opening. The Chimney would be cold.
Only in drawing the space with accurate measurements did I realize it was almost a perfect cube. It felt like anything I placed against its walls somehow interrupted the nearly perfect dimension the space already controlled.
I decided to build a tower. Without a real understanding of what it would feel like, I knew I wanted to position the viewer in the middle of the Chimney — not the middle ground but the actual center of the space.
I became fixated with the idea that (1) being on a tower removed you from the ground and (2) being in the Chimney removed you from space. So that's how I thought about a cloud: Defined by its formlessness, it was the perfect object to cap a tower. When I imagined removing myself from the world, I imagined myself in a cloud. I made a quick drawing.
A few weeks later, I brought in the steel supports and hardware, pairing elements in organized piles on the empty concrete floor. I was alone. At some point, I shut off the lights and was walking around with nothing but a flashlight. The clanging of the gate was paired with the unlocked door repeatedly flying open in the wind, as though ghosts were visiting the space in its moment of reconstruction. It reminded me of being on a boat at night.
Then a class of Estonian architecture students walked in. They were all carrying bricks. At that moment, I didn't know exactly what my cloud would look like, but I did know the Chimney would make it come to fruition. The Estonians ended up helping to erect the tower the following day. They were fresh off the plane from Tallinn and were touring a performance (without audience) in which they slept in gallery spaces under blankets made of bricks.
I loved that the Chimney felt like a stage for Bushwick — it really embodied the neighborhood for me. It was a container that epitomized its contents. —Matt Taber
*A version of this article appears in the December 7, 2020, issue of New York Magazine. Subscribe Now!
More Reasons We've Loved New York
See All