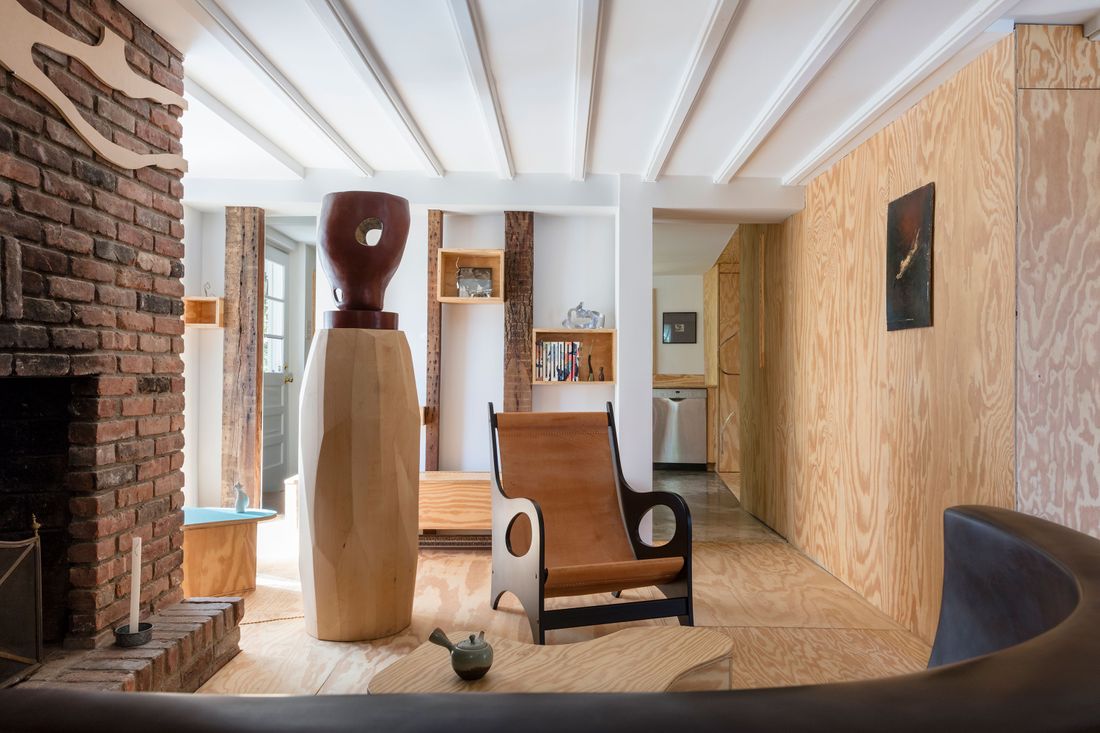 The Living Room:
View looking toward the kitchen with a wall that incorporates the original railroad wood beams. Jarrige designed all the furniture and art.
Photo: Anthony Bootz
In 2014, the gallerist Valerie Goodman decided it was time to renovate the modest farmhouse she owned just a little bit upstate in Piermont, New York — which is along the Hudson in Rockland County. She gave the project to Jacques Jarrige, one of her artists, to whom she gave carte blanche.
The Paris-born Goodman moved to New York in 1983 and lived mostly in the East Village. She first rented part of this farmhouse from the married artist-couple Vincent Capraro and Tatiana Onus in 1996. The late Capraro used the ground floor for his studio, and Goodman took the upstairs. She loved the place and its grounds: "I mean, there was a pear tree!" Although she had not intended to move upstate full-time, "it was progressive," she says, pointing out that it's only a 35-minute commute by car on a good day from her house to her gallery on 91st Street, which is quicker than most subway rides to Brooklyn — plus, there was a forest behind the house.
Once she took over the whole house, she brought in Jarrige to unite it. His love of humble materials such as plywood was in sync with the thick wood beams the house was built with (some from the railroad tracks near the house).
On the first floor, Jarrige took down the two walls that originally sectioned off the kitchen and built a plywood box that contains a bathroom and laundry room. He made all the furniture and sculptural art in the house, and he created a dreamy guest room upstairs after Goodman decided she wanted him to redo more than just the ground floor as had originally been planned. In her bedroom, he designed the hinged-wall closet.
And he did much of it over Skype, since he was living in France through much of the process. "Valerie trusted me to do it without my presence," Jarrige says (Jarrige's work will be featured at the European Cultural Centre's Biennial Contemporary Art Exhibition in Venice this summer, and his Christ for Lent/Easter will be on view at the Cathedral of St. John the Divine.) "It's the way I like to work; it's more organic and day by day."