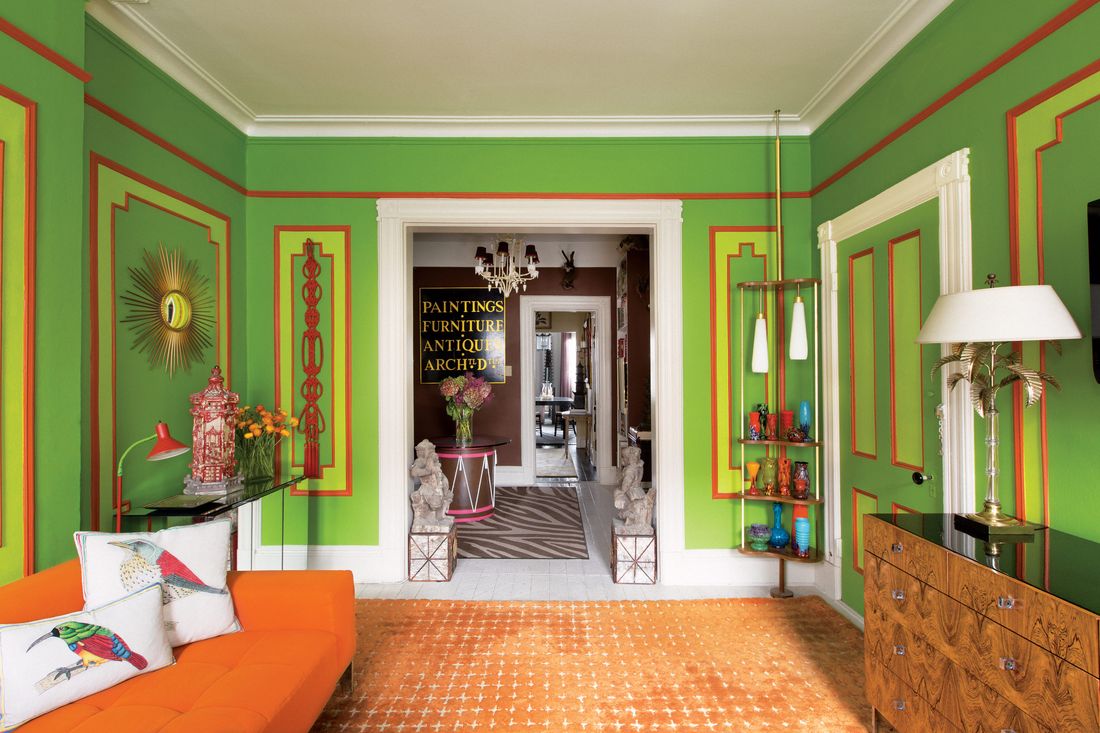 This story was originally published in the Summer 2013 issue of New York Design Hunting.
Mark Haldeman and James Aguiar's Park Slope apartment is stuffed with luxe antique finds like 1940s-era triptychs of Greek statuary and turn-of-the-century drawings. It boasts such typically un–New York City amenities as a dressing room and an OCD-certified "shoe library." It hardly looks like an exercise in downsizing.
Yet, when the couple bought a house upstate six years ago, the outlay meant they needed to give up their previous apartment, a spacious duplex they had called the Mansion. The couple quickly found a floor-through two doors away that was the Mansion in miniature — but there were two major issues. First, the landlord was wary: After a bad experience with a tenant, she let the apartment sit empty for 17 years. Second — well, it sat empty for 17 years.
Aguiar and Haldeman convinced the landlord they would be good caretakers by showing her the Mansion, with its eclectic romp of decades and styles, from Chinese accents to a Parisian taxidermied crocodile. "She looked at it for one minute and said okay," Aguiar says. " 'You can name the rent if you do everything.'" "Everything" meant refinishing the floors, repainting, and installing a new Ikea kitchen, where a broken-down stove once hulked.
Decorating, they took cues from their old apartment. Tony Duquette's Hollywood-filtered Chinese classicism inspired the moody entryway and the rufous-and-acid-green living room, with its orange geometric rug. The couple's top sources are estate sales and flea markets, though a Zanotta couch is a relic of Haldeman's days working as the store manager at Moss.
Entertaining is paramount to the couple, so they decided they would sleep in a dark cove (the "bed box") to make way for a dining room. And since they're both in the fashion world (Aguiar is the national fashion director of Modern Luxury, a high-end publisher; and Haldeman runs Paul Smith's U.S. retail business), a dressing room was a nonnegotiable, with side-by-side closets joined by a shared space for cuff links, bow ties, and other accessories. On the front of their closet, they maintain an ever-changing inspiration board that's a riot of clipped-out styles and moods — a mirror of the apartment's curated chaos.
"Things that aren't meant to go together, go together. But it works," Aguiar says. "It's not by the book. We don't have the book."
"Choosing the colors took longer than the actual painting," says Aguiar. He ultimately opted for persimmon and two shades of green for the living room. "We didn't want it to be fluorescent," he adds. The lamp is from a Manhattan junk shop. "It's very distressed," Aguiar says. "It's not perfect"we don't like perfect." The bird pillows are by John Robshaw, a friend of the couple's. Haldeman was once the store manager of the famed design shop Moss, where he picked up this orange Zanotta couch. The seventies-era Edward Fields rug was a gift from a friend who spotted it at a vintage store in Williamsburg. "He's an incredible picker," says Aguiar.
The purple silk-shantung curtain guided the aesthetic of the tiny bedroom, which Aguiar and Haldeman have nicknamed the "bed box." "We wanted to create a really intimate genie bottle," Aguiar says. The curtain does double-duty hiding a door to the hallway. The fifties classical-kitsch panels were originally a screen that Haldeman separated. They bought the hanging lamp in a Chelsea flea market and attached dangling fabric and beads that they found in Chinatown. The bedspread is from Natori's home collection. "It works with the John Robshaw fuchsia pillows and the peacock ones by Yves Delorme," says Aguiar.
Cecil Beaton, one of their style icons, had a circus-themed room in his home outside London, complete with tables made from actual drums. Aguiar and Haldeman's drum table was in bad condition when they found it at a flea market, so they repainted it, had a glass top cut, and added cording and tassels. "The framed print belonged to my uncle, who was an antiques dealer on 10th Street," Haldeman says. "The sign hung in his doorway for years."
This extra room became the couple's dressing room. "We both work in fashion," Aguiar says. "It was a necessity." The black porcelain pagoda is by Jean Boggio from Flair in Soho. The gilt mirror is from the antiques shop of Haldeman's late uncle; the coral sconces are by Creel & Gow from Bergdorf Goodman. The wardrobe is from Ikea. Tackboard and salvage fabric were added to its exterior to create a mood wall. Photo: Thomas Loof
The antlers were sourced from the Soho curiosities shop Evolution. "For a Virgo, this shoe closet is heaven," says Aguiar.
The mid-century dining table was originally bright yellow, but "we painted it black to make it more chic," Aguiar says. With two leaves, it can seat ten. "We entertain all the time, so that table gets a lot of use." The chairs are ebonized wood. They were found at Time Galleries in Park Slope. The Tony Duquette"designed pagoda was originally white, but the couple painted it green and, then black to match its surroundings. "It will be painted again, I'm sure," says Aguiar.