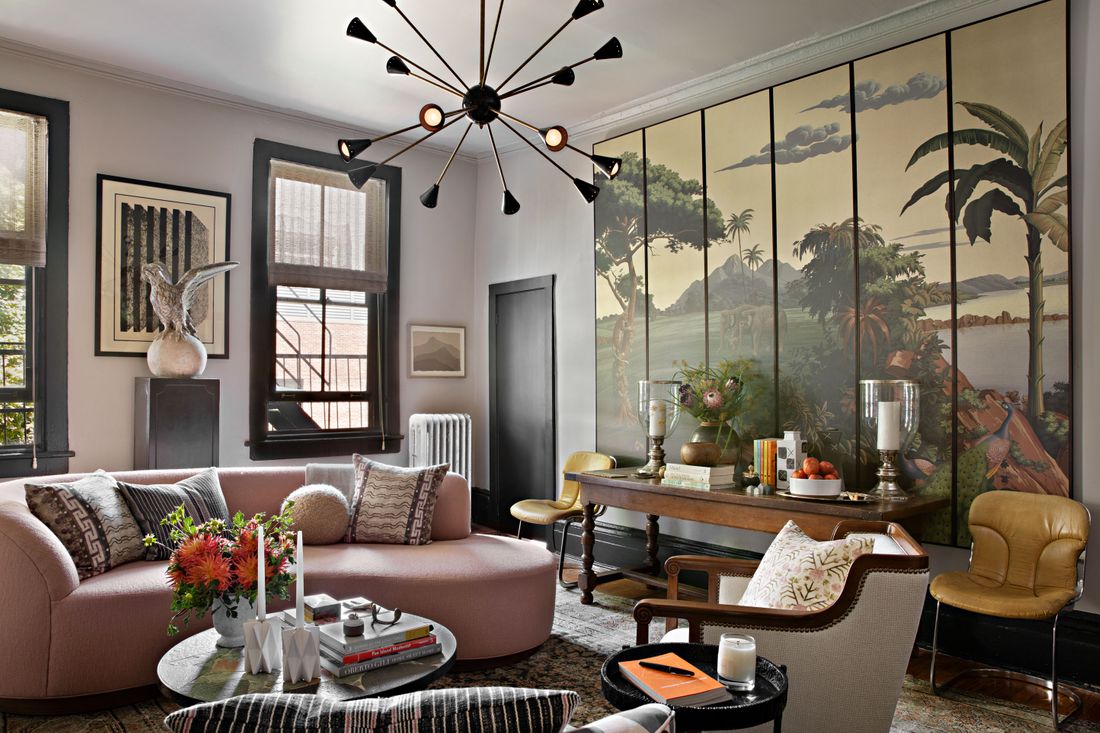 The living room. The vintage farm table (to the right) was found in a flea market in the South of France. It's pulled out for dinner.
Photo: Karyn Millet
We are art hoarders," says interior designer Joe Lucas, admitting that he falls in love with art and furniture he finds for his showroom but often keeps pieces for his and his partner David Heikka's own homes. The two are based in Los Angeles, but in the past few years they have found themselves for about a week a month in New York, where Lucas has opened a branch of his L.A showroom, Harbinger, and Heikka, the vice president for retail at Parachute Home, has been opening new locations. Tired of camping out with friends and staying in hotels during their business trips, they rented this West Village one bedroom as a pied-à-terre and proceeded to make it their own.
"Nothing is fancy," Lucas says of the décor in the apartment. "We're a mix of things found in France or on our travels mixed with random, crappy cheap stuff we find in flea markets."
It was also a rental with a few quirks. "The kitchen was the one bummer," Lucas says of the tiny galley space, which needed an upgrade (they hit up Ikea). Neither was there any closet space in the bedroom (solved by Ikea, again), and of course the entire apartment needed a good paint job. "It has the typical New York, like, 200 coats of paint," he quips.
The living room features lavish hand-painted wallpaper panels from Fromental that have been cut up and framed to hang on one wall; a coffee table is another find that had been destined for his showroom. "Of course, I bought it in France for Harbinger," Lucas says, "and that was the first thing we pulled for the apartment and then we schemed the entire place around the colors. We built everything around that." The framed art on the wall between the doors was found at Roman and Williams Guild and was originally meant for a client, but it also found its way to their new home.
They stayed put last year after the pandemic hit, but now they are back on their bicoastal schedule, which means more time in their cozy floor-through, packed with vintage finds and the newly designed pieces Lucas moves between showroom and apartment. "The beauty of the apartment is that it's sort of like an extra showroom," says Lucas.