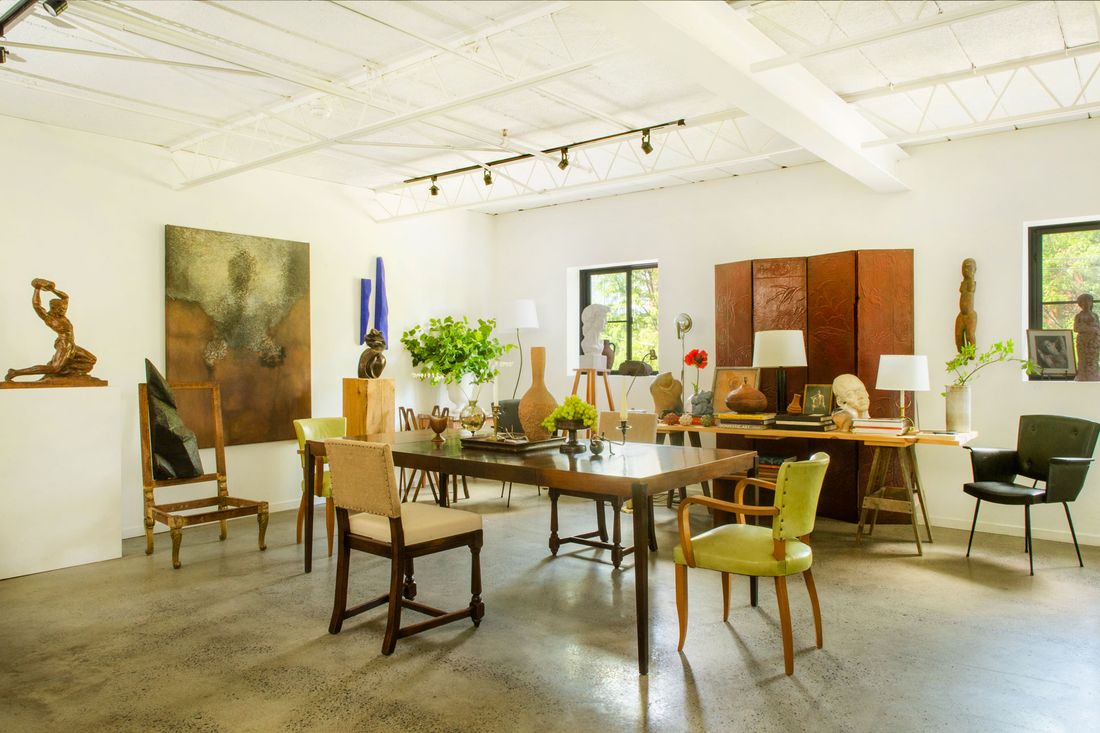 The Living Room:
The first thing Eaton moved in with was "a sawhorse table that a friend helped me make. I found the bases for like $50 and had a top made." Later, the dining table from his New York apartment came. The 1940s Chinese-inspired embossed leather screen is French. The large abstract painting on the left wall,
Untitled
(2016), is by Chris Fitzwater. The
Hercules
sculpture to the left is by Italian artist Ugo Cipriani.
Photo: James Autery
If John Eaton's 1,000-square-foot loft apartment in a former truck-tire-maintenance garage in Hudson, New York, looks like a design gallery, well, that's because it sort of is. I first met Eaton in 1998, when he lived in the East Village on Tompkins Square Park and owned a tiny antiques shop, Geomancy, on East 9th Street, that was frequented by the likes of Helen and Brice Marden and Iman. His walk-up railroad apartment was populated with a fascinating and always changing mix of found art and vintage furniture. After he closed his shop, he worked with Bobbi Brown as her creative-design director for 13 years. Then he took a year off to live in Paris. On his return in May 2019, he decided that after 38 years in New York City, he'd rather live upstate, in Hudson, a town known for its antiques and creative community.
There, instead of settling in an old house, he wanted "a big empty space with no details, and that was kind of my dream." The one-bedroom Eaton moved to serves as the perfect blank page for his storytelling through the objects and art he falls in love with and lives with — at least for a while. He also has a gallery space in the Warehouse in Hudson, where interior designers such as James Huniford, Stephen Henderson, and Calvin Tsao sleuth out his finds.
The treasures he's living with include a self-portrait by the local artist Earl Swanigan (1964–2019), who painted many murals around Hudson. He has a handmade Welsh stick chair by local artisan John Porritt (if you are looking to buy one for yourself, be warned: He will not be rushed). There are also pieces he shipped back from France — Eaton recalls lugging the pair of mid-century-modern armchairs, now in his living room, back to his Paris apartment balanced on his head, as the taxi couldn't make it from the flea market owing to last year's yellow-vest protests.
The Jean Michel Frank–style nesting tables — Eaton knew they weren't the real thing since Frank's tables don't have a support bar and these do — date from a spell when he lived in Amsterdam. His mid-century-modern Brazilian rosewood table, from a company called Walter Wabash, used to be in his East Village apartment: Now it can stretch out in all its glory (there was never enough room in his old place to add the leaves), and a mix of French 1940s bridge chairs and English oak chairs make the table fit for a dinner party.
If there is one piece that speaks to the poetic sensibility of Eaton's eye, it would be the wood frame of a 19th-century side chair, seen below, accessorized by what looks like a piece of stone positioned on the back. "It's just a frame," Eaton muses. "But there is something about the frame that just spoke to me, and the 'shard' that is on there — that is some Styrofoam thing that I found in New York, and it was white and I painted it black, and one day it just landed on this chair, and I thought, This is kind of perfect: It was like two things that randomly found each other."
"The Brutalist sculpture made of metal shards was found in NYC just after 9/11," says John Eaton. "I call it 'Skyscraper,' and the artist is unknown. The bronzed glazed terra-cotta sculpture depicting Hercules is made by Italian artist Ugo Cipriani (1897–1960), who lived and worked in Paris — I acquired it from a tiny antique shop in Paris. The large abstract painting is from Chris Fitzwater, a talented emerging Hudson artist, whose work I plan to show more of in the near future. The oil-on-canvas painting is called Untitled-Self Portrait and was completed in 2016. The three-legged farm stool is 19th-century French, acquired from another tiny off-the-beaten-path antique shop in Paris. The wooden folding campaign table base is mid-19th century. The base makes a great sculptural piece when it's not being used as a table. I transformed the sculpted Styrofoam forms with a coat of "Yves Klein Blue" paint from the Swiss artisan paint collection, kt.COLOR, found exclusively at Aronson's Floor Covering in NYC. The bronze human-form sculpture, also found upstate, is mid-century modern in the style of Jean Arp/Henry Moore. The rough-cut pine 12-by-12-inch pedestal and side tables are available to order through my gallery. The white plaster light fixture on the marble table acts as a vase. It is 1940s French and was gifted to me by a dealer when I was on a buying trip in the south of France in 1997. And lastly, the rare coral marble-top table with a coral-color painted base, another Hudson find, is to the best of my research knowledge 19th-century Italian. The marble top is extraordinary."
"The chairs are super-comfortable, probably from the '80s," Eaton says. The painting on the 19th-century French easel is a self-portrait by Earl Swanigan, who called it "Frankenstein Monster" Earl. The painting on the back wall is a landscape study by Chris Fitzwater. The console against the back wall, Eaton says, is "an American folk-art piece. It has a lot of character. The legs are not perfect." The '60s spiky vase on the coffee table is by the Italian company Bitossi. "That style is pretty rare — the black and gold. They do a lot of brightly colored pieces." The hand-carved wood bowl in the corner is African.
When Eaton is not working from home, he can be found at his gallery on weekends and by appointment (#johneatongallery) in the Warehouse in Hudson, where designers including James Huniford often stop by to suss out Eaton's finds. "I have known John for many years," Huniford says. "He has a singular point of view and sensibility. John finds unique furniture and objects that make a room interesting and unique. He buys what he loves, and what he's drawn to — never what's a trend or a fad. Chic, classic, and creative sums up the man and his sensibility."
The Warehouse, located at 99 South Front Street, is open 10 a.m. to 6 p.m. daily. John Eaton's booth is #60.
*A version of this article appears in the June 22, 2020, issue of New York Magazine. Subscribe Now!