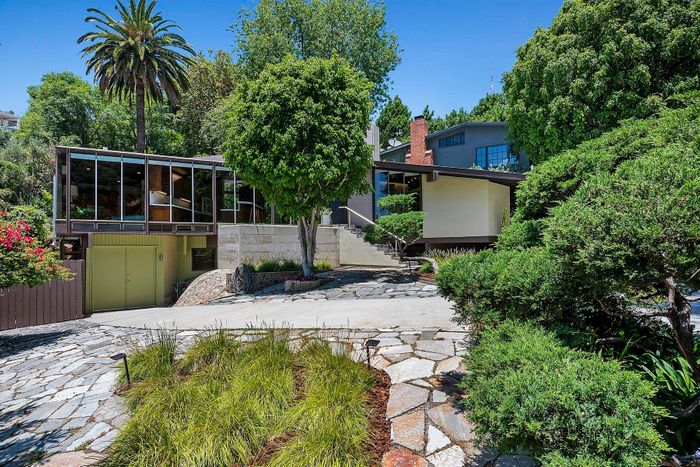 Photo: Listing Zen, courtesy of Marc Silver/Compass. Staging by John Douglas Interiors
This story was originally published by Curbed before it joined New York Magazine. You can visit the Curbed archive at archive.curbed.com to read all stories published before October 2020.
In Long Time No Sale, Curbed unearths homes hitting the market for the first time in a long time — or maybe ever — in hopes of finding mint-condition time capsules.
Location: Los Angeles, California
Year built: 1952
Specs: 3 beds, 2 baths, 1,647 square feet, 0.18 acres
Notable changes: Removal of a closet, new kitchen appliances
Price: $1,895,000
Born in 1921 to a pair of Greek immigrants, Harry Williams spent the majority of his life in Beachwood Canyon, the Hollywood Hills community where his family founded the neighborhood grocery store. Though the area is renowned as a bastion of 1920s revival architecture, when the time came for Williams to establish a home for his own young family, he took a decidedly more modern tack. He commissioned John Lautner, whom he'd met at the family market, to design a house on a piece of land just below the Hollywood sign. Williams passed away in March, and his "beloved" home is now on the market for the very first time.
Though close to 70 years old, the post-and-beam home at 3329 Ledgewood Drive looks practically brand new, not only because of its forward-thinking design, but also thanks to a respectful 2018 restoration overseen by Helena Arahuete, Lautner's longtime associate who took over the firm after his death.
The two-story residence is topped by a wood and glass pavilion; the upper level contains the living and dining areas, galley kitchen, two bedrooms, and one bath, while the master bedroom, a second bathroom, and a sizable workshop/art studio are on the lower level. Notable architectural features include dramatically angled Douglas fir beam ceilings, custom built-in furniture, polished concrete floors with radiant heat, and a fireplace constructed out of interlocking concrete blocks (the only one like it that the legendary architect ever made).
Like in Lautner's more famous Sheats-Goldstein Residence, triangles feature heavily here — not only in the pitch of the ceiling, but also in support beams, staircase railings, light sconces, and mosaic tile.
Exterior spaces include a large upper level patio deck, a rambling garden, an open-air greenhouse filled with an extensive collection of staghorn ferns, and a two-car carport.
Architectural purists will be relieved to hear that the home has seen barely any structural alteration, apart from the removal of a closet that was originally near the front door. Updates include an energy-efficient composition shingle roof, a mini split air conditioning system, new kitchen countertops and appliances, and new landscaping designed by Harry Williams' grandson, Alexander Caiozzo, who is a landscape architect and arborist.