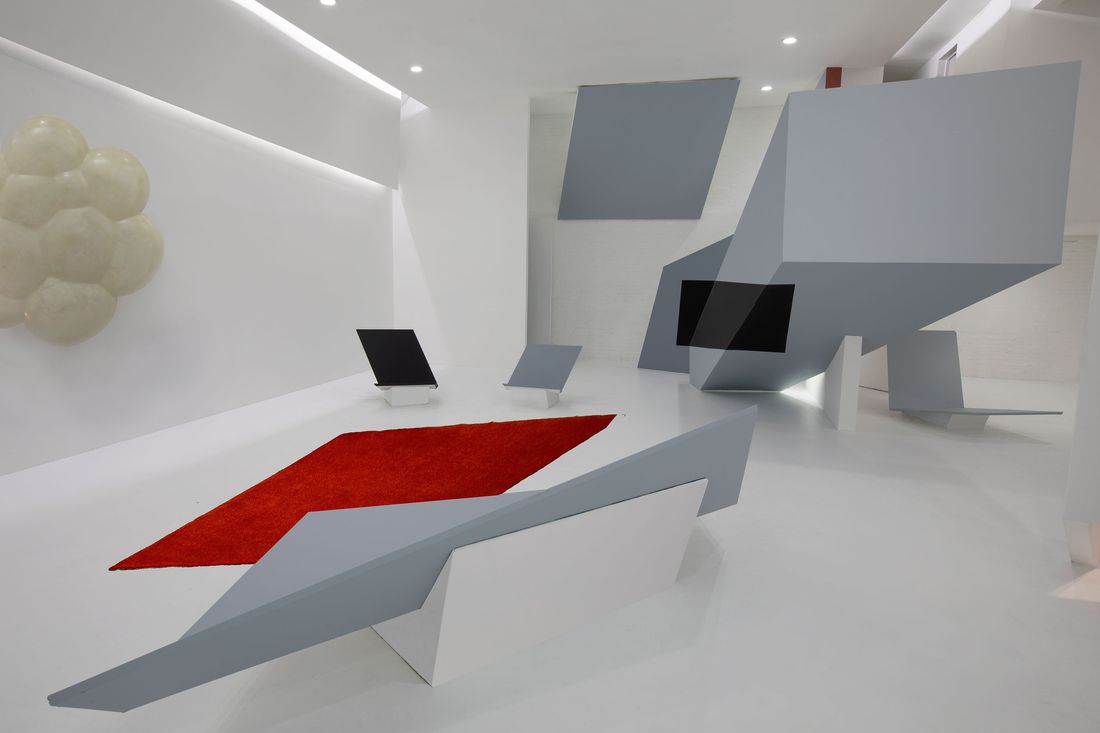 Giovannini has created what he calls "impossible space" using the techniques of forced perspective to create optical illusions, or "space painting," in this L.A. loft. The art piece
Incident
on the left wall is by Jeff Colson and belongs to tenant Alison Miller.
Photo: Lane Barden
"I was probably conceived in the building," says the architect, critic, and author Joseph Giovannini of this circa-1890 three-story Los Angeles structure his family has owned since the 1930s. At various times, it's been used as a radio station run by a movie personality named Leo Carrillo, a wedding-banquet hall, and a cinema.
The Giovanninis lived there for a while, too, but "moved out in 1949, when I was a toddler, to Arcadia," he says. In the 1970s, his brother wanted to open a discotheque in it, but the plan didn't work out. "It's basically a Soho loft building in Los Angeles."
These days, it's home to a number of artists and photographers who rent apartments. But Giovannini kept part of the second floor for himself, turning it into a live-in op-art project that today he rents out too. The ceilings on the 2,250-square-foot space are 16 feet high. The only window is in the bedroom, but the loft is lit by three big skylights. When the architect Frank Gehry visited years ago, before Giovannini painted it in its current manner, he said, "I feel like I am walking into infinity."
"In the '90s, I built the forms you see," Giovannini says of dramatic, but not inviting, seating components in the main gallery, "because at the time I was doing my deconstructivist book and I was interested in illusionary spaces, fourth dimension — so I built the forms in forced perspective, axonometric."
A year and a half ago, he added painted illusions on the built pieces — using a technique that goes back to the Renaissance known as quadratura — to create a space he describes as "quite unreal. Realism is not my deal. I'm not interested in showing a bolt and showing connections, not interested in showing mechanics at all. It's all about mental space that is what you might call impossible space."
He goes on: "The basic idea of my painting is that I am not painting walls like a mural or scenery — I'm painting space. The idea is that the forms are so ambiguous they kind of float off the wall."
His tenant is Alison Miller, who has her own film-location service representing properties for the TV and movie industries. Moving in a year and a half ago from another windowless loft primed her for the more extreme (for some) environment here. "I really came to love the high ceilings and skylights," she says. "And honestly, as a single woman living in the heart of the city, the one thing I really didn't know until I tried this kind of living is just the feeling of safety and security of not having all these windows and doors. It's sort of womblike." It's also a suitable environment for her art collection.
"Owning the building gives me great license," says Giovannini. "With no one to tell me no." But it's still real estate. "I was really lucky to find a tenant who could appreciate this; it takes a certain kind of person to live here. I could; my wife couldn't."