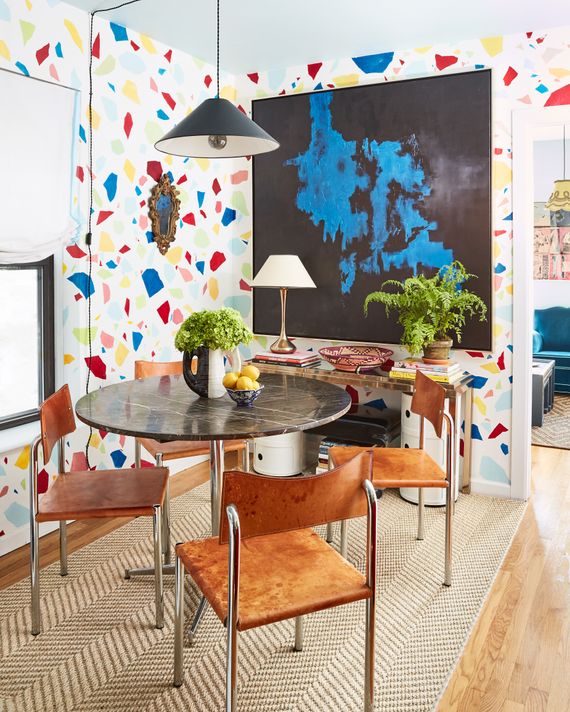 I've always embraced exuberance in my fashion sense, and it was time for my home to reflect who I am," says Tara McCauley of this walk-up in Gowanus, Brooklyn — her first apartment without roommates. And she wasn't going to hold herself back just because it was a rental, either. "In all my previous apartments, I was always afraid to paint and I never felt joy entering my home," she says. "This time, I resolved to paint everything."
McCauley, an interior designer herself, started with a free-form paint job interpreting terrazzo stone on her kitchen walls, seen above. "Painting the kitchen took a crazy long time," she says, "I'm almost too embarrassed to admit how long I was living in an art project." Her inspiration came from a vacation in Rome, where terrazzo, a centuries old inlaid stone technique, is everywhere, but McCauley "didn't want it to look like every terrazzo you saw on a Pinterest board; I wanted the colors to be my own." The result is a confetti-like pattern. It was a fruitful endeavor that fueled the palette for the rest of the apartment, decorated in a pastiche of found and recycled furnishings.
A former roommate from her NYU days noticed an East Village restaurant going out of business, off loading décor. "She carried the dining table eight blocks home, and it was the perfect fit for our tiny kitchen." McCauley held on to the metal base of the table when she moved and found the round marble top on Craigslist and glued it on. The leather-seat dining chairs are from Finch in Hudson. "The layout of my kitchen is completely useless," McCauley says, "I'm always running from the stove across the room to the sink, dripping water all over, and it's fine because the leather has a natural patina to it!" Her inner circle of design-minded friends contribute to the ever-changing tableau of test ideas, as McCauley has been working with designer Nick Olsen for the past seven years.
It's also a fusion of inspirations from iconic movies and photographs, including a Richard Rutledge photograph of Irving Penn's wife and muse, Lisa Fonssagrives, that inspired the palette in the hand-painted walls of the bathroom. As for the living room: "My color scheme was inspired by a Bert Stern Marilyn Monroe screen print I had won at auction, as well as Nina Yashar's home in Milan."
Moving on to the bedroom, she chose the matte-blue color for the walls because "I wanted the room to feel cozy; it feels like being deep under the ocean." McCauley is a night owl who loved to attend her friend DJ Yestergay's monthly disco parties at Julius, a bar in the West Village. She can't wait for the time to get back out there when it is safe again, but in the meantime, her latest addition at home has been a disco ball, and she looks back on this past year saying, "The time I've put into this apartment has paid off because for the past depressing year, I've at least had a joyful space to spend my time. That being said, I can't wait to go out and dance till 4 a.m.! And when I come home, I have the deep-blue sea waiting to envelope me as I sleep off the martinis."