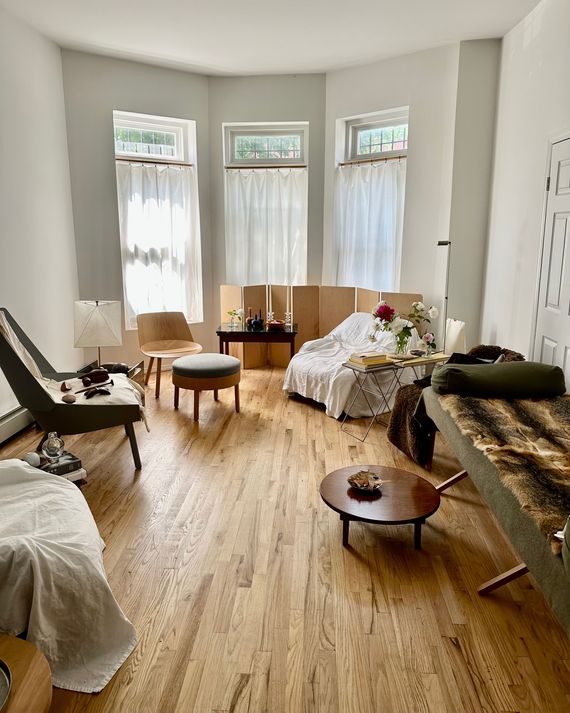 Julio Espada's airy living room features paper curtains he hung on sawed-off broomsticks, along with furniture and art he has collected over decades, including a custom camp cot he uses as a guest bed. He has left the walls empty.
Photo: Wendy Goodman
Originally, I lived down in the downstairs apartment," Julio Espada says as we sit at the dining table in his light-filled open living-dining room. "Literally two weeks after I moved in, it was announced we were going into lockdown." About three months later, the family living upstairs decided to move out of the city, and their parlor-floor apartment, where he lives now, became available. This gave him access to more sunlight and the backyard, which he still has plans to tame, but not too much. During those early, isolating months, his friend Marc Jacobs got in touch with Espada and asked him to work with him on a project for British Vogue, to reimagine what fashion would look like post-pandemic. The two first met at Perry Ellis, where Jacobs was the designer from 1988 to 1993, and Espada was a creative consultant brought in at the end of Jacobs's reign, when he launched his notorious "grunge collection" before leaving to start his own label. Espada's fashion career also includes working as artistic director of Emilio Pucci from 2000 to 2003.
Espada had spent his entire life living on the Upper East Side after moving from San Juan, Puerto Rico, to New York in 1973. But Brooklyn "was pioneer territory to me," he says. To turn the parlor floor into a home, he tapped into his experience designing his own showrooms. Espada, who became a fashion designer in the '70s, gained a cult following once he started his own label, the House of Julio, and opened his Julio store on Lexington Avenue in 1975, which then moved to Madison and 72nd in the Rhinelander mansion from 1976 to 1980. His clients included Babe Paley and Jackie Onassis, and Richard Avedon photographed his ad campaigns with the supermodels of the day: Patti Hansen, Apollonia van Ravenstein, and Janice Dickinson. The store's sleek, minimal interior by architect Ron Doud and Robert Currie, the renowned window-display director at Henri Bendel, was designed to reconfigure easily as the collections changed. Today, Espada's home reflects that same ease with pieces he has collected over decades, each with its own story.