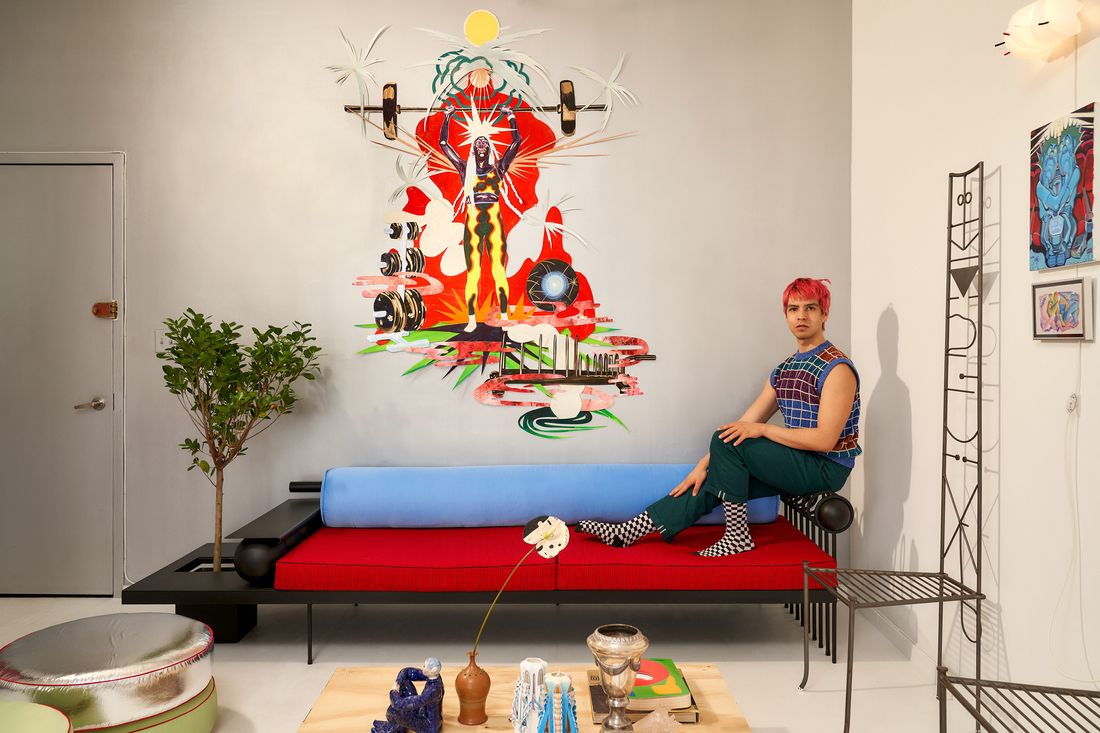 Who's on the Sofa?
Torres perches on a couch designed by Micah Rosenblatt and Sophie Parker.
What's on the Coffee Table?
"Objects are very key to me," Torres says. "The seated ceramic figure is sort of friends with the one on the shelf above the long desk by a sculptor I found online, Malwine Stauss." The two candles are from Feng Sway. The painted flower is by Sophie Parker.
Who Made the Art on the Right?
The piece on top is by Jeremy Sorese; below that is by Max Wittert.
What's on the Wall Behind Torres?
A collage by Khari Johnson-Ricks.
Is It Art or Is It Furniture?
The metal chair is both.
Photo: Seth Caplan
I really dislike traditional writer's rooms," the comedian, writer and actor Julio Torres says while sitting on the custom-made red-and-blue couch in his office in Greenpoint, his hair dyed to match. "The fluorescent light, the kitchenettes — I never thrive in those environments. I need to be surrounded by the things I like and to be visually stimulated in order to function."
Torres moved to New York in 2009 to attend the New School; by 2016, he was writing memorable, odd sketches for Saturday Night Live, which led to his HBO series Los Espookys. He and his co-star on that show, Ana Fabrega, rented another office space in this same Greenpoint building to write it. "It was such a peaceful, joyous experience," he says, but the décor, provided by the production company, was uninspiring: "just very basic office furniture." Torres moved to this unit next, which he has decorated with help from his friends (and his mother and sister Marta). "This big blank canvas — that's heaven to me, and the process of making it is the joy of it, having a project that is never finished."
Torres grew up in El Salvador, where his family lived in the capital in an apartment over his mother's fashion boutique. "I remember it feeling very chic," he says. "There was lots of artwork on the walls, including paintings my dad had commissioned depicting Indigenous myths — there was one where trees would whistle at the stars — and a cheeky print he got in Amsterdam featuring the red-light district, where if you looked closely, you could see people having sex through the windows. I loved it! It felt very cosmopolitan." His father, also named Julio, is a civil engineer. "The bathroom was kind of sexy. It was black, white, and red with a stone wall and a huge open window that was obscured just enough from the street. It was a very indoor-outdoor situation. All my mom's doing." His mother, Tita de Torres, is an architect and a fashion designer. "When I was a kid, my mom would make lots of architectural models, and I loved them." Her Memphis-inflected taste still reverberates with him.
Last year, he finished writing a coffee-table book for young people, I Want to Be a Vase. Growing up, "I didn't really read children's books. I was just so stimulated by images in coffee-table books," he says. His father had a lot of them. "Art history, mostly. I liked to go page by page and take my time on each one." And so he wrote one for "coffee-table kids" like he was.
Micah Rosenblatt and Sophie Parker designed most of the pieces in the office and used lots of glass blocks, including for the large planter on wheels. Torres recently installed a large collage over the couch by artist Khari Johnson-Ricks. "I was looking for a big piece of art, and I didn't want a square or rectangle," he says. Then there's the perch of Krisha and Eric, Chicken McNugget–size blobs with eyes and smiles whom you might know from Torres's HBO special My Favorite Shapes. They've been with Torres since 2016, when Krisha was found in a stoop sale and Eric was given to him by a friend. They now hang out in the model that Marta and his mother made as a prototype for a nightstand. "They are cousins. It wasn't meant to be their home," Torres explains. "But now it's her apartment. I think he is constantly couch crashing."