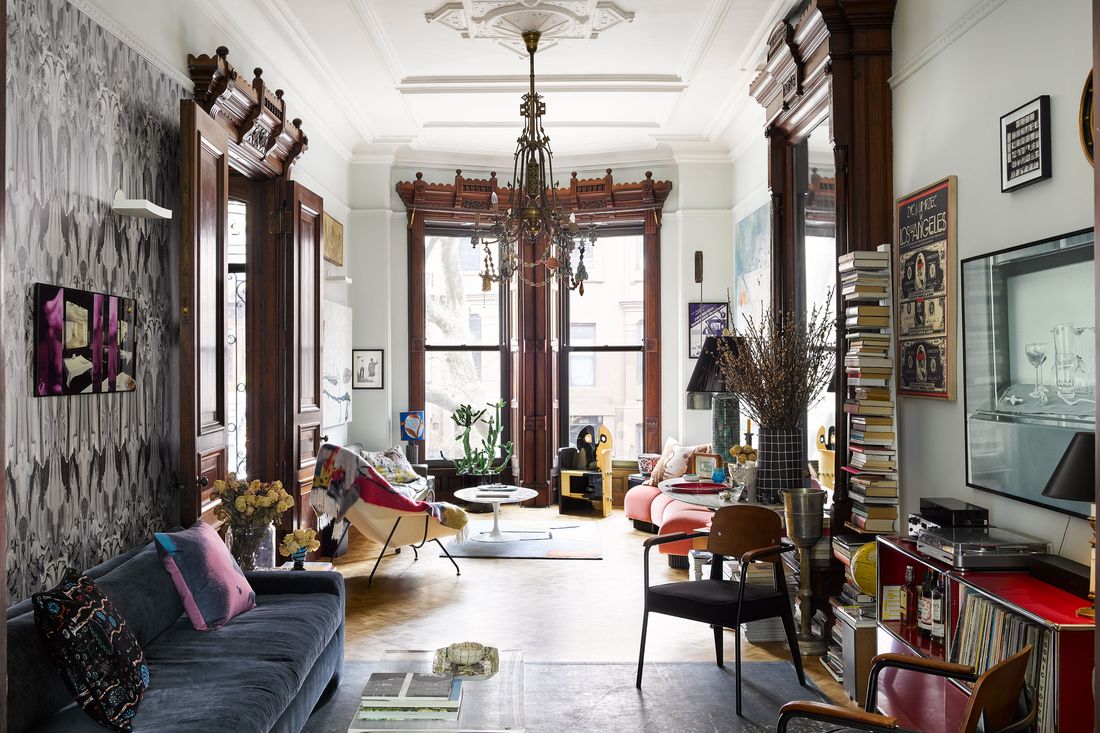 The Parlor Floor:
The mix of furniture in the living room includes a Gaetano Pesce chair by the window. The wallpaper on the left wall is from Timorous Beasties. "We used it as the backdrop in a film about Sigmund Freud–Vienna 1900," Andrew Rossi says.
Photo: Annie Schlechter
Twenty years ago, Andrew Rossi attended a rough-cut screening of the documentary Startup.com at the brownstone owned by the filmmakers D. A. Pennebaker and Chris Hegedus on the Upper West Side. "I just thought that was such a wonderful way to work," Rossi recalls. "To live in a brownstone and to be able to work there, too — such an intimate and creatively fertile environment."
Rossi is a film and television writer and director whose The Andy Warhol Diaries streamed on Netflix last year. He's married to another filmmaker, Kate Novack, whose André Leon Talley documentary, The Gospel According to André, came out in 2018. These days, after a decade in a South Williamsburg loft that they left because of ongoing repairs to the building, they live with their two children in an 1885 brownstone in Park Slope, where they also work.
"Part of my fantasy about being in a brownstone, which I did actually end up doing, was to be able to shoot a film inside the house," says Novack, "which was kind of exciting. There are all these stories within the walls of this house." The film, produced by Rossi, is a 2020 short called Hysterical Girl that revisits "Dora," the only major case history of a female patient published by Sigmund Freud. "It reimagines her as a teenage girl today and looks at how we as a culture have one foot in 1900 and one foot in 2020," says Novack. "The Timorous Beasties wallpaper was the backdrop and perfect because it kind of does the same thing in terms of referencing time periods."
When they bought the brownstone in 2015, it had been converted into two duplex apartments. Being documentary filmmakers, they dug into its past. "I went back in the Brooklyn Eagle," says Novack. "You could track the evolution of the way that people lived."
The parlor floor looks as it did back in the day, and many of the home's heavy-wood Italianate architectural details are well preserved. Novack loves it but is quick to put it in historical context. "It's funny that we are all sort of precious about these details, which I get," Novack says. "But it's also funny because these houses were sort of like the spec houses that we all hate now. We're so snooty about McMansions, but as I understand it, we are living in the McMansions of 1885."