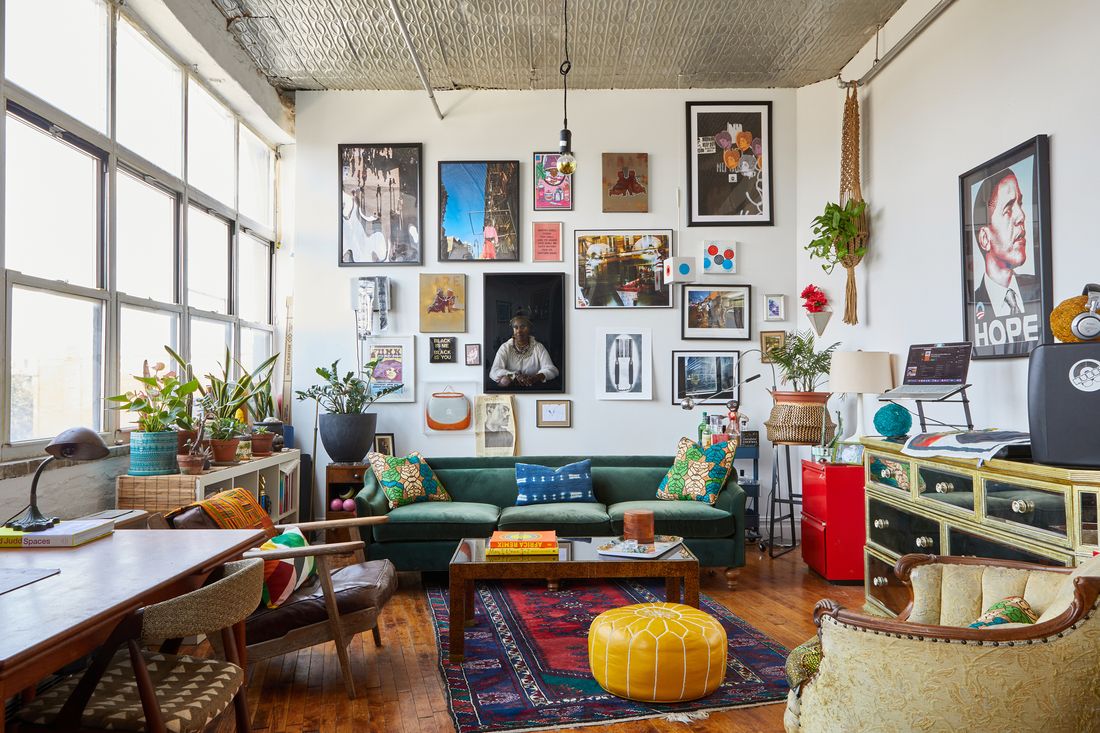 The Gallery:
"So this is our first apartment after getting married and blending our art," says Kelly Marshall.
Photo: Kelly Marshall
I always had the fantasy of living in a warehouse," says photographer Kelly Marshall of this rental — an 800-or-so-square-foot loft on the border of Bushwick and East Williamsburg — where she and her husband, private chef Dominic Sylvain, have spent the last year. "And if we were to buy, we'd never buy a warehouse" — partly because they aren't easy to find — "so this was our opportunity to do it." Marshall wasn't sure about moving back to Brooklyn, where she'd lived when it wasn't quite so tame, after having an apartment on Mulberry and Houston in Manhattan. "It was a conflicted story," she admits. "I had lived in and out of New York since the '90s, and me being a person of color while my husband is from Montreal, and his perspective of New York was so much different from mine, so there were a lot of interesting conversations about where will we find diversity and all those really tough questions." But after a few trips to see this apartment, which they had found on StreetEasy, and exploring the neighborhood, "I had to begrudgingly agree that we made a fun choice to kind of step out of our zone and jump into another community," Marshall admits. It is here that Marshall has been working on a documentary, Birthing of a Nation, about the fight to improve maternal health for Black women: "the legacy of Black women's radical self-care and healing illustrated through the birth-justice movement," as she puts it. But she won't finish the film here: The rent hike was too high for them to renew the lease. She'll miss the place, though not the recycling center across the street. "My husband basically soundproofed our bedroom," she says, laughing. "We love this place, and if we could just pick it up and move it somewhere else, we would."
More About the Gallery (Above):
The Room:
• The velvet sofa from Anthropologie was bought from a friend who was moving out of the city.
• "The coffee table my parents had when I was a kid, and that rug I bought in Istanbul when I was studying abroad in 1995."
• The ottoman pouf was a gift from designer Rayman Boozer, who offered it to Marshall during a photo shoot at his apartment.
• The leather-upholstered armchair is from Pottery Barn. "I did a story for them, and they paid me in furniture."
• These windows look west, across the rooftops of Brooklyn, taking in the Manhattan skyline.
The Artwork (clockwise from top-left corner):
• Marshall took this photograph when she lived in Paris. "I gave myself a mandatory two-hour-a-day walking tour to take photographs, and this was taken from the top of the Pompidou Centre."
• The streetscape was photographed by Dominic Sylvain. "He used to live in Chinatown. He has a great eye."
• The screenprint on canvas is from the "Bulls Eye" series by San Francisco artist Bill Samios, as is the birdhouse dangling in front of it.
• "My brother used to work in film in L.A.," Marshall says, "and he found rolls and rolls of these Obama posters in a factory warehouse he was shooting in. So he gave me one."
• "I found this Black doll at the Alameda flea market in San Francisco," Marshall says. "I wouldn't say that I am a big collector of old Black stuff, but I just loved that. I thought, He's going to be mine."
• She also hung a light box with slides on the wall.