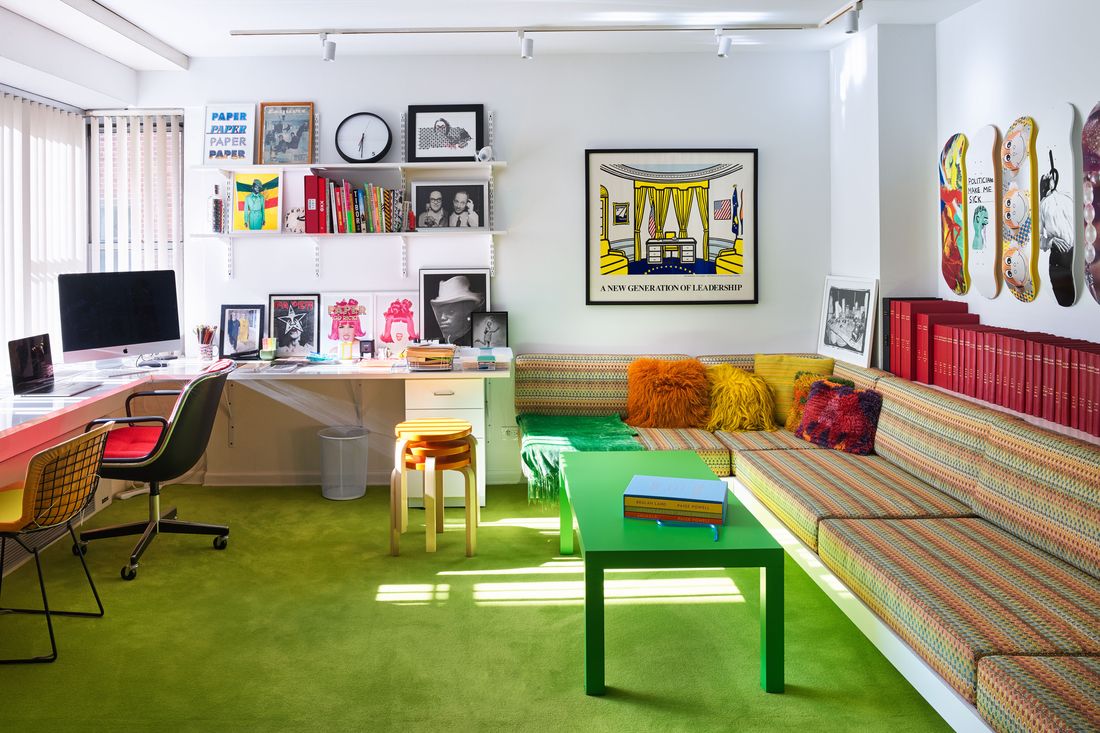 Kim Hastreiter's new office is an elevator commute away from her apartment on lower Fifth Avenue. The print of the
Oval Office
, by Roy Lichtenstein, was made to raise money to elect Bill Clinton.
Photo: Annie Schlechter
Kim Hastreiter has lived in a "kind of vanilla" postwar building overlooking Washington Square Park since 1993. She didn't love it when she first saw it, but it was highly civilized and, having lived in Tribeca since 1980 — back when it was dangerous — she says, "I wanted to live somewhere where I didn't have to run for my life when I went out for a newspaper."
At the same time, the New York she moved to was a place of opportunity, a place where people built their dreams out of will and ingenuity. Hastreiter came to the city (driving from California with the performance artist Joey Arias) after art school. She befriended the photographer Bill Cunningham, who urged her to become the style editor at the SoHo Weekly News. In 1984, she co-founded Paper magazine in her loft on Lispenard Street with David Hershkovits. For decades, Paper shone a light on new talent, new scenes, and new movements downtown. You almost always heard it there first.
"My mother died the same week I sold Paper," in 2017, says Hastreiter. Hastreiter's Village apartment became a catchall for the contents of her former office as well as the myriad of boxes of her mother's possessions. She needed more space, not only to create a proper archive of work but also for new projects, so she purchased a studio downstairs to use as an office. (Her mother's architect, Milton Klein, renovated her apartment, and architect Solveig Fernlund renovated this office space.) Hastreiter's ongoing projects include writing a four-part memoir, curating a public-art initiative for PBS with Radical Media, and putting together a pop-up "public service" newspaper called The New Now. (It will be an analog endeavor, free of ads and free of charge, "delivered heroically by USPS," she says.) The office looks like a grown-up playroom with its lollipop palette of bright colors and crisp built-ins that include a giant sofa. The décor echoes that of her apartment upstairs, which has its own built-in couch, eye-popping color palette, and the bulk of an art collection that any design museum would love to have. "Everything was built-in in my home growing up," Hastreiter says. "On the very large built-in couch, my father would be napping, my mother would be knitting, I would be doing the crossword puzzle, my sister reading."
One thing her office hasn't been, since March, is social. And so ever since her building went into lockdown, she has been holding her meetings with artists, performers, writers, and friends on a shady bench in Washington Square Park, where the grass is the same color as her indoor carpet.
Her Office Inside: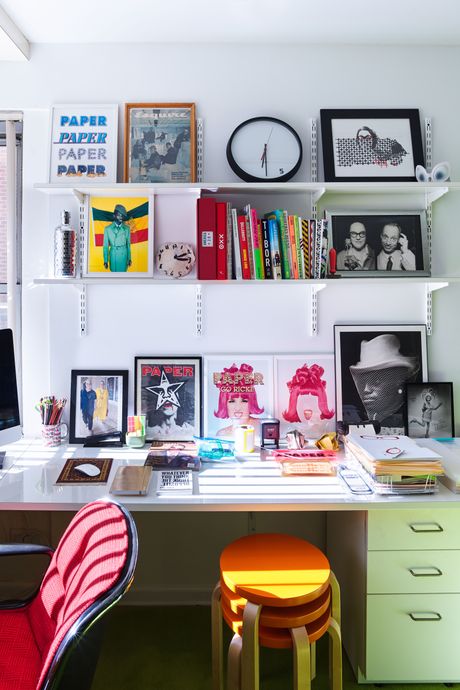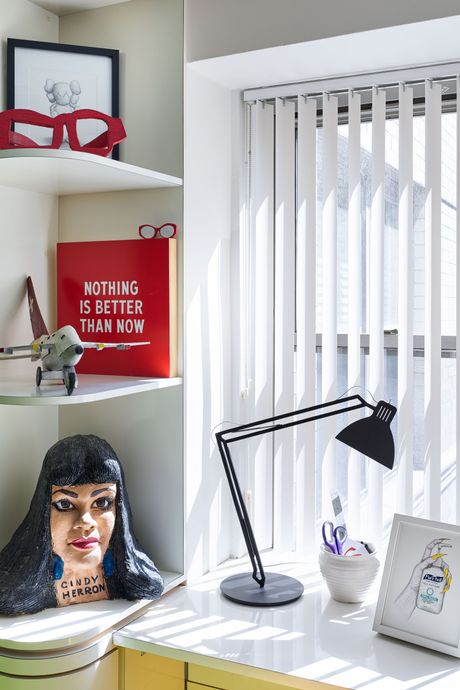 The shelves (left) offer a retrospective of some of Hastreiter's favorite Paper magazine works. Bottom shelf, from left: Bill Cunningham photo of Hastreiter and Mickey Boardman, Paper-cover appropriation by Shepard Fairey, her favorite cover and table-of-contents page: Go Ricki! photograph from a Harlem fashion shoot in Paper, by Melodie McDaniel. Middle shelf: Photo of Kim and John Waters from the '90s, by Spencer Tunik. Top shelf: Paper logos by Bridget de Socio; Esquire cover by George Lois; clock by M & Co., photo of Hastreiter by Elaine Ellman, Stephen Sprouse alien eyeglasses from his NASA show. The orange Aalto Artek stools are from the website Finnish Design Shop.
Detail of a corner of Hastreiter's desk (right). Bottom shelf: the plaster head is by Creative Growth artist William Scott. Middle shelf: The red painting and little glasses by Jeff Canham was a "gift commission from one of my employees of my favorite sayings." Top shelf: The giant glasses were a gift from Creative Growth artists. The drawing by KAWS. On the desktop: "Looksoflat" desk lamp by Ingo Maurer; "Pure Hell Purell" drawing by Justin Hager.
She installed an L-shaped desk and a built-in sofa. The sofa fabric is from fabricguru.com. Above the sofa is a selection of Hastreiter's artist-designed skateboards; she has 40 in all. From left, skateboards from Supreme by Jeff Koons, Robert Longo, Marilyn Minter, and Richard Prince and ones by Jeff Cheung and George Condo. The print of a woman's face is a compilation of all 17 women who accused Trump of sexual abuse (including Stormy Daniels), by Richard Prince. "All red bound books are my Paper archives bound." The green Parsons coffee table is from Urbangreen. On the coffee table is the Paige Powell boxed set that Hastreiter edited last year.
The carpet is from Aronson's. "The floor was ugly parquet," Hastreiter says. "I wanted to have green carpet because I wanted to make it cheerful." The Bertoia chair (left) and Pollock chair are both from Knoll. "That's my favorite office chair. I've had it in various colors literally my entire 30-year career," says Hastreiter. The pendant lamp is from Design Within Reach. The art on the wall includes American-flag variations by Geoff McFetridge from Paper. On the table is a fashion photo of three ladies eating spaghetti by Tseng Kwong Chi for the SoHo Weekly News.
The tree-trunk stool is by Philippe Starck for Kartell; on the wall are some of Hastreiter's favorite Paper covers. Top shelf: a copy of Nick Waplington's The Isaac Mizrahi Pictures: New York City 1989–1993. Middle shelf: Hastreiter's CFDA award. Bottom shelf: Tauba Auerbach's pop-up book [2,3].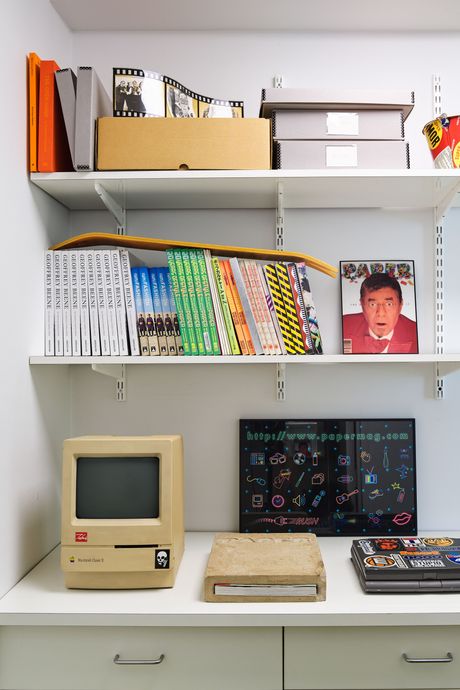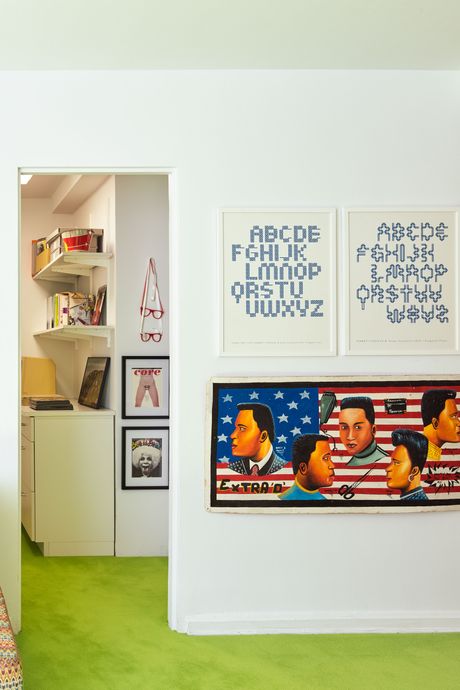 Her Office Outside:
*A version of this article appears in the October 26, 2020, issue of New York Magazine. Subscribe Now!