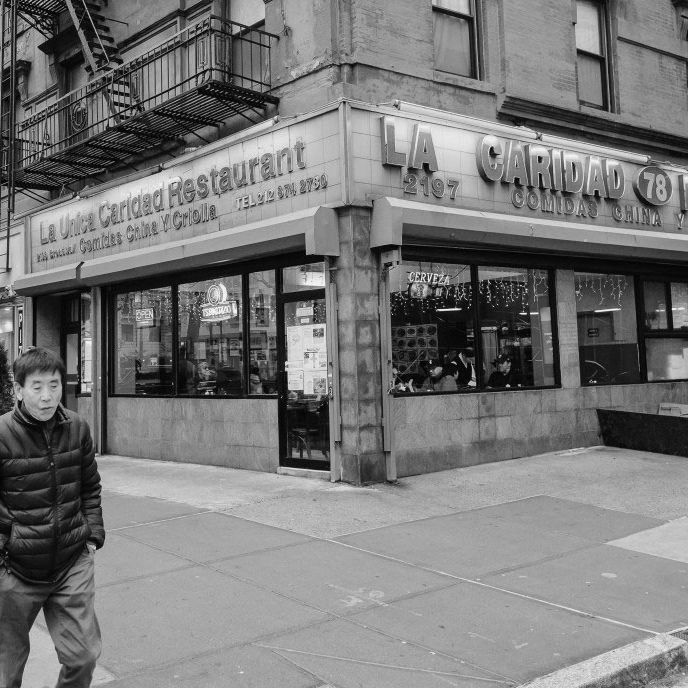 Photo: Stefano Giovannini
Sometimes the places you miss most acutely aren't the places where you spent the greatest amount of time; they're the ones you walked past every day and assumed would always be there simply because they always had been. La Caridad 78 came as close to feeling permanent as any restaurant on the Upper West Side. It had held down a place of honor on Broadway through 52 years, seven mayoralties, and most of my life, which was largely spent living nearby.
Like many a non-Latino child in the neighborhood, I learned some of my first Spanish words from the large plain signage of La Caridad (which at one point rebranded itself as La Unica Caridad, the closest it ever came to bragging). The cooking advertised on its exterior, for as far back as I can remember, was "comidas China y Criolla" — literally, "Chinese and Creole food," but it wasn't what later came to be known as "fusion." The restaurant's founder, Raphael Lee, was a Chinese immigrant who had lived in Havana and was influenced by that city's Chinatown. But with rare exceptions, the two modes of cooking never fully melded; the Chinese food was Manhattan Chinese American, and the Cuban dishes, on a separate part of the menu, were Cuban.
The vibe was one-step-up-from-pizzeria plain, with easily wiped tables and a constant sound of metal clanging from the open kitchen. I also seem to recall, although this may have been a hallucination, glossy photographs of the food in colors that had grown lurid with the years, like an unrestored movie from the 1950s. The menu was immense, the prices weirdly specific ($4.35, $6.45), the portions — of pepper steak, of black beans and rice, of fried plantains — hearty enough that you could walk in and, 45 minutes later, waddle out two or three pounds heavier and not more than 12 bucks lighter. And you would have spent that 45 minutes in the company of neighborhood folks, not slummers or food tourists, just young, middle-aged, and old people in search of a completely reliable meal. I can't say that my memories of the place are exactly Proustian, but I do remember filling myself with greasy nourishment as a teenager before seeing a horror movie at the long-gone Loew's 83rd Street triplex and, a decade later, carrying a bagful of hot food north to the apartment building I lived in on West 93rd, hoping to evade vestibule muggers (I mostly did) and just get home, unwrap the foil, and eat. Those La Caridad dishes felt like the good old days and the bad old days of an entire neighborhood — versions of the past that can be somewhat challenging to tell apart.
*This article appears in the December 7, 2020, issue of New York Magazine. Subscribe Now!
More Reasons We've Loved New York
See All