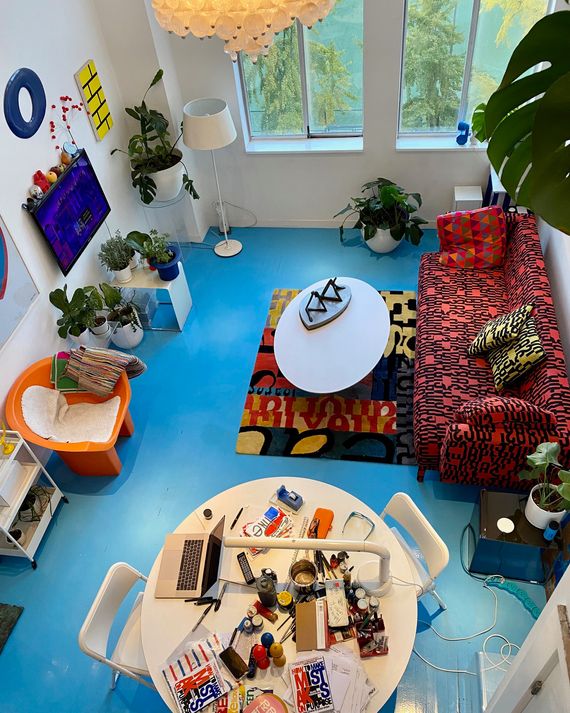 The view from Rosenwald's loft bedroom looking down to the living room, where the sofa and chandelier were the two pricey finds. The Saarinen coffee table and dining/work table were found in Lambertville.
Photo: Wendy Goodman
At the end of a long beige hallway, artist Laurie Rosenwald's door flew open and she greeted me in a cherry-red jumpsuit. I was welcomed in to a playground of color and art and '50s furniture and Scandinavian delights — she's traveled often between New York and Gothenburg, Sweden, over the past two decades. It's a world that makes perfect sense if you know her editorial illustrations for publications including The New Yorker, the New York Times, and this magazine. She has also continued to paint and has conducted creative workshops for close to three decades; Rosenwald's experiences teaching inspired her new book, How to Make Mistakes on Purpose: Bring Chaos to Your Order. 
So I felt I would take her up on that implied spontaneity and see if she would allow me to visit her at home, on very short notice, to talk about her book. She's lived in the Printing House — a converted onetime industrial building in the West Village, where in the late 1970s she actually got some business cards printed — since 2011. Before that, she had a loft on Lispenard Street. Her current 920-square-foot apartment has 18-foot-high ceilings and, she says, "normally looks like a hardware store exploded," although it was pretty tidy when I barged in.
The first thing I noticed was a gaggle of colorful coats dripping off hooks near the front door, where the wall organizer featured one of those automatic numbered-ticket holders you find at the supermarket. "That," she points out, "is Turn-O-Matic, and it's a Swedish invention. I like to collect stuff, like this is the perfect toilet-paper holder," she says, opening the door of the bathroom to reveal a clearly very practical, no-spring toilet-paper holder. She found it in Sweden, "for like five kroners or something." And the blue floors? Do they scuff? "It's funny," she says, "in the loft I had on Lispenard Street, I had an epoxy floor, which was better. But on the very slim chance that I ever move from here, if you put in epoxy, it's like, well, very few people appreciate bright-blue epoxy, so I could sand this down if I had to."
As we settle down in the living room, which has giant windows facing east, I note lots of sculptures, all done by her father, who was an artist and, for a spell in the late '40's to early '50s, had a studio in Paris. There are posters, one of the best being a supermarket sign from the Upper West Side, and a few of her own paintings (her studio is in New Jersey). The Saarinen coffee table and dining table/desk "was found in Lambertville, near New Hope, which is where my father lived."
She tells me she wrote this book based on work that began in her creativity workshops. "And the workshop itself is very practical. It explains, like, the guy who invented Velcro. He was walking in the woods, and burrs got stuck on his pants, and he thought, Oh, what could this be? And he invented Velcro." When I ask if this is true, she answers, "Yes, but what he didn't do was sit in a perfect white laboratory and say, You know what the world needs is a new way to stick stuff together, and I am going to be creative now." Her workshops are based on that sort of insight. "I create chaos is what I do. I create a room full of chaos, people make all kinds of stuff, and then afterward we go, Oh, what could this be that I made?" Coming up, Rosenwald is holding workshops at the Poster House on 23rd Street, the National Arts Club, and the Society of Illustrators.
Meanwhile, she's back at work on her memoir. "A white piece of paper is the devil; you never want to be alone with that thing," she tells me with a smile. She does her writing at the Society Library, because as joyous as her house is, "it makes me crazy to be here all the time."
Photo: Courtesy of Hachette Book Group