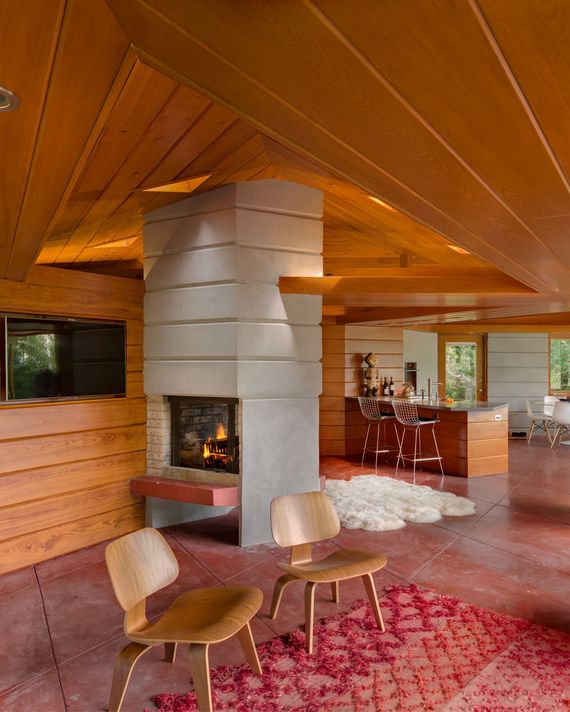 The house was originally built in 1949 by architect David Henken. Lena Stringari and Pedro Felix Perez have restored the cypress wood, concrete, glass, and other materials, adding their own modernist furniture to the interiors.
Photo: Michael Biondo
The architecture is very demanding, I have to say," says Lena Stringari, deputy director and Andrew W. Mellon Chief Conservator at the Guggenheim Museum, of the 1949 house and cottage she has been renovating for the past decade with her partner, Pedro Felix Perez. It's in Usonia, a community of 47 homes in Pleasantville, New York, which was created according to a plan by Frank Lloyd Wright — who, of course, designed the museum where Stringari works.
Usonia was developed by a group of New Yorkers who had been inspired by Wright's idea of a "Usonian"' house, which is, according to the architect, a "natural performance, one that is integral to site, to environment, to the life of the inhabitant. Into this new integrity, once there, those who live in it will take root and grow." In the years after World War II, these idealists banded together to buy 95 acres of undeveloped land. Wright not only laid out the community but designed three of the houses himself. The rest were mostly by Aaron Resnick and David Henken — all in the Wright idiom: low-slung, blending into the landscape, and made of local materials. (Stringari's house is by Henken, who spent time studying under Wright.)
"It's a community based on an interest in sustainability and architecture that is embedded in nature," Stringari says of the wooded setting. "Usonia was green long before the Green Movement." Stringari had always thought she would want a minimalist modern house — a "white box with large windows" — but what she got was "no right angles, endless cypress, beautiful light, surprises at every turn." The big drawback: It's hard to find a place to hang art.
When she and her partner bought the house in 2010, "it was really a disaster," Stringari says. They have been working on it with the architects Rudi Elert and Mark Rolfs — who lives in Usonia.
Wright's and Henken's use of concrete, glass, and cypress was part of the agenda to create low-maintenance housing that omitted any painted surfaces and Sheetrock (which has popped up in some more recent renovations but not in Stringari's).
Stringari sees parallels between working on the current show she curated at the Guggenheim, Eva Hesse: Expanded Expansion (which runs through October 17), and her personal work on her home. "Hesse is something I have been working on for over 20 years now. This is part of what my life is like; it's kind of a slow understanding of things and trying to do the right thing. There's a legacy of an artist — how do you bring that into the contemporary world and still retain integrity?"