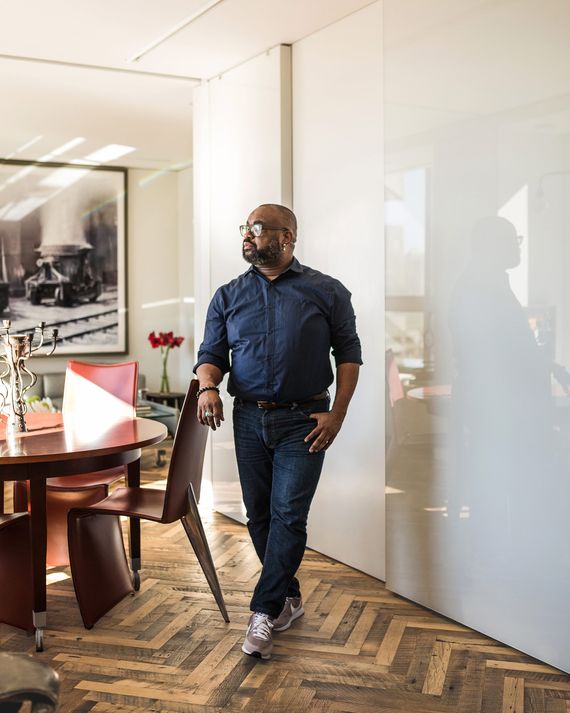 Interior designer and artist Leyden Lewis's clients, a couple who had purchased a pied-à-terre in a high-rise in midtown Manhattan, appreciated the building's amenities but wanted a full makeover for the apartment, which hadn't been touched in 30 years. "We walked in there," Lewis says, "and it was a 1980s peach hell: peach carpeting, peach silk. We ripped out all that stuff down to the bone." His clients, who are art collectors, wanted the space to have the openness of a downtown loft — and every wall to be able to accommodate art. Lewis, pictured here, stands at the nexus of the space: the kitchen, the dining area, and the entry of the study. The back-painted glass-paneled cube, with full-height matte-lacquer sliding doors that open to the kitchen, is the anchor of the space. The original floors were replaced with reclaimed oak herringbone that runs throughout the apartment, including the bathrooms. Lewis, who is a professor at the New York School of Interior Design and Parsons, is a founding member of the Black Artists and Designers Guild and is currently working with architect Nina Cooke John on designing a Concept House that reimagines the narrative for Black families at home.
Above, a view of the living room toward the bedroom, where Lewis designed a dark tobacco wall with a glass clerestory that divides the room while still allowing light to filter in. The collage on the wall is by artist William Kentridge. "They moved in with a lot of big modernist pieces," Lewis says, referring to the sculptural sofa and banana-colored Eames lounge chair, "which ended up complimenting the interior architecture well." The diptych watermelon painting and the sculpture of the fruit bowl in bronze are by an artist friend of the owners, the late Ana Mercedes Hoyos.
Of the serene bedroom, Lewis says: "The custom millwork adds traditional storage and serves as a night table with a retractable surface that visually relieves the floor space." The custom linen bedcover is from Lori Weitzner's Reverie Collection, a collaboration with artist Lisa Hunt. Two Roni Horn "Clown-Mirrors" hang above the bed. Lewis installed four photographs by Pieter Hugo on the movable walls he designed to create easily accessible storage. He added Tolomeo Mega table lamps and installed architectural wall-washing lighting from Modulightor in the ceiling.
"The custom-designed kitchen is from Poggenpohl — the back-painted glass walls perfectly complement the matte rustic reclaimed floor," Lewis says. Ingo Maurer's two "Canned" hanging lamps are a nod to Pop artist Andy Warhol. "Everything was reconfigured in the apartment," Lewis says. "The reclaimed floor is the one thing that carries the language of the floors in the old cast-iron buildings. It gives the space a historical foundation."