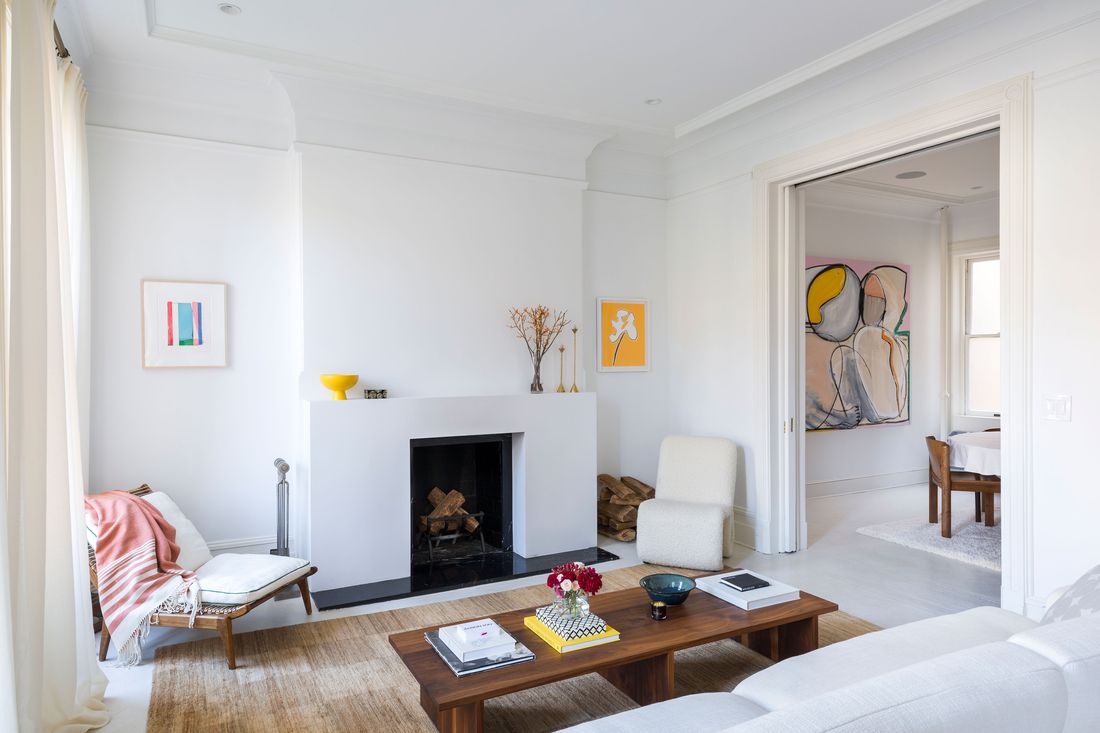 The Living Room:
The original dark herringbone parquet floors were too thin to refinish, so they were stained it a lighter color. The new fireplace surround is done in plaster and stone. The vintage chair by the window is from JF Chen in Los Angeles, and the chair on the right is by Jan Ekselius. The art to the left of the fireplace is by Julia Rommel and to the right by Austyn Weiner.
Photo: Kate Glicksberg
Lili Chemla moved to Los Angeles for a spell after college to start a business, but like many native New Yorkers, soon moved back home. "I am really grateful for the time I spent there," she says, "but the city itself is not for me." That was in 2017, spurred on by the fact that her sister was pregnant and "I was getting jealous about potentially not spending time with my new nephew."
In 2019, back in New York, Chemla launched her fashion company, Leset, making, as the Cut put it that year, "clothes you could wear to attend a meeting, take a nap, and then have dinner out, all without having to change."
She'd looked at a rental she didn't much like in a West Village building that she did, and asked if there was anything available to buy. The broker discouraged her from seeing it until after it was renovated — not because it was a wreck, but because the apartment, with its heavy gray palette, dark stained floors, and an egg-shaped bedroom with velvet upholstered walls that blocked out two windows, wouldn't be to her taste. She saw it and bought it anyway.
The co-op board had approved a plan by architect Sarah Moody to redo the floors, bathrooms, and kitchen. But once the demolition started, the plan changed. "I saw a lot of other opportunities, so we didn't end up using that original proposal at all and completely changed it," Chemla says. "Sarah was amazing to work with, but it was very serendipitous; she wasn't someone I had heard of before. I felt really lucky." Chemla also worked with interior designer Mia Dalton.
The big change was creating a new bathroom in the former egg-shaped bedroom, with a window-side tub to soak in. Chemla would keep the original moldings and hardware, even if that meant that some old windows were close to impossible to open: "But still I thought it was important for the beauty," Chemla says. The end result, after two years of work, is a space where Chemla can show her collection and meet with buyers as well as entertain her friends.
"It's a minimal, cozy, comfort kind of aesthetic that I really go for, which I think is very similar to the ethos of Leset," Chemla says.