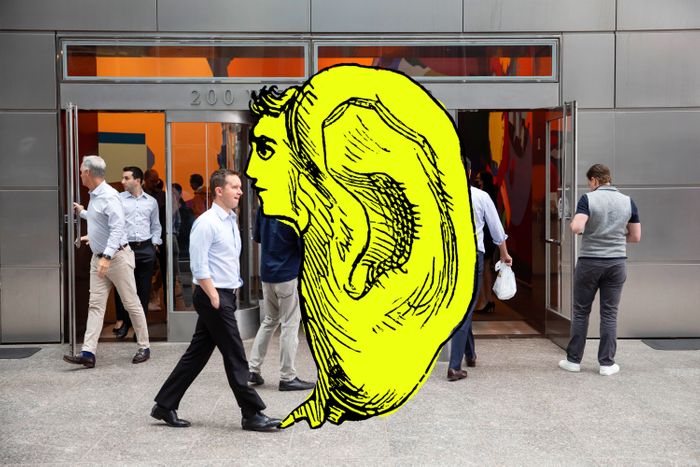 Photo-Illustration: Curbed; Photo: Michael Nagle/Bloomberg via Getty Images
Living in New York means constantly, discreetly listening in — to breakups at bars, friend fights on the subway, and gossip about complete strangers or, from time to time, people you do in fact know. But what happens when you situate yourself in an ultraspecific spot around the city over an extended period of time and listen intently? You learn a surprising amount about the state of things. Here, we stood outside Goldman Sachs' office, hours after the largest round of layoffs since the financial crisis began. Employees were leaving work, many unsure if they'd be let back in the next morning.
Dude, are you scared?
Not really. If I got let go, I don't really care. It's not like I need this job. The worst thing is, you can't say you left on your own terms.
It's an ego hit.
Exactly.
Dude, that's just wild.
Dude, tomorrow morning is gonna be wild.
You think it's all in the morning?
Yeah, and I think people won't even be let into the office.
Dude, I feel like our team is in a pretty vulnerable spot.
Yeah, we know the number, but where is it going to be concentrated? Do you go after old-timer guys who've been at the firm for years? And then like, give them a massive severance?
Dude, I'm telling you, people are dead.
It's Mercury in retrograde.
What does that mean?
It's like astrology, and it's a really bad time for communication.
All month?
All month.
Honestly, I should be locked to my desk just working, but I can't with this thing. I just think talking to people makes me feel calmer.
So your management strategy is communicative.
When people pretend nothing is happening that, like, makes me more stressed.
That's how [X] is.
He is such a weird guy.
Regardless of what happens, there's another round before March — 100 percent.
It feels weird. I think everyone, no matter who you are, feels weird.
[X] texted me and was like, [Y] is gonna be fine. There's always severance and she has a standing offer.
They were like, "This was a restructuring that was bound to happen and your colleague was let go. And this is your colleague's calendar." And then I looked and could see that they'd only just told them.
They told them the day of that they were fired? That's nuts.
Yeah, he's gonna be under anesthetic for that.
A nonemergency medical procedure during the nursing shortage?
Gotta take it when you can.
Hopefully by this time tomorrow, we are all on Slack! You have dinner with [X]? Because otherwise you could join us and gossip.
Oh, actually, [X] is a great person to gossip with.
Performance doesn't matter. Every team has to sacrifice, even performing groups had to put up someone, which struck me as fucked-up.
It's just on and on and on and on, the fat cats get fatter and the rest of us crumble. I don't have one good thing to say.
And then they moved the entire [X] group to a separate room that they'd rented from mutual funds. And everyone in [X] was like, does this mean all of us?
It's a very interesting time. In that nobody knows anything.
I feel sick coming in tomorrow.
You're driving. I'm kidding.
I'll seriously be sick tomorrow.
Dude, you gotta go!
Where is it?
[X]. You would like it. Their menu is kind of funny, like they have little lambs in a blanket instead of pigs in a blanket.
Life is short. You can't sweat all this stuff.