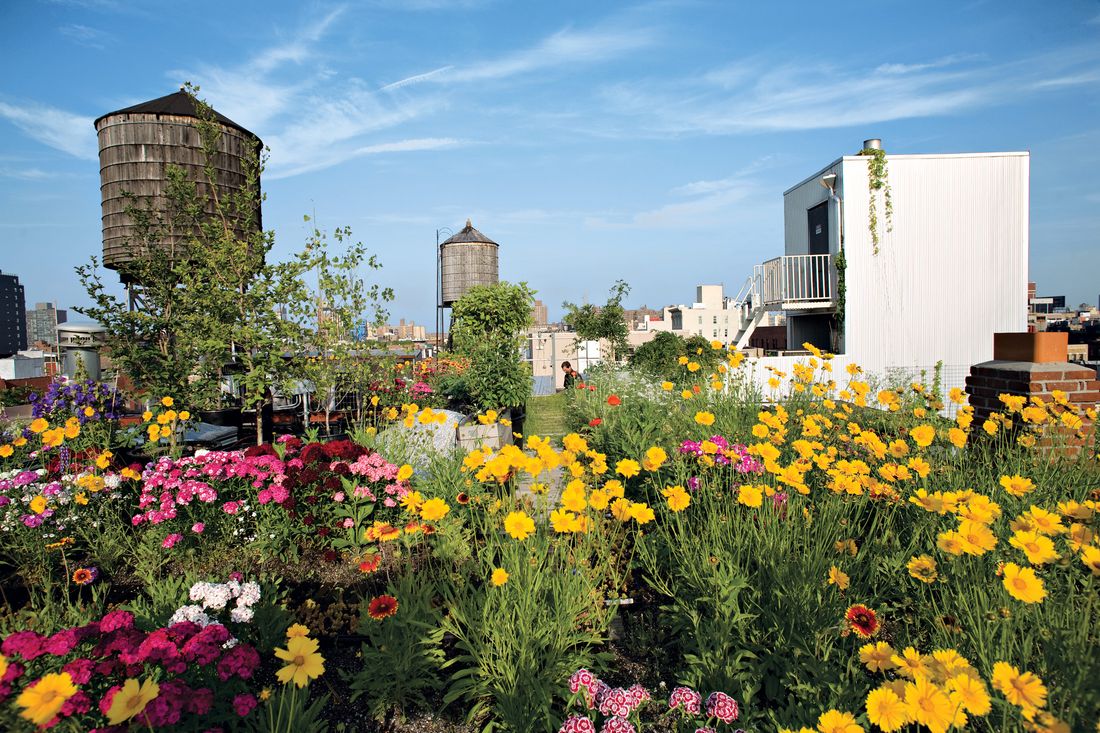 Lisa and Chris started Goode Green, their sustainable roof-design business, after planting their penthouse garden and this sustainable roof. A different set of wildflowers grow each season.
Photo: Gregory Goode
This story was originally published in the October 20, 2008 issue of New York Magazine.
There are rooftop gardens, and then there's Chris and Lisa Goode's rooftop garden, which is essentially an urban farm on top of a Little Italy building, complete with chickens and vegetables, fruit trees and migrating butterflies; all anchored by an elegant modernist penthouse pavilion by architect Andrew Berman.
If you were deposited blindfolded, you might think you were in Los Angeles, with a plush little lawn that needs mowing, rose gardens, lavender pots, and a black locust tree. The chickens might throw you off, as would the vast blue dome of the Police Building to the west, which adds an Italian feel to the horizon. And then there's the wildflower-covered roof of the Berman- designed pavilion. That's no accident — it's part of Goode Green, the business the Goodes recently started (spurred by this project), to develop sustainable rooftops. But it's not L.A. or Florence — New York is all around, from the redbrick Nolita buildings to the north to the river bridges to the east.
How did this all come to be? Chris, a film producer and former nightclub impresario (he opened the nightclub Area with his brother Eric and Shawn Hausman) is a relentless gardener and problem-solver. Lisa worked in the film business before their marriage, and now manages the Goode Green business as well as the building they live in, and on top of. (There's also the attendant busyness of children — they have a 4-year-old daughter, Charlotte.)
When Chris and Lisa began this project four years ago, they didn't have the budget for a general contractor, so Lisa oversaw the day-to-day construction. "It was the exact same thing" as being an assistant director, she says. Running a sprawling, multipart project, in other words, isn't as intimidating to her as it might be to some. Chris insists installing and maintaining a green roof is really simple, for example, but Lisa is more aware. "We come from a film background," she says. "Trucks and cranes are not scary to us." Good thing. Trucks and cranes are necessary when hoisting five-ton bags of soil over the roof.
Why not just buy a house in the country, where the soil doesn't need to be elevated six stories? It would doubtless be easier, but …. The trees are getting larger now, and more birds are visiting the roof. Monarch butterflies migrate through. A beehive produced plentiful honey, until the colony collapsed last year. Charlotte picks berries for her cereal, eats fresh (pale blue) eggs, rides her tricycle on the grass, and has picnics in any season.