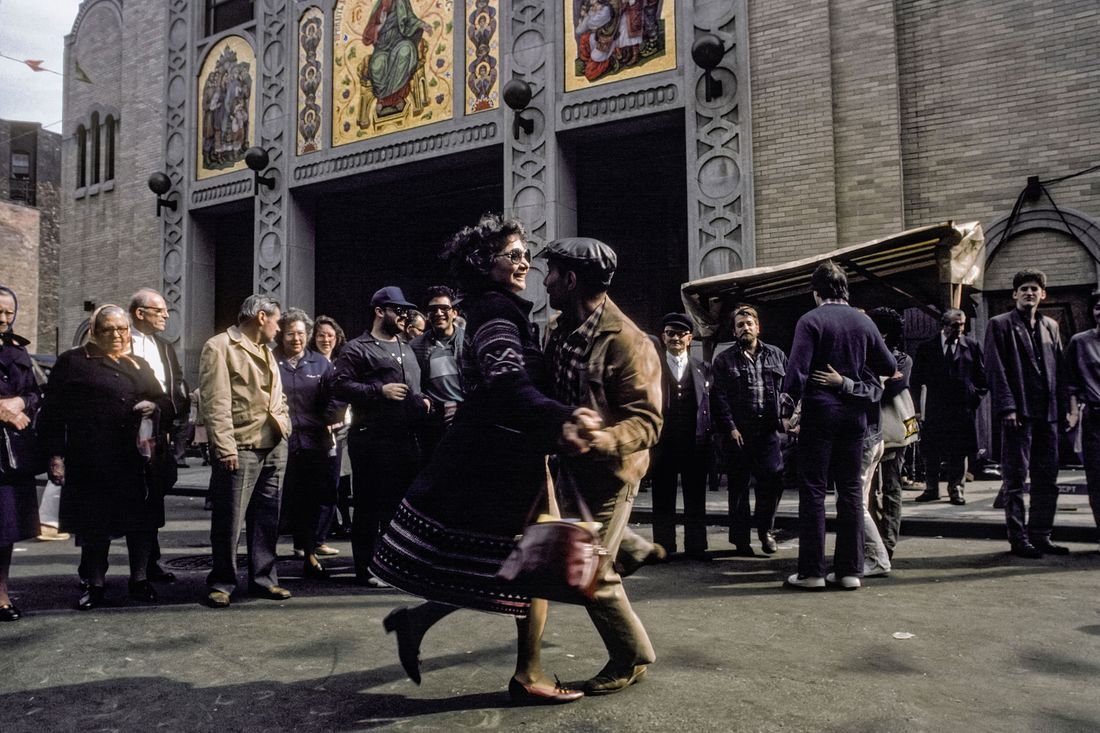 The spring festival at St. George in 1984.
Photo: Peter Bennett/Peter Bennett
In 1931, a writer named George Tichenor made his way from his home on West 21st Street down to the Lower East Side to see a play. Galicia Aflame, by the Ukrainian American playwright William Chopinsky, was perhaps not deathless theater, but it was sturdy activist work. (Sample dialogue: "By a workers' and peasants' government, I mean a government formed from all of our people.") It was staged in front of 2,000 viewers at the Manhattan Lyceum, a big barn of a room on East 4th Street.
Tichenor wanted to interview the playwright, and after the show he went out into the neighborhood to look for him. Around the corner at the Ukrainian National Home, they were celebrating Ukrainian Independence Day. Tichenor watched a performance by a traditional folk chorus, a dance demonstration, and a child's presentation about the meaning of the blue-and-gold flag. He walked a few more blocks and dropped into the offices of a Ukrainian newspaper, asking if anyone there knew the playwright. Eventually, he managed to find and interview Chopinsky in a storefront over toward Avenue D. His neighborhood travelogue, which ran in a small theater magazine, carried the headline "Ukrainia on the Bowery," as if he had discovered an unfamiliar planet.
Not quite a century later, you can still visit Planet Ukrainia, but just barely. Over by Avenue D, there isn't much left — blame Robert Moses and his superblock planning for that — but the western part of the neighborhood would, physically at least, seem familiar to Tichenor. The Manhattan Lyceum is (against every kind of odds) still a theater, now part of the La MaMa complex. The Ukrainian National Home is doing fine in its rebuilt space on Second Avenue. You can spot some Ukrainian-variant Cyrillic here and there; peer in closer and you can see consonant-heavy names on the door buzzers. And still at the center of it all is the enormous St. George Ukrainian Catholic church on Taras Shevchenko Place at 7th Street. As palimpsests go, this one is not hard to make out. What's missing is the chatter in the streets.
It exists within living memory, though. "You'd walk up Second Avenue or down 7th Street, and in the space of three blocks you'd meet ten people you knew," recalls Alexander Motyl, who grew up in the neighborhood in the 1950s and '60s and is now a professor of post-Soviet studies at Rutgers. "My parents and their generation would actually refer to Americans as 'the foreigners.' We kids didn't use that terminology, but it's indicative: You knew Americans, but it's almost as if they were the interlopers. The world was Ukrainian."
To talk about that world, about Ukraine and Ukrainians in New York, you first have to make a few decisions about what Ukraine is. Vladimir Putin's stance, echoed on the American far right — that Ukraine is a "fake country" — is nonsense, but reading the history, you can grasp the broken logic behind the label. In the past few centuries, Ukraine has been chopped up a half-dozen different ways. The city of Lviv has been called Lwów (when it was Polish) and Lemberg (when it was in the Austro-Hungarian Empire). Other parts of the country have been run by Germany, the Soviet Union, Romania, the Ottoman Empire, and (twice) an independent Ukrainian government.
That jumble is reflected in the assemblage that is Ukrainian America. Something like a half-million Ukrainians came to the United States through New York from the 1870s to the 1920s. Immigration records list only a tiny fraction of that number. Until 1899, Ukrainians were logged as Russians, as Poles, as Austrians, and often as "Ruthenians," an old catchall ethnic term. Look at the households of East 7th Street in the Census of 1910 or 1920 and you see, under "place of birth," Poland, Russia, Poland again, Russia again, Hungary, Austria, Romania. "Ukraine" is conspicuous by its absence. Politically at least, until the First World War, Ukraine did not exist.
Ukrainianness in New York is culturally a little murky for another reason: There are not one but several Ukrainian populations here, divided (as the old joke goes) by a common language. One smallish community is Ukrainian Orthodox, whose adherents are faithful to the patriarch of Constantinople. But the majority in America are Byzantine Catholics, who blend Eastern Orthodox rites with fealty to the pope. In Ukraine, the Christian population is about 85 percent Orthodox, 15 percent Catholic; here, it's about the opposite.
A small group of Orthodox Christians lived and worshipped at the top of the Ukrainian neighborhood, around a church they bought from a German congregation on East 14th Street. The much larger Catholic population coalesced around East 7th Street, where in 1911 they bought a different old German church that they renamed St. George. That building became the core of the area we now think of as Little Ukraine, or Ukrainian Village.
Among the Christians there, and especially a few blocks to the south, were an enormous number of Jewish immigrants who came from what is now Ukraine. Here again, the numbers are tricky. Much of western Ukraine was then known as Galicia, a province that lay within the Austro-Hungarian empire. Eddy Portnoy, a scholar at the YIVO Institute for Jewish Research, explained to me that Jewish peasants and villagers from there called themselves Galitzianers, Poles, Austrians, residents of their particular towns, arrivals from the Pale of Settlement, or even Russians — but almost never Ukrainians. As Hasia Diner, an NYU professor who studies immigration, put it to me, both Gentile and Jewish New Yorkers agreed that the latter group was its own ethnicity: "Jews were Jews."
Especially below Houston Street, you could find a synagogue every couple of blocks, and often those congregations were from a single shtetl in the old world. A portion of each of those towns sometimes reconstituted itself, as if picked up in the Pale of Settlement and dropped on, say, Pitt Street. (Which is not to say any of these neighborhoods were monolithic: There were Italian names, Hungarian names, Irish names on those mailboxes too.) If you were from Zolochiv, a town outside Lviv, you could head to Congregation Machzikei Hadath Anshei Zlotshov on Ridge Street and encounter your parents' friends' children and maybe a couple of cousins. If you had a store selling shoes on Orchard Street, your Ukrainian Catholic neighbors from the old country would come to shop and haggle in a shared language.
In New York, all these immigrants from Ukraine, or former Ukraine or future Ukraine, found themselves on approximately equal footing, re-creating their old-world village relationships not exactly in peace but less fractiously. In the old world, there had been famines and pogroms, the Holodomor and the Holocaust. In this neighborhood, legendary for its poverty and turf wars and general streetwise toughness, both groups were able to be — relatively speaking — safe. In leaving their nation, they created a sense of national identity: They may have said "Austria" or "Poland" on the paperwork they filed to become U.S. citizens, but here those who wanted to call themselves Ukrainians could, and did.
The so-called third wave of arrivals, after the Second World War, populated the Planet Ukrainia we can still see today. Although most immigration to the U.S. was cut off between 1924 and 1965 owing to a xenophobic quota law known as the Johnson-Reed Act, there was an exception: The Displaced Persons Act of 1948 allowed wartime refugees to come to America. Thousands of Ukrainians, whose country had been conquered by Germany and then retaken by the Soviets, were sent to resettlement camps. They came to New York, in a lot of cases, significantly traumatized. Ivanka Zajac, who grew up on East 10th Street and then 7th, recalled to me that her mother would tense up whenever she heard a siren go past their windows. She had been hit by shrapnel from an explosion during the war, but only once in her life did she talk about it. (A parallel influx of Jewish Holocaust survivors arrived in these years, but few of them moved to the Lower East Side; they mostly went to the Bronx, Brooklyn, and the Upper West Side.)
These postwar immigrants were more urbane than their predecessors, and they soon established and expanded institutions up and down Second Avenue, the ones that are still operating. The Ukrainian Congress Committee of America, founded during the war, began lobbying elected officials for a hard line against the Soviets — a uniting principle of Little Ukraine was disdain for Stalinism. The Shevchenko Scientific Society, which counted Albert Einstein as a member, set up in the neighborhood in 1948. The Self Reliance New York Federal Credit Union, opened in 1951, offered Ukrainians low-cost loans and savings accounts.
There were also homier institutions. Grandmothers would good-naturedly argue over which butcher was better, Kurowycky on First Avenue or Baczynsky on Second. Surma, the book-and-music store at one end of 7th Street, was joined one block over by Arka, where the men of the neighborhood could drop in, buy a newspaper, and smoke a cigar. They would linger, schmooze, and share news of the block and from the old country.
While in the displaced-persons camps after the war, says Motyl, the Ukrainians "created an alternative society — institutions, literary clubs, all kinds of things. When they came to America, they brought those institutions with them so they didn't have to start over." You didn't have to stay entirely in that bubble if you lived in Little Ukraine, but you could. You could drink at the Holiday Cocktail Lounge up on St. Marks Place or at the Verkhovyna Tavern or the Blue & Gold, two bars built in mirror images on either side of the stoop at 79 and 81 East 7th Street. The local coffee shops — Leshko's and Odessa, both on Avenue A around 7th — had varenyky (the dumplings better known by their Polish name, pierogi) and stuffed cabbage on the menu next to the cheeseburger deluxe. The butchers and grocers operated bilingually. The population probably reached its zenith around 1955, when there were about 60,000 Ukrainian Americans in these few blocks.
Zajac remembers that a big expedition uptown might be to Woolworth's — which was far, far away on 14th Street. On trips down to Orchard Street, her mother would buy discount fabrics, which went back to relatives in Europe. Hanya Krill-Pyziur, who grew up on Stuyvesant Street and now works for the Ukrainian Museum on 6th, explains that her mother "would always pack up these banderolky" — manila envelopes containing small items, like head scarves — and send them overseas. "She had five sisters and was consistent, at least twice a year, about sending each one a package." The sisters would in turn sell what they received — American goods were considered luxe. "And they lived on those things for ages. My mother's relatives built a house on banderolky."
St. George, the old church on 7th Street, opened a school in 1947. The children of the third-wave arrivals could attend during the week and go to its affiliated Ukrainian language and dance classes on the weekends. The annual spring festival on 7th Street grew and grew. Even the local Scout troops were Ukrainian — they were (and are) known as Plast, an organization revived in the resettlement camps and imported to America. As the Jewish Lower East Side, Little Italy, and the other white ethnic enclaves downtown were fading, Little Ukraine, fed by all the postwar immigration, was still in growth mode.
If there was a secular social hub for young people, it was a restaurant on the corner of Second Avenue and East 9th Street, and it tells the story of the neighborhood almost too neatly. The Orchidia had been an entirely Italian place, its neon in the window advertising SEAFOOD and PIZZA, until 1957, when an employee named Maria Pidhorodecky bought the business from her boss. She added borscht to the menu but kept the spaghetti and the name, and it became the after-work, after-Plast, after-church hangout. A tiny luncheonette across the intersection, Veselka, had opened three years earlier as a sandwich-or-omelette kind of place, and there were other spots in the neighborhood where you could get an egg cream and linger. But the Orchidia — "Orchie's" — was different. The sausage pizza was made with kielbasa; the so-called garbage pie was topped with whatever else was on hand. "It was the Cheers of our generation," Krill-Pyziur explains. "Quite seriously! You always felt if there was nothing else to do, you'd go to Orchie's and find someone there that you knew. My cousin's future husband worked there. His friends did. Killer pizza."
According to Lida Sawkiw, one of Pidhorodecky's nieces, her aunt was a clearinghouse for gossip. She would hire new immigrants to help out in the kitchen, slip the bartender a few extra bucks if he was broke at the end of the week, and serve as a connector for the younger crowd. "She was everybody's aunt," Sawkiw says. "And I think she's godmother to at least half a million kids."
Natalie Sonevytsky, who moved to the neighborhood in 1956, recalls the restaurant's regulars with affection: "After I met Ihor, my husband, we used to meet very often in the Orchidia before we got married. It was a fun place. We used to spend entire evenings, and nobody threw us out. Mostly, I would say it was kind of bohemian — my husband was a composer — musicians, artists, painters, poets, that kind of a group."
Bohemian: The very word hints at what was coming. In her book St. Marks Is Dead, Ada Calhoun quotes the literary editor Gene Lichtenstein, who lived on St. Marks Place in 1953, when the residents were principally Ukrainians and Poles: "The neighborhood belonged to them. We were being let in and tolerated. Then, five years later, it looked as though the neighborhood belonged to us and they were being tolerated."
To hear the Ukrainians tell it, though, it was just one more coexistence. The overlapping populations occupied one physical space, but they didn't really mix, at least not culturally. "When the whole flower-power thing happened on 8th Street," Zajac recalls, "all these kids were sitting with flowers in their hair, and I was marching past, going to dance practice. My husband was a little more into it, but it didn't wake me up. Only Elvis, really." Did any Ukrainian teenagers in the neighborhood dive into the counterculture? "I don't think so," says Krill-Pyziur.
Over the next few years, the jazzbos and hippies gave way to the punks and New Wave kids. You could see the worlds colliding in 1981 when the Ukrainian National Home's basement performance space hosted one of the first American concerts by New Order.
But it was growing clear that the Ukrainian population had peaked. Two things were happening: The city as a whole was getting poorer, and the tenement population of Little Ukraine had banked some money and was eyeing the suburbs. Residents started to buy houses in Queens, in New Jersey, or on Long Island. St. Volodymyr's Ukrainian Orthodox Church on 14th Street moved uptown and sold its building to a Jewish congregation; the synagogue retained the Orthodox onion domes that had replaced the German Protestant spires and added a Star of David to the stained glass. (A knot of Ukrainian Orthodox adherents who wanted to stay in the neighborhood bought a much smaller church on 11th Street, which is still there.)
The neighborhood's population was shrinking overall.
And with the new influx of rootless hippies, the general emptying-out, and the increasing crappiness of New York City services came decay and crime and a lot of drugs. Zajac remembers being assaulted by a trio of pissed-off teenage girls in Tompkins Square Park one day. St. Marks Place had more than its share of nodding junkies on the sidewalk.
It's not surprising that a lot of middle-class Ukrainians left; what is surprising, perhaps, is how many did not. In the 1980s, if you went to Little Italy, you were increasingly visiting a stage set, one where the Italians behind the curtain had long since departed. If you went to Little Ukraine, it was still, at least somewhat, Little Ukraine. The all-night Kiev Restaurant, at Second and 7th, opened in 1978. For the next two decades, Allen Ginsberg could be found there with friends and acolytes and a bowl of mushroom-barley soup at any given 1 a.m. His poem "Hard Labor" memorializes it:
After midnite, Second Avenue horseradish Beef

           at Kiev's wood tables —

The Kasha Mushrooms tastes good

           as Byelorussia usta when my momma

           ran away from Cossacks 1905

Did the 5 year plan work? How bad Stalin?

Am I a Stalinist? A Capitalist? A

           Bourgeois Stinker? A rotten Red?

No, I'm a fairy with purple wings and white halo

           translucent as an onion ring in

the transsexual fluorescent light of Kiev

           Restaurant after a hard day's work
A lot of the neighborhood's continued cohesion was owed to the presence of St. George church, which was big enough to keep people within its gravitational field. In 1978, after years of discussion and fund-raising, the congregation demolished the home it had occupied since 1911 and started fresh next door.
The replacement is, architecturally, a metaphor for its moment. It's rather severe on the outside, with sheer walls that suggest modernism, but it's decorated inside and out with traditional polychrome mosaics made by Europeans imported for the job. (In a visible exertion of Ukrainian American political influence, Hall Place, the street alongside the church, was renamed Taras Shevchenko Place in 1978.) Over on Second Avenue, the Ukrainian National Home burned to the walls in 1984 and was soon rebuilt, reflecting the logic of the community: If it's still here, we're still here.
You know how this story ends. Today there are 1,700 Ukrainians in the neighborhood. It wasn't the hippies who caused their ranks to dwindle so dramatically, it wasn't the punks, it wasn't the druggies or the muggers — it was the rent. After a century or so of simply being the Lower East Side, the area from Houston to 14th Street gradually acquired a new name — the East Village — connecting it in spirit to the artistic low-rise appeal of Greenwich Village proper. It was a label applied more by real-estate agents than residents, and it began to work. The woes of the neighborhood and of New York as a whole were grave, but they could not dent the East Village's draw among the young. Even as the city's murder rate climbed and climbed, NYU began to build dorms on the avenues. In 1984, the Orchidia faced a rent increase from $950 a month to $5,000. "This is a 14-table restaurant," Pidhorodecky told a reporter for this magazine. "I'd have to charge $50 for a bowl of soup!" A branch of the Steve's Ice Cream chain took over the space, and after that (I repeat: You know how this story ends), it became one of New York's first Starbucks. As of this week, it has been sitting vacant for three years.
When the fourth wave of Ukrainian immigration (which may soon be overwhelmed by a fifth) got going in the 1980s and '90s as the Soviet Union fell apart, few of its people came to the East Village. They went instead to the outer boroughs, especially Brighton Beach, which was cheaper and newer. Since then, the story of Little Ukraine has been one long "In Memoriam" slideshow. The Kiev and Leshko's both staggered into this century, each receiving a brief, unsuccessful upscale makeover to try to feed a new clientele. The Verkhovyna Tavern, the twin of the Blue & Gold where I myself spent scores of weekend nights, has been gone for about 15 years. Surma made it to 2016, its 98th year, until Markian Surmach, its operator and the grandson of the founder, accepted that it just didn't make sense to keep it open anymore. The Odessa Restaurant, at 7th and Avenue A — bought in its latter days by Greeks but retaining its Ukrainian name and menu section — seemed as if it might hang on indefinitely, but the pandemic had other plans.
What's left, in addition to the ghosts, are the institutions, all built to last. A couple of restaurants, too, most notably Veselka, which was able to carry off the dressy rebranding that Leshko's and the Kiev could not. On Second Avenue, you can spot bits of Yiddish and Ukrainian in the urban crevices. Arka has survived as well, having moved twice, from 7th Street to lower First Avenue and then to a small place on 2nd Street. Although it's not filled with Ukrainians buying newspapers and talking politics anymore, recently it has seen an unexpected boom: shoppers from the neighborhood, NYU students and investment bankers and aging New Wavers, all looking for blue-and-gold flags to hang from their windows.