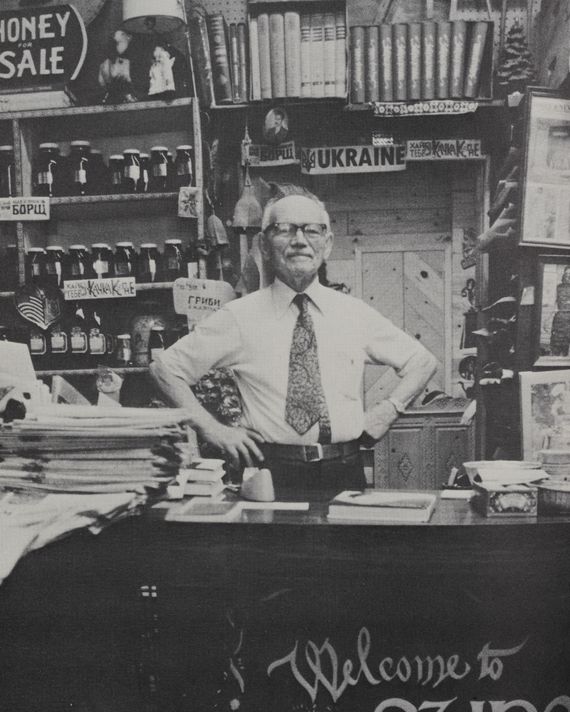 Myron Surmach at Surma Book & Music Co. in 1980.
Photo: David D. Wronski
THAT TIME WHEN
My Grandfather Ran the Show
Markian Surmach, 60, was of the third generation to operate Surma Book & Music Co.
My grandfather, Myron Sr., came from Ukraine with a third-grade education. He ended up in the coal mines in Pennsylvania, but that didn't last long — he knew he would die there. He moved to New York City. His neighbors were getting letters they couldn't read, and he became the go-to guy to read letters from people in Ukraine. He became a center of the community, and the idea of the store in part came about from that. He was a born entrepreneur.
The store was entirely his creation, and he ran the show. He started with Ukrainian books and sheet music. He would import the Ukrainian-language newspaper, and people would hang out and read it all day. He was passionate about music. Eventually he started a publishing arm; the basement was stacked with piles of blank negatives. Some of the recordings were made at Webster Hall — he would host these traditional dances. It was a big singles scene. He was known for offering to pay for the honeymoon of any Ukrainian couple that met at one of his dances, but I don't think he ever made good on that.
My dad had no keen desire to be in the business, but my grandfather made him essential. It was a total family operation. He ended up running it for more than 50 years. He expanded by bringing in the hand-embroidered peasant blouses, the ribbons, the Easter eggs. He would go on shopping trips every year to Ukraine to get them, and when the Soviet era made it difficult, he would go to Romania. In the '60s, it was "flower power," and the shop was perfectly in sync with the time. Jim Morrison, Jimmy Page, and Mama Cass came in. My dad was friends with the guitarist from Jefferson Airplane, Jorma Kaukonen, whose family came from Ukraine.
I was in the store all the time as a kid. One of my jobs was to grind the mak: poppy seeds they used to keep in big buckets for this traditional Ukrainian dish. I ran the store for ten years after my father passed away. As a business, it had reached its peak, and the Ukrainian population was waning. People were upset when we finally closed. Some said "I hate you" directly to my face.
THAT TIME WHEN
Mom Junked Andy Warhol
Nik Mills, 61, is the son of Yaroslava Surmach Mills — a prolific and renowned artist, often identified by only her first name, who made the recipe cards shown here, the image on the cover of this magazine, and countless other works.
My mother worked at the family bookstore as a young woman. After studying at Cooper Union, she was the art editor at Humpty Dumpty, a children's magazine. Andy Warhol came to her for a job repeatedly, but she didn't hire him. He would send her illustrations of custom things — a parade of insects on a roll of paper writing HAPPY BUG DAY, MISS SURMACH. He tried to seduce her with all these illustrations, and she would throw them in the garbage. She threw away about a dozen personalized illustrations from him.
To say she is a folk artist doesn't cover it. You can't cubbyhole her. You could call her a stained-glass artist, a children's-book illustrator, a reverse glass painter, a master calligrapher, an icon-maker.
Me being an artist, it was kind of a given. There wasn't any other option. She dragged me through the museums of Europe, and she'd sit me down in the Prado and go explore. She'd bring me to the Dutch masters and say, "See how it's just such a smoosh of paint? As you back away, that smoosh becomes the highlight on the edge of that vase. Isn't that amazing? These guys could make a smoosh into a spark of light."
THAT TIME WHEN
The Bouncers at McSorley's Enforced the Law
Cara Di Edwardo, 59, has lived in the Surmach building for more than 40 years.
I knew the Surmach family from way back. Markian was in my third-grade class, and Yaroslava was my first calligraphy teacher. She was endlessly creative. They had a huge stand in the store with postcards made of prints from her work. But the '80s were rough. There was a lot of homelessness, a lot of mentally ill people. There were empty lots everywhere and stories of landlords burning their own buildings to get squatters out. Seventh Street was always a little island of okay. I could just get a bouncer from McSorley's alehouse to clear the way for me if I needed help getting into my building. There was more than one occasion where I'd see a guy getting his ass kicked by the bouncers for trying to steal a car. There weren't a lot of businesses on the side streets back then, and most stores wouldn't even open until 11 a.m. because the owners were waiting for the street parking to go legal. When I arrived, I was the youngest person in the building. Now I'm the oldest. I remember one day I saw someone walking a pair of Afghan dogs. Until then, all you saw were pit bulls. That's when I knew the neighborhood was really changing. My window looks out onto St. George Church. I still see all the people coming out after Sunday service. They still dress in traditional Ukrainian folk costumes for Easter. But they mostly don't live in the neighborhood anymore. They gather for a bit, but then everyone gets in their cars and they drive off.
THAT TIME WHEN
A Hangout Crippled by the Red Scare Was Reborn As a Communist-Themed Bar
Denis Woychuk, 68, owns the KGB Bar.
KBG was once the Ukrainian Labor Home. I was probably in this bar in diapers. Had my first drink here at 5. My father had come from Ukraine at 18 or 19. He was a peasant, growing up when his country was a marching grounds: World War I, the Russian Revolution, the pogroms. He was starving, orphaned, although he later found his father. He got out and became a merchant seaman and ended up coming to America. He liked to come to the Ukrainian Labor Home because even though he didn't talk much, at least he could understand the language. We used to come and watch the propaganda films, like, "Look at our new tractors. Yeah, this tractor does the work of 20 mules." They had 5,000 members and a newspaper, the Ukrainian Daily News. But when the Red Scare came and McCarthy got his panties all in a bunch, the place started hemorrhaging members because they're like, Hey, you know, we're here for the American Dream. We're not here to be blacklisted. My father got blacklisted. He was working on the shipyard in Baltimore as a welder. And suddenly it was, "He was born in Ukraine" — part of the Soviet Union. He began working minimum-wage jobs in Brooklyn. Sweatshops. The FBI would come around and say to his boss, "If he's working here in two weeks, we're gonna look at your books." So he'd get fired. It was intense. He was angry. I didn't know any of this political stuff till I was, like, a late teen. He was just mean to everyone.
I started to come to this building again when I was in my mid-20s. I was an adjunct professor at Pratt, paying my way through law school at night. They remembered me here. Nice little old lady ran the kitchen, and they had a small canteen dining room in the bar — $5 for meat loaf, potatoes, varenyky, soup, salad, and a drink. So I got this idea to throw parties here Friday nights for artists. It was cheap. The artists loved it. The old Ukrainians loved it. It was the early '80s. I started an art gallery on the first floor, Kraine Gallery, dropped the U. I knew nothing about business, but I worked my ass off for several years.
Then the Ukrainians were aging out and I said, "Okay, I'll run this, but I gotta have the building." By then I had the Kraine Gallery and I was running the bar, so I went with the whole secrecy, speakeasy, anarchist, workers-unite vibe of the history of the building and called it KGB — Kraine Gallery Bar — and put up memorabilia they'd stashed away. Made it a post-communist Communist-themed bar. Then the old people were afraid to come. And the Russians wouldn't come. But their kids would.
One night in 1994, the author Frank Browning was going to read at the bar on a Sunday, free, and someone from the Times came and reported that we were starting a reading series. Everybody read here. All the Jonathans: Franzen, Safran Foer, Ames. My favorite was David Foster Wallace. Who had the best reading series? It was between us and the 92nd Street Y, and George Plimpton picked us.
THAT TIME WHEN
I Turned Down the Executive Life for Kielbasa
Andrew Ilnicki, 59, runs the East Village Meat Market.
My father had an aunt here living across the street on St. Marks Place between First and Second Avenues. She invited him to New York. I was 17 and I came along for support. I can remember exactly — July 28, 1980. It was so hot and humid. And we came in suits! Light brown, corduroy. Everybody else was wearing short sleeves and even short pants. We were not accustomed to going into the city with short pants.
We didn't speak English at all. My uncle told me I had to find a job. There was an ad in the newspaper that they needed a butcher here at the meat market. My aunt walked me across the street to meet Mr. Baczynsky. I wore the same suit. My aunt was talking to him, and he said, "I don't need a boy; I need a butcher!" So we turned around, but before we got to the door, he called us back. He told me to come on Friday to work with the cashier. I don't know what made him change his mind, but I started that Friday.
Business was different then. It was Ukrainians, Polish people — I don't want to use the word Russian, but they were customers too. They were hungry. They were hard-working men in construction and women that worked nights cleaning. So kielbasa, ham, blood sausage, liverwurst — a lot of their comfort food. Meat was big because everyone was cooking at home. Five, ten cases of chickens a day. While the cashier was ringing people up, my job was bagging it.
After two weeks, Mr. Baczynsky said, "Don't come on Friday. Come on Monday." Then he started showing me the slicer machine, the scale — I started learning all the products that we're selling. It was easy; I learned quickly. And then after two more weeks, one of the butchers said, "Congratulations, you're going to be our boss someday." I was 18 then. I looked at him: "Yeah, right, I'm going to spend all my life here."
Mr. Baczynsky, I created a special bond with him. I was a good fit. He took me to his house on the Jersey shore, and he never took nobody to his house. Nobody. Many people think that I was his son.
What was Mr. Baczynsky like? He was a Ukrainian guy, born in Zhytomyr. He was smart. He had an engineering degree. He opened his first butcher shop in 1955 on 10th Street and Avenue B. He opened this shop in 1970. He was a hardworking, generous guy. Very religious, him and his wife. She worked here too. It was like they call now a papa-mama business. They used to come here together to open the store at three o'clock in the morning. He would work in the kitchen, smoking meats, and she would clean. This was their pride — the store always looked spotless. It's been 52 years, and the store still looks good. I mean, it's aged, it's not modern, but it's not falling down.
He loved everything new and contemporary. He changed his car every year — he always wanted a new smell. That was him. Every Sunday, he was at the Waldorf-Astoria after church for brunch. He was a regular there for 30, 40 years. He loved uptown. You remember The Four Seasons? He had a table next to the pool. There was a famous French restaurant, La Côte Basque. He was a regular there too. The restaurants around here were not really his style.
In 1988, he had a heart attack and started working less. He couldn't come in so early, so he found a substitute: me. His wife used to call me at 2:30, 3:30 in the morning to come pick her up and take her to the store. It was like that for six, seven years. They were preparing me to take over the business. Nothing had to be said directly; they show you how to do the payroll, how to order everything, how to watch the numbers.
And then in 1992, they handed over the business to me and this other guy, Tony, who worked in the kitchen and made the sausage. We ran the business together for 25 years. Now it's just me. I don't know who will take over when I retire. I have two children, but they don't want to do it. It's hard, physical work. You need an immigrant who's ambitious, who believes in the American Dream. Selling, taking care of the customer, it's easy. But we're manufacturing the products. We're creating something.
Today, the Ukrainians who used to shop here regularly have become old. The doctors tell them not to eat too much salt or sodium nitrates. Eighty percent of our business now is English-speaking people who live in the neighborhood. A few years ago, we started selling prepared food. That's the biggest thing now, especially on Saturday. We sell three different kinds of soup. We sell stuffed cabbage, kielbasa, sauerkraut, ten different kinds of blintzes. Pierogi. Baked chickens — a lot of chickens. Otherwise, the only big change is that we decided to control the amount of salt that we use. We just started selling a city ham — that's a new thing. It's small and lean. Nobody in the city wants to eat fat.
At one point, I thought about leaving. I went to school at NYU — $295 a credit.  I did it for six years, and I worked here the whole time. I studied business, of course — accounting, management, finance, economics. I was good in economics. I'm still good. I had a professor who was some kind of guy at Manufacturers Hanover Trust bank, and he offered me a job. They had a headquarters on Park Avenue, and on top of the roof, they had a restaurant where executives used to go for lunch. He said, "If you stay here for a year or two, that's where you're going to eat!" The money was maybe two, three times more than I used to make here. Didn't take it. Because of Mr. Baczynsky!
THAT TIME WHEN
A Sibling Came Back From the Dead Onstage
Ania Bohachevsky Lonkevych, 58, is the executive director of the Syzokryli Ukrainian Dance Ensemble and Roma Pryma Bohachevsky School of Dance.
My mother was born in present-day Poland in '27 and moved to Lviv. She danced with the Lviv Opera and Ballet Theatre at 14 and became their youngest soloist during the war. She had an older brother, and somehow they got separated — he missed a train and ended up in the Soviet zone and was transported to Siberia for years. My mother and my grandmother didn't know whether he was dead or alive.
I think it was 1950 that she immigrated to the United States, and she had the privilege of taking classes with Martha Graham, José Limón, and Katherine Dunham. After I was born, that was the end of her career as a performer. She founded the Roma Pryma Bohachevsky School of Dance in 1964 and the premier Syzokryli Ukrainian Dance Ensemble in 1978. She wanted to preserve and perpetuate the art; she firmly believed that it was one of the best ambassadors of Ukrainian culture. She was a prolific choreographer; she must have had over 40 different pieces of choreography for the ensemble. One allegorical ballet depicts the Ukrainian struggle against Russian oppression — very apropos. With the regional dances, she heavily researched the costumes. Music is different in the various regions, and so are some steps. Western Ukraine, the mountains, is much livelier. It's more jumpy, as opposed to eastern Ukraine, where you can feel the magnitude of the steps.
I was a year old when she started the school. I didn't like babysitters much. So I went with my mother and sat through tons of rehearsals. I guess I was a pain in the neck, but I would sit on the studio floor and just watch as my mom taught. When I was 14, I became the youngest member of the ensemble. The majority of us were first-generation kids, but we also had some members of the school who were not Ukrainian at all. They just happened to come upon the culture and fell in love with it. If you could dance, she wanted you.
In the summer of '92, we went on tour to Ukraine, to an independent Ukraine. And that was — I have goose bumps as I recollect my time there. At the Lviv opera house, my mother looked at me and said, "This is the stage where my career started." And in Ivano-Frankivsk, at the end of the performance, my mother went to take a bow. An older gentleman came onstage and knelt before her. It was her brother, whom she hadn't seen in 40 years.
THAT TIME WHEN
An Egg Turned Into a Career
Sofika Zielyk is an artist.
My first language was Ukrainian. I didn't know any English until kindergarten. For the first two weeks, I spoke like, "Vat you dooing?" Instead of "What are you doing?" There were times where I didn't hear English on the streets. I think my generation, we didn't really assimilate. Or we did, but we didn't. It's difficult to describe. We are Americans, but during the Olympics a few years ago, there was somebody from Ukraine competing with somebody from America; I didn't know who to root for.
Most of my favorite memories were of the holidays. If you come on Easter Saturday, you'll see a parade of little kids and people walking with the most beautiful Easter baskets. St. George's is a parish that still celebrates by the old Julian calendar. This year, the two Easters are a week apart. Also, Christmas falls on January 7. When I was growing up, the hustle before December 25 seemed so commercial. Ukrainian Christmas was traditional, religious — Christmas without all the commercialism. I still live in the same apartment that my parents and my two sisters and I lived in, and I remember lying in bed — it was so peaceful — watching my mother create a pysanka. She would sit up with a lighted candle because you have to heat up beeswax to make one — it's batik on an egg. Every Ukrainian family does an egg or buys one before Easter.
At NYU, I gave a friend a pysanka as a gift. I started doing more and more eggs, and eventually it became my profession. The tradition is thousands of years old. They were presents to the god of the sun to bring him back after a long winter. People chose an egg because it symbolizes rebirth and the yolk reminded people of the sun. In the tenth century, the pagan and the Christian traditions merged. It's a fascinating custom, unique to the Ukrainian culture.
Most of the symbolism is in the design itself: chicks for fertility, pine branches for eternal health, flowers for happiness. White is the symbol of purity. Red is the sun. Black and white are for the souls of the departed. The legend says that as long as people are making pysanky, the evil monster who's chained up in a cave in the Tian mountains will not come out and destroy the world. And only women were allowed to do these eggs, so the fate of the world rested on women's shoulders. There is so much more I can tell you about this — when I give lectures, it's an hour and a half.
You start with a raw egg and an instrument with a wooden handle and a copper funnel. You put in a little beeswax — because no other wax darkens — and you heat it with a candle flame. It's hot. You can really burn your fingers.
The colors go light to dark: white, yellow, orange, red, black. We say that we write on the egg: You wax the areas that you want to be white. The wax protects the shell that's underneath so that when you dip the egg into the yellow dye, it becomes yellow, but the part of the shell that was covered up remains white. And then on the yellow shell, you wax the areas that you want to be yellow and dip the egg into the next dye. Section by section, you melt off the wax. It can take four hours, or fourty for an ostrich egg. I've been known to sit at one for a full day, sometimes two.
THAT TIME WHEN
The Scouts Snagged 635 Acres of the Berkshires for $42,000
Taras Ferencevych, 47, is a leader of Plast.
Plast is a Ukrainian Scouting group. It was a bunch of young people getting together weekly doing fun things and then in the summer going away to camp for three to six weeks. And especially if you recently immigrated to the Lower East Side with not a lot of means, the opportunity to get your kids out into the woods in the summer was very exciting. The main difference between the Boy Scouts and Plast was that all the activities happened in Ukrainian. And Plast was always co-ed. There was also a big cultural component that focused on traditional Ukrainian crafts and arts; some of the merit badges are for making Ukrainian Easter eggs or embroidery.
It started in 1911 and then existed in exile. First it was underground, when western Ukraine was under Polish occupation. When World War II happened, many Ukrainians wound up in Germany in these displaced-persons camps. They restarted Plast there: A lot of the Scout leaders began to organize the youth in these camps. And from there it spread to Canada, Germany, Argentina, Australia, and they decided, in 1957, to have a jamboree in a place called Grafton in Ontario, which is where my parents met.
My father was in his teens when the war broke out. A lot of these folks didn't believe that the whole Soviet Union thing would last very long. They thought, We just gotta hold on and then we can go back. When they realized the Soviets were going to have some staying power, they took on the role of preserving Ukrainian civil society, culture, and tradition. Even though Ukraine continued to exist, it was certainly not allowed to celebrate traditional culture. A lot of the intellectual elite was either killed or fled.
In 1962, my father was in charge of the whole jamboree. He was head of Plast in the United States, and, for a few years, he was head of Plast internationally. He was single for a long time — he didn't get married until he was 42 — so he had the time and the energy. In 1953, he helped purchase a camp for Plast in East Chatham. He said they bought 635 acres in the foothills of the Berkshires for $42,000. In today's context, it's just mind-blowing. My uncle thought my father was ridiculous to spend this much money. But they paid the mortgage off in two years because of community donations.
After the Soviet Union fell, all of a sudden you had this whole new wave of immigrants. At first they weren't super-involved in Ukrainian organizations except for maybe the church, but then they started to have children here and they wanted activities for them. And so Plast numbers started to grow. It's a network that I continue to rely on both professionally and socially. In the last month, I've been in touch with a lot of members of Plast in Ukraine who are very much on the front lines in the war. There's an informal network and also a formal network to provide support. Plast is instrumental right now in delivering aid to the front lines in Ukraine. It's just unbelievable to watch how they organize and mobilize and procure things and get them to people under heavy fire. One of the big initiatives is creating first-aid kits for frontline soldiers: pocket-size, onetime use. Plast put together an Amazon shopping list. Everybody shows up on a Saturday and creates an assembly line. These things get vacuum-packed and immediately shipped off to Ukraine, where the Plast network gets them to the soldiers.
I think about when my sister and I were teenagers and we would get on buses and take trips to Chicago or Toronto or wherever, and our parents would say, "Who are you staying with?" "I don't know. We'll figure it out. Somebody from Plast." And that was enough.
THAT TIME WHEN
We Feared Soviet Kidnappers
Nick Dmytryszyn, 67, who grew up on East 3rd Street, is an environmental engineer.
My father was captured by the Nazis, and I presume his family thought he was dead. So the mistake that my father made is that he wrote to his brother from America in '58. Every letter that came from outside the Soviet Union was opened and read. It caused a great deal of grief for the family because my father was now an "enemy of the state." And there was a fear in the community here that Soviet agents would try to track down people who had escaped from going back to the Soviet Union after the war. You never talked to strangers because there was gossip that they would kidnap children, which maybe was a way of scaring us.
My mother went through Stalin's famine and had family members taken off the streets by his terror campaign. So there was always a level of paranoia. You never say things directly if you don't have to; you have to be leery of who wants to be your friend. If you weren't raised in that environment, it's hard to describe the overall feeling of watching who you're with, what you're saying. Even within the community, you didn't necessarily trust everybody. That's why whenever we would get out of school, all the parents would be lined up there on the street, waiting.
THAT TIME WHEN
Assimilation Slowed Down
Lubow Wolynetz, 83, is the curator of Stamford's Ukrainian Museum and Library.
I came down to New York in 1949, when I was 10 years old. We were refugees. The Little Ukrainian Village was already active and well established, so when we came, we came to a ready-made community: They had churches, they had organizations, they had newspapers. We didn't feel like strangers; we just felt like we joined a different type of family.
This wave of Ukrainian immigrants, the third wave, they were mostly professionals: historians, artists, teachers, economists. They realized how quickly assimilation works. They wanted somehow to slow down assimilation. And they began by organizing schools and activities for us youngsters. The major reason they were so concerned about assimilation is because we ran away from the Communists and we knew what horrible things were going on in Ukraine — how everything was stifled, how our intellectuals were sent to the Gulag or killed or shot or executed. They felt it incumbent upon them to make sure that we know our history and what's going on in Ukraine and that we should tell the Americans, too. It was almost like a duty for our parents to make sure that we knew where we came from and that someday we should do something to correct all of the evil.
I attended the very first Saturday-school class after it was organized in 1949. The school always needed new teachers for Ukrainian history, language, geography. I was interested in folk music and literature, so after I graduated from college, they asked me to teach a course in Ukrainian culture. I tried to tell my students that living in an adopted country doesn't mean you have to negate and forget where you came from.
As our immigrant group became more affluent, slowly the numbers in the community began to dwindle. People moved out of the downtown area to a better part of the city or a different state. But even if they moved to New Jersey or Connecticut, people would come on Saturdays and bring their children to the Ukrainian school or to Plast. They would come and refill themselves with the Ukrainian aspect of their lives.
THAT TIME WHEN
We Saved One Sacred Piece of the Holodomor
Halyna Hryn, 68, is the president of the Shevchenko Scientific Society.
In 1873, Ukraine was part of two separate empires. With financing from Ukrainians in the Russian Empire, Ukrainians in the Austro-Hungarian Empire founded the Shevchenko Scientific Society. "Scientific" as in academic or scholarly — it's that old European usage — and "Shevchenko" for Taras Shevchenko, the father of the Ukrainian idea. It was a nation that didn't have a state, so the society's purpose was to establish Ukrainian scholarship in a formalized way. You can't build an army, but you can develop scholarship and publications and literature. That was the thought behind it.
At the time, any kind of publication or any public use of the Ukrainian language was banned in the Russian Empire. People would travel back and forth smuggling books by Ukrainian authors, in Ukrainian, into the Russian Empire. Literature, history, ethnography. By 1939, the society had published almost 1,200 volumes — books, old manuscript reprints, periodicals. And then, with the Nazi-Soviet pact that year, everything was shut down; people got arrested. The society stopped functioning until it was reconstituted in 1947 in the refugee camps — and in New York, where a group of nine were able to set it up as well.
They shared a building on Second Avenue and had a library and archives and in 1982 bought a building on Fourth Avenue. People would donate their books or things they had carried with them, including from the refugee camps. For example, there was a mass famine in 1932 to '33 in Ukraine, the Holodomor, artificially created by Stalin, in which over 4 million people died. Someone stole the register of death from the city of Kamianske. That might actually be the most valuable thing we have in our archives: There was very little documentation of the famine, but there is this book of death. We also have archives from the camps themselves. Paper was hard to come by, but there were a lot of works that were published. When you're a refugee and your country is always on the verge of getting wiped out, it becomes everybody's job to try to read about it.
During the Soviet era, there was no formal connection between the Shevchenko Scientific Society and people in Ukraine. Obviously, until the late 1980s and perestroika, the only way you could get diaspora books into Ukraine was by smuggling them in. I must admit I was a part of that process. And just now, in December, we shipped some books to a city that is now under Russian occupation. It's my hope that, somehow, they're still out there in the community and that someone will save them. Because if they end up in Russian hands, they're gone. Russia is not a normal imperial power. They don't just want the state for raw materials. They want the Ukrainian language gone. They're banning the study of Ukrainian history. So here we are again. We've gone full circle.
THAT TIME WHEN
It Smelled
Andrij Dobriansky, 45, is the director of communications for the Ukrainian Congress Committee of America.
We've historically had a hard time getting donors for St. George to get past their memories of being beaten by nuns. I was here in the '80s. I don't understand the nostalgia for that punk scene — I remember streets smelling of piss and vomit. But it was fairly safe: Your parents were okay with your going one door down for a piece of candy or ice cream or something.
THAT TIME WHEN
The Barkeep No-Showed
Basil Panczak, 81, worked in advertising — mainly.
One day after work, I went to meet my friends at the Orchidia, and neither the bartender nor the waiter had shown up. I knew the owner, and she said to me, "You're gonna be my bartender." That's how it started. I did that one night a week for ten years.
THAT TIME WHEN
Our Refugee Students Taught Us
Andrij Stasiw, 59, is the principal of St. George Academy.
We already have ten refugee students who have arrived at our school in the past few weeks. I asked one, "What did you do on the plane coming here?" Because they were suffering from, you know, the horrors of escaping bombs and sirens and stuff. And she said, "Oh, I was reading anatomy books. I love anatomy." I see them talking among themselves, and they're talking about molecular dynamics or quantum physics and the superpositioning of particles. Recently arrived Ukrainians! When I hear my other students, they're talking about TikTok.
*This article has been updated with more accurate information on how long it takes to make a pysanka.