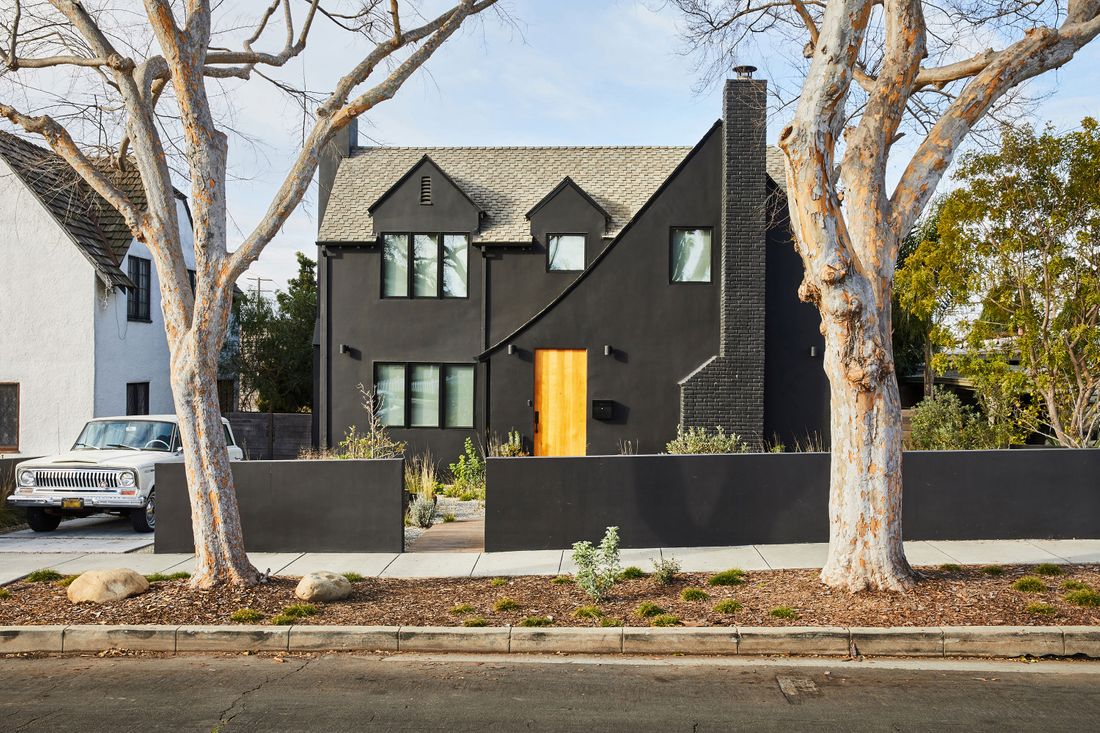 This story was originally published by Curbed before it joined New York Magazine. You can visit the Curbed archive at archive.curbed.com to read all stories published before October 2020.
The striking black exterior of Annie and David Raysse's Mar Vista home hides bright, airy interiors — and that was no accident, says architect Mason St. Peter, who oversaw the addition to and renovation of the couple's home last year.
The Raysses came across St. Peter by way of Instagram and General Store, the shop St. Peter and his wife, Serena Mitnik-Miller, own, and in 2017 reached out to see if he would work with them on bringing his clean, minimalist aesthetic into their house.
Though it would be six months before St. Peter could take on the project, he was interested in and excited by the idea. Six months later, to the day, they got back in touch, and in August 2017, the couple and their three daughters moved into a small apartment as a 13-month stretch of work began.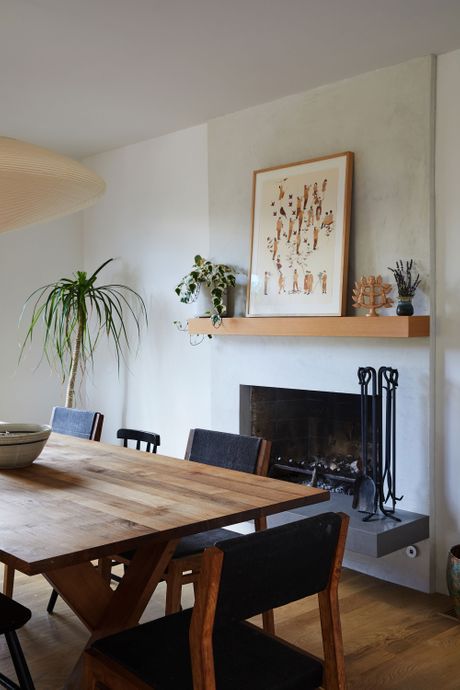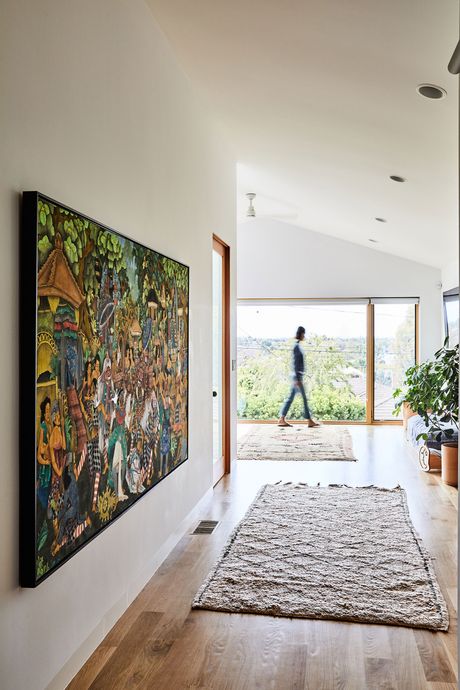 St. Peter, who co-authored with Mitnik-Miller the upcoming Abode: Thoughtful Living with Less (Abrams Books, 2019), hadn't ever worked on a project for a family of five, but the Raysses were ready to jump in with both feet: While the home was already big, the previous remodel felt dated, and the house's floors, doors, and windows were aging. The couple wanted to redo everything and add 800 square feet to the house's total footprint.
St. Peter envisioned a dark exterior color for the 1929 English-style cottage from the beginning, he says, a look in line with other work he'd done. It didn't take much convince the Raysses dark was the way to go, especially once they saw it take shape. In fact, after the first layer of stucco — a charcoal gray — was applied, the couple said "the house looks great, but it's not black enough!" St. Peter recounts.
For many, committing to a dark exterior would be a leap, but St. Peter often encourages clients to jump. "On the outside, [a house is] just this object that you approach," St. Peter says. "I like to make it a singular object. A dark color really does well with that."
The exterior, dressed in its new color, is complemented by a dramatic swooping roofline, a poured concrete wall, and new windows. Beyond this facade is an interior that's inviting yet pared back, with wide-plank white oak floors, Douglas fir millwork in the kitchen, and artwork-adorned white walls throughout. St. Peter also designed a pull-out pantry in the kitchen and flush baseboards, and employed Soss invisible hinges to keep the home feeling open and neat yet functional for a family of five.
This was a welcome reprieve from the previous dark, low-ceilinged rooms and short doorways, and a kitchen that was closed off from the rest of the home, says Annie. "The kitchen is probably the most dramatic change for our everyday life," she adds. "We cook every meal, so we really needed a kitchen that we could work with. It's [now] so clean and minimal, but so warm. It reminds my husband of a Japanese aesthetic, which he loves."
While St. Peter kept most of the walls where they were, he sensitively opened up the first-level floorplan, vaulting ceilings, adding storage, and providing more efficient circulation through the now-connected kitchen, dining, and living areas. Tall, handsome doors open up onto the deck, creating a transition from inside to the backyard and pool, which was also reconfigured during the renovation.
The addition of a second-floor master suite moved the couple's bedroom from the ground floor upstairs, where their daughters' bedrooms are, and turned the former space into an informal family room. St. Peter says that since the kids are still young, "they don't all actually use their own room [yet, but the Raysses] wanted them to be able to have their own rooms in the future." Those rooms — one of which is currently David's office — are augmented by the daughters' shared bathroom, which features a method St. Peter often employs: The vanity is attached to the wall but does not run all the way to the floor, letting the tile run wall-to-wall to give the effect of a larger space. (Plus, this makes the space easier to clean and maintain.)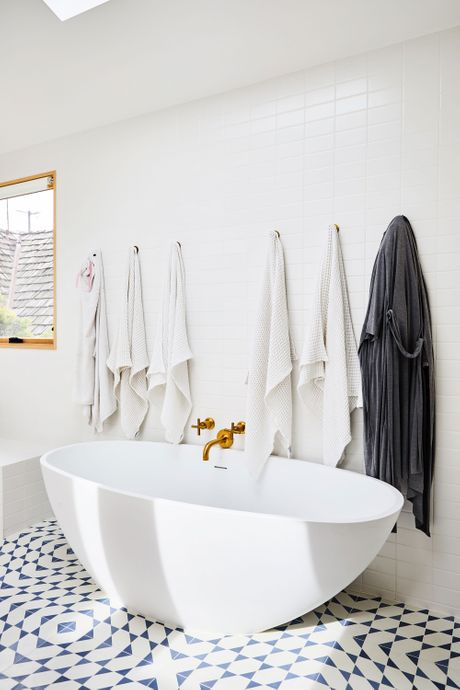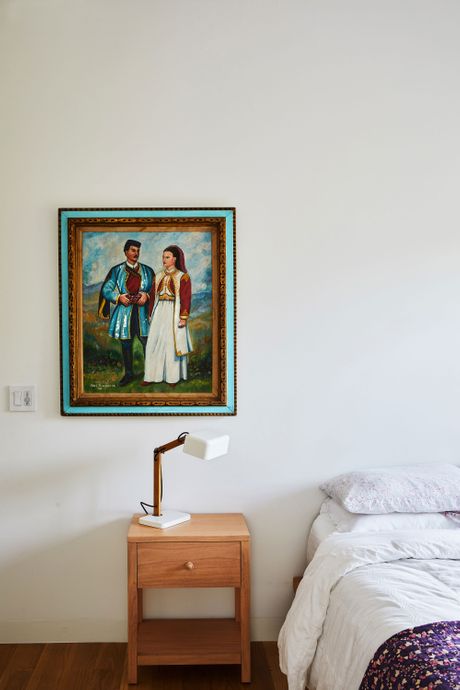 With the tile in all three bathrooms, the couple had an opportunity to give the home some thoughtful personal detail. As Annie searched for a tile pattern she liked, which proved an elusive goal, she found out that Zia produced custom molds for around $150. She decided to base her custom tile pattern on a fond memory.
"My family has been going to this one tiny hotel in the south of Italy for 45 years, and that tile pattern is in their bar," Annie explains. "The original, in the hotel, is green and black."
For the Raysses, it was thrilling to have the remodel they wanted, one without any pretense. "Nothing [in the design] is fussy," Annie says. "The first night we moved in, we woke up the morning and my 8-year-old daughter was making lemonade, so the new marble counter was immediately etched and we were like, 'Whatever! Let's just go with it.'"
For St. Peter, it was an opportunity to implement a near-complete vision, thanks to willing clients who trusted in his design ideas. "That's pretty incredible for me," he says.