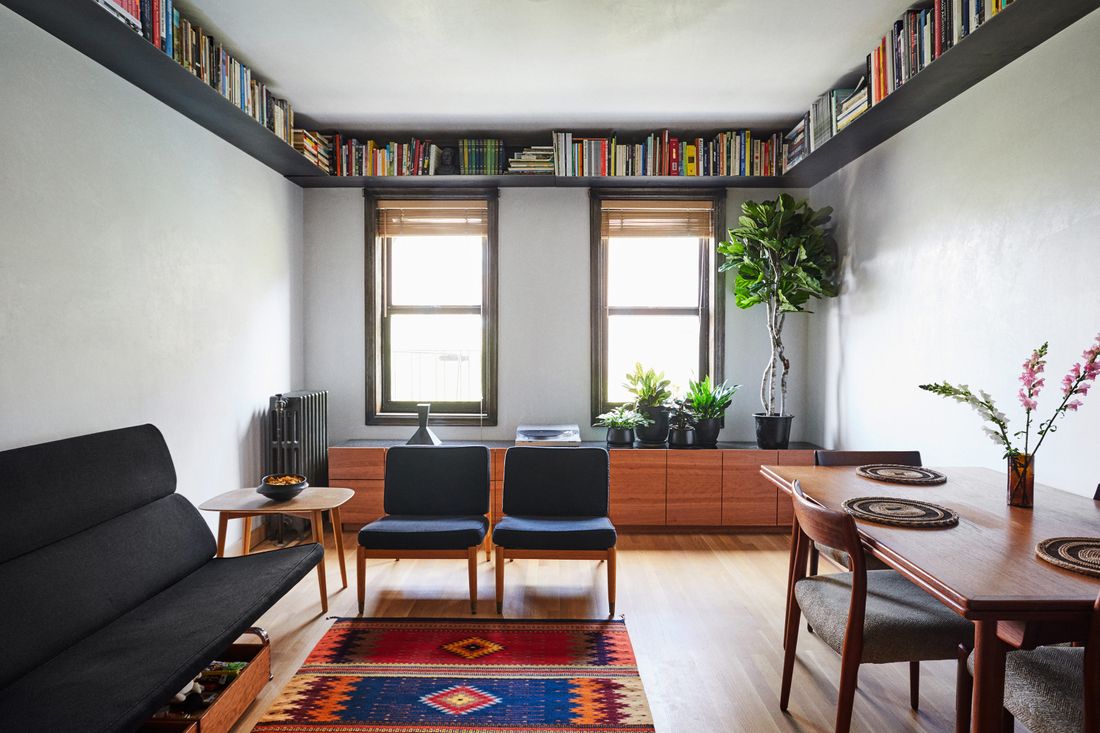 This story was originally published by Curbed before it joined New York Magazine. You can visit the Curbed archive at archive.curbed.com to read all stories published before October 2020.
Tenements are the residential structures most symbolic of New York City's Lower East Side, but on Grand Street, a stately six-story building with a lush interior courtyard stands apart from the masses. Its curved archways bring to mind Art Deco detailing, stucco panels punctuate crimson brick, and an exterior fountain and landscaping feel plucked from posh gardens. Shuffle by on certain days and the corner feels reminiscent of prewar Europe.
That's part of the charm that drew architect David Bench and producer Elizabeth Skadden to it back in 2014.
Now divided into 237 condominiums, the building was designed by Springsteen & Goldhammer and erected in 1929 as worker housing by the Amalgamated Clothing Workers of America — and was referred to as Amalgamated Dwellings. The perimeter block building echoes the social housing projects that were being built contemporarily across the pond, like the Karl Marx-Hof in Vienna.
"They're very common in Europe, where you have a block with four streets and the building goes to the edge of that, and then the center is common space," Bench says.
In 2013, while renting in the East Village, Bench and Skadden decided they wanted children, and after contemplating where they would put a new person, they began searching for an apartment to buy. Their budget made them a candidate for a Housing Development Fund Corporation (HDFC) unit or a small studio in their neighborhood.
But in 2014, when they happened to attend an open house for a one-bedroom apartment in Amalgamated Dwellings, they were surprised to find the price comparable to properties they'd seen in less expensive neighborhoods. The possibilities they could envision for the 700-square-foot space were even more encouraging.
"It immediately became clear, just walking through it, that we could convert it to a two-bedroom," says Bench. "The key was that there were a lot of windows." They made an offer and were in contract in two weeks. After living in the apartment as it was for a year, Bench slowly began to perform the first phase of work — revamping the existing bedroom and living room — in 2015. It was backbreaking work, and took close to two years.
"I was ripping out all the plaster and hauling it down to the curb myself," Bench says. "We lived here for maybe two or three months with a living room [that was] nothing but rubble. It was like we lived in a cave." He hired various tradespeople to handle different parts of the project, and they redid the wood floor and had custom millwork built by fabricators.
The bedroom millwork is made of entirely of cherry, something Bench says is unique.
"I've been told forever that people don't use solid wood: it warps, it's too expensive. But in the end, I wanted solid wood," he says. The fact that it was solid allowed him to add routed-off pulls along the edges instead of using knobs, which created a streamlined look. It's also held up well. "Whenever I show other architects, they're always very surprised — our doors are an inch thick."
When they embarked on the next, larger stage of the renovation, which included the kitchen, bathroom, and new bedroom, they had to file for permits; their plans to move walls within the apartment also required approval from the co-op board.
Luckily, their plans were greenlighted, and Bench hired a contractor to pull permits and bring people to the site, while Bench himself managed the project onsite. The design was essentially the beginning of Bench's solo career, and initially he had something like writer's block: He "honestly didn't know what this thing should look like." That feeling passed, and Bench found that he had a specific vision for how the project would progress. It was important to him to use high-quality materials and to connect the renovated apartment to the building's history. This thinking led to a restrained palette, a plus in keeping the budget down.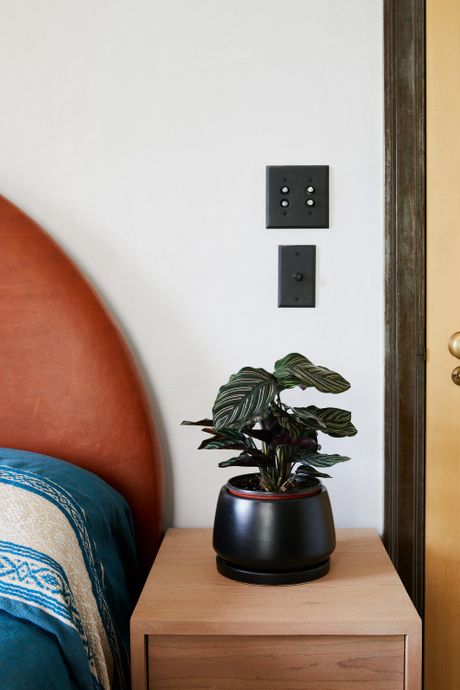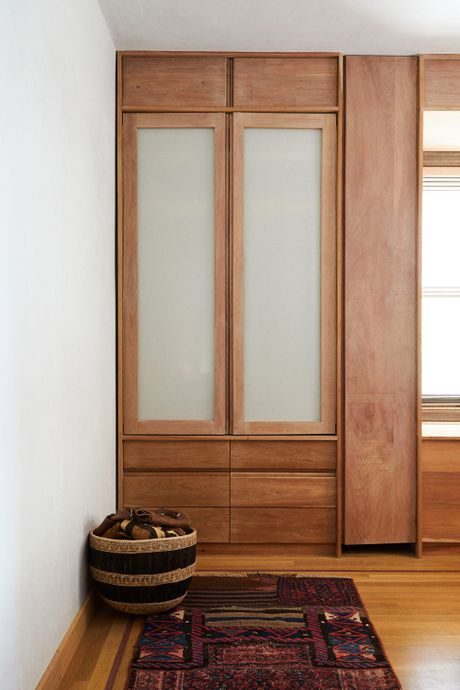 "I was very particular about how I wanted it to be done," Bench says of the second renovation. "I did a lot of the demo myself because I wanted it to be done carefully and without ruining the stuff we've already done."
At the time, Bench was a project architect at Selldorf Architects, and he supervised the renovation by riding his bike back and forth, often twice a day, from the firm's Union Square offices to the apartment. Between August 2017 and January 2018, Bench and Skadden moved and enlarged the kitchen, took out hallways, added the second bedroom, and updated and tiled the bathroom. This created a more open living space for hosting guests and improved the flow between rooms, all without adding square footage.
A guiding principle of the space was not to adorn anything: the walls were plaster and they stayed plaster. Bench describes marveling at the plasterers' work. "It's really a beautiful thing to watch them work," he says. "They use these giant 4-foot-long blades, just going at it, and when you feel it, it feels like glass."
Skadden supported the commitment to plaster and the decision to expose the metal door and window frames, as well as pipes and radiators. "That was probably the biggest job I did myself," Bench says, noting that they used clear shellac to finish the frames after. "I took off all the paint; that took about two years."
They used sealed, laminated cherry in the kitchen and bathroom for millwork, and laid down brass-studded rubber floor tiles, typically used in elevators, in the kitchen. All of the brass hardware in the home was aged in a bathtub with acid wash to create a unified look. They collaborated with fabricators (and friends) to fashion furnishings and shelving for most of the rooms.
"A really good friend, David Kirshoff, made the bookshelf in the living room [and] the metal shelving in the kitchen and bathroom," he says. "That's all just raw steel with clear coat."
Several months of furniture-making, including fabrication of the couple's bed and side tables in solid cherry and the wall-to-wall credenza in the living room, followed their move back into the apartment in March 2018. Bench called the renovation complete at the end of that year, a full four after they closed on the apartment. Less than a year after the home was completed, their daughter was born. The couple found the timing and opportunity of it all uncanny.
"We could only afford so many square feet, but once we had those square feet, we could actually put as much effort into it as we could, and make it as nice as we could," Bench says. "We could do certain things, like all custom built-ins and plaster walls, and if our apartment was twice as big, it would have been completely out of the question."
After six years at Selldorf, and after his and Skadden's renovation, Bench embarked on his own practice, It's Not Corporate Architecture (INCA), with founding partner Jonathan Chesley. They design residential projects and larger commercial spaces, from Grimm Artisanal Ales brewery and Mission Chinese Food's location in Bushwick to a boutique in Bermuda.
"I always I knew that I wanted to do my own thing, but it's always been a little hard to imagine where clients would come from — it's kind of an abstract thing," Bench remembers. Spearheading his own renovation made those career goals less abstract.
"In a lot of ways," Bench says, "there's nothing more satisfying than being able to dwell in a space that you compose."