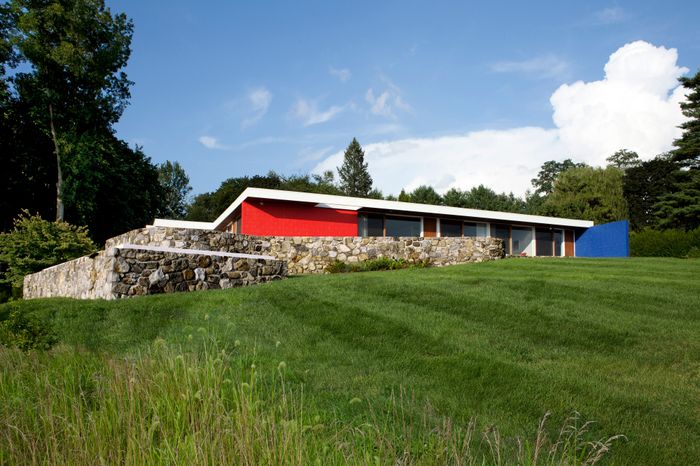 Photo: Photo by Undine Prohl, courtesy of Julia B. Fee Sotheby's International Realty
This story was originally published by Curbed before it joined New York Magazine. You can visit the Curbed archive at archive.curbed.com to read all stories published before October 2020.
Location: Croton-on-Hudson, New York
Year built: 1953
Architect: Marcel Breuer
Specs: 6 beds, 4 baths, 4,064 square feet, 3.4 acres
Price: $4,200,000
Bauhaus-trained architect and furniture designer Marcel Breuer is responsible for dozens of iconic Brutalist buildings, from the Y-shaped UNESCO headquarters in Paris to the "inverted-ziggurat" Met Breuer museum in New York City. But the road to those splashy institutional projects was paved with residential experiments, mostly built in the Northeast, that defied Colonial and Cape Cod traditions in favor of walls of glass, angular roofs, and an abundance of stone.
The 1953 Neumann House is a great example. The home just hit the market an hour north of Manhattan along the Hudson River — and it may be the most impeccably restored Breuer in existence. The home, which is located at 19-21 Finney Farm Road, was originally designed for George and Vera Neumann, a couple Breuer met in New York when he was hired to build Fifth Avenue showrooms for Vera's scarfs (which were worn by Marilyn Monroe and Grace Kelly). Perched on a 3.5-acre hilltop site with panoramic views of the river, the house has a facade of floor-to-ceiling glass accented by red, white, and blue concrete walls, as well as hand-hewn stone walls wrapping around patios and an outdoor pool.
Over the decades, the home went through only one addition — a 1970 Breuer-designed wing that houses an indoor swimming pool. In 2014, the Neumann House was purchased by a couple that had spent years reviving two other Breuer homes in Litchfield, Connecticut. According to a 2018 Architectural Digest feature on the top-to-bottom restoration, Ken Sena and Joseph Mazzaferro used archival evidence and interviews with "anyone with firsthand knowledge of the house" to modernize the place with respect to Breuer's original vision. This included rebuilding interior walls, replacing broken radiant heated floors, and, on the exterior, knocking down trees and power lines for an unobstructed view of the Hudson. The four-and-a-half year project led to a 2019 Excellence in Historic Preservation award from the Preservation League of New York State.
In the main house and four-room guest house, you'll find Honduras cypress wood ceilings and slate floors. The kitchen features walnut detailing, and in the middle of the living room sits a bush-hammered concrete fireplace. The original furnishings Breuer designed for the home (including a wood platform bed) were salvaged or rebuilt. And throughout the home, the indoor-outdoor connection is prioritized, with thermal-pane sliding glass doors framing the river landscape in nearly every room.