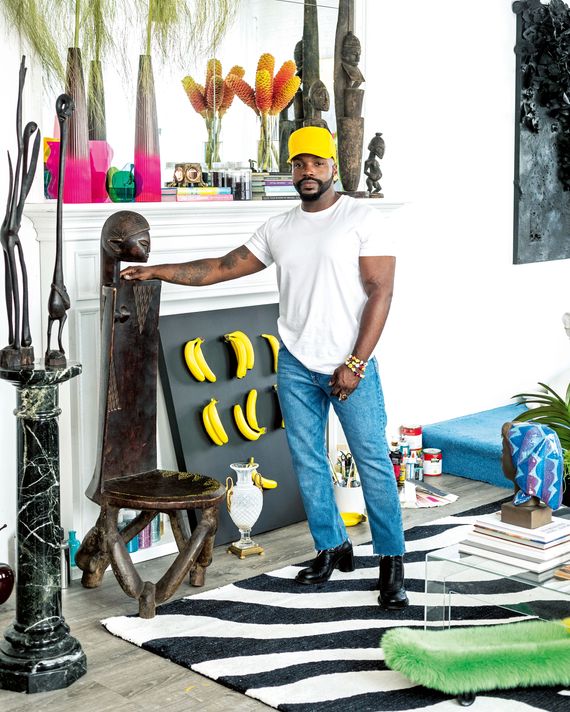 Designer John Goodman in his condo in the Bronx.
Photo: Copyright 2022 by Patrick Cline. Published by Clarkson Potter, an imprint of Penguin Random House.
Bryan Mason and Jeanine Hays started AphroChic as a blog in 2007 to celebrate Black design and style. It's since spawned their interior design company, a print magazine, several product lines, and now their second book, AphroChic: Celebrating the Legacy of the Black Family Home. It's "a design book that is also actually a history book," says Mason. It profiles 16 homes all over the country, from the Harlem opera singer turned chef Alexander Smalls, to Bridgid Coulter and Don Cheadle's family getaway in Kona, Hawaii. It also weaves in the evolving story of Black history citing the challenges and the triumphs of Black homeownership in America. 
The book chronicles the couple's personal design journey as well. They moved out of Crown Heights during the pandemic–they'd both gotten Covid– finding a new home in Wawarsing, New York. As Hays writes in the book, "We sought to design a home that felt like Brooklyn, but with a country twist." The portraits and interiors by the late photographer Patrick Cline illustrate one fascinating story after another. Here is a peek, of the Bronx home of John Goodman.
John Goodman's home is a testament to many things: his love of objects, his need to be surrounded by vibrant colors, and a deep sense of maximalism, for a start. But there's more. For John, filling his home with interesting things isn't about boxing himself in; it's about finding space to get everything that's inside of him out.
Born to a young mother, John grew up living with his grandparents in a single-family home in the Bronx. "I was basically raised by my grandparents," he explains. "We had a nice front yard and a backyard. My grandfather would plant collard greens and all kinds of different vegetables."
Living as sharecroppers in South Carolina before migrating north in the 1970s, John's grandparents had a well-established facility with growing, and John had an attraction to things that grew. The garden was a world that drew him in immediately. "A plant will become a flower on the way to becoming a vegetable. But I was always fascinated by the flower portion of it. Even a flowering squash, when you look at it, is a beautiful flower," he muses. "As a kid I would pop off the flowers and make little floral arrangements for Barbie dolls and GI Joes." The garden was the foundation of his bond with his grandfather. But the rest of his attention was reserved for his grandmother.
"I think it was her style," he considers. Like the flowers in the garden, John was drawn to the glitter of his grandmother's outfits. "I was intrigued by the elements and the layering of it," he says. It was a style that extended to her home through her love of hunting for antiques.
"She would find flea markets, estates, anything," he explains. John was her constant companion on trips that ranged far and wide, looking for anything new—trips that showed him far more than furniture. "We would go to sales at homes in the Hamptons and Connecticut, and I would see how they lived. It just opened me up." With each trip his notion of the world expanded, along with his ideas on who he could be within it and what he could call his own. "Coming from the South Bronx, you don't see those things," he says. "We would always find amazing pieces to bring back to the house. And we'd just display them all over the place."
Today, John's home showcases all the benefits of his early experiences with his grandmother and grandfather. John creates new worlds of his own using pieces from his ever-evolving collection of curiosities, art, and rare finds. In each room of his home the result is a highly curated experience—an artistic endeavor to be discovered, studied, and enjoyed.
Growing up, the same broad sense of style was all around him. "My grandparents' house was eclectic," he says with a smile. "There were a lot of different things going on. The style was a mix of Hollywood Regency, a little bit of '70s and some '80s as well." In every room there was an emphasis on keeping things nice, but one room was especially sacred. "The first room came before the living room," he remembers. "And the first room was like, 'You just walk through, you don't touch anything.'"
By the time he was fourteen, John, his mother, and his two brothers had moved from his grandparents' home into a nearby housing project. It was a hard transition. As is true for many Black families, his grandparents' home had been the unofficial center of life for his extended family. "My grandmother cooked every day. And on Saturdays all my aunts and uncles would come over and we would have a huge dinner. Fun times, good music, dance," he says. "That house just felt like love."
After the move it was a different story. Where his childhood memories were full of the outdoors and exploration, his teenage years were spent inside. "It was really a rough area," he reflects. "And I wasn't made for it at all. So I really wouldn't go outside because I just didn't feel like I was part of that environment." Without his grandfather's garden or his grandmother's antiquing trips, John's world grew smaller. And for the first time his understanding of himself didn't seem to fit within the space provided by his surroundings.
Spending most of his time inside, John's creative leanings found new expression through art. "My mom took me to art classes at the Bronx Museum of the Arts," he explains. "There were amazing artists from around the world who would come to teach. I started with watercolors and just evolved from there."
His evolution led from painting to drawing to fashion, taking him to New York's High School of Fashion Industries and then college at the Fashion Institute of Technology. "I was drawing garments," he says, "but I wanted to be able to make the garment. So I started taking pattern making. That's where I really started getting a lot more creative." Though an artist at heart, John would land a job in technology after school, working with computers at Goldman Sachs. The position would allow him to help his mother and eventually buy a condo. "I stayed with my mom at first so that I could take care of everything," he says. "She was able to finish high school and go to college. Now she's a nurse."
Once he had a place of his own, John began collecting things to fill it with. "I started collecting African art while I was at Goldman," John explains. "Every pay period, I would buy African masks. I currently have about seventy of them," he says with a laugh. "I am a collector. I'll take anything that I can find. It can be a sculpture, a painting, it could be a pencil, as long as it has a silhouette or something I can connect to."
This wide-ranging aesthetic is evident in his work today as a floral and event designer, and in his interior as well. John's collections have become so large that he has multiple storage units holding the items that won't fit in the condo. Meanwhile, at home, the visuals change so often that visitors a week apart might have completely different experiences. Still, there are some things that can always be counted on: A mix of bright hues is a must, along with a multitude of objets d'art on display. Stunning floral designs can be seen everywhere, weaving houseplants into artwork, while bold displays and visionary designs express the world as he sees it. Though his early career took him in the direction of technology over art, it was John's time working in an office that led him to design.
"People knew I had a fashion and design background," he explains, "so they would come to me to throw a party or a Bar Mitzvah, and I would create great events for them." After the crash in 2008 and the Great Recession that followed, with its disproportionate impact on Black workers, John was out of work and options. "I was applying for jobs and no one was hiring. I found a company that was hiring for seasonal Christmas design. I went in understanding that the position was only for two months. When they saw what I could do, they hired me full time to manage the floral department. That's how I got back into design," he says.
After studies in horticulture and apprenticeships under some of New York's best in floral arranging and event design, he found that he could do more with flowers than make them look good on a table—he could tell stories and create new worlds. "When I create a space or a table or an arrangement, I want you to be drawn into it," he offers. "I like things that stimulate your eye. So I try to find pieces that do that. It's like a conversation but played out visually." Combining bright visuals with eye-catching and unexpected objects allows John to be artist and curator all at once. While he's more comfortable combining the two roles than choosing between them, the only difficulty John finds is when people's admiration of his creations conflicts with their assumptions about who could have created it.
"I designed an event one time," he remembers. "And I'm the only Black person in the space. Everyone's looking at one of my pieces and admiring it, saying how amazing it is, but I'm standing next to it, completely unseen." The experience was not new to John. Even as a child, people had a hard time connecting him with his art because it didn't fit their image of what a Black kid from the Bronx could be. And even now, as he combs through his collections at his storage units, there are puzzled stares or awkward questions from those he encounters. "They usually assume that I'm working for someone who owns the unit," he says, rolling his eyes. "When they realize that I'm the owner, they get very confused, as if they can't imagine how I got all of this."
Whether in his grandfather's garden, his room in his mother's apartment, or now in his own place, home has always been where John can create without limitation and without explanation. The maximalism that seems to define his home is rooted in a search that has gone on since his first flower squash, his first look at a Connecticut estate. It's a search for the creative space to be who he is—all that he is—and for others to see him and all Black people as we really are. "We do everything," he says plainly. "I can do paintings. I can do planting. I do everything. And I want to be everything all at once. I just want whatever I do to be acknowledged and seen and understood by everyone, because Black people are not one thing."
Photo: Copyright 2022 by Patrick Cline. Published by Clarkson Potter, an imprint of Penguin Random House.