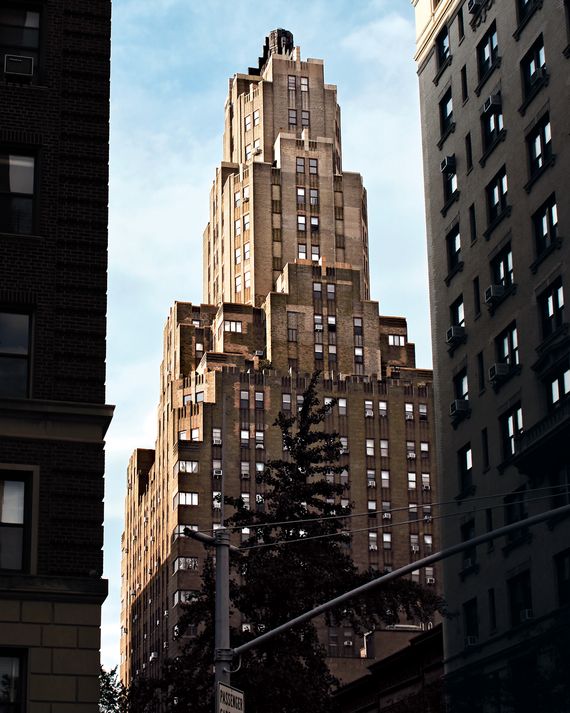 This article was featured in One Great Story, New York's reading recommendation newsletter. Sign up here to get it nightly.
It isn't readily apparent that the entirety of the Master Building, an imposing 28-story Art Deco skyscraper on Riverside Drive, was built with a single person in mind, though there are subtle signs: the 25-foot stupa on top, shaped like a stair-stepped pyramid; the cornerstone, inscribed with a circle and three dots.
The idea behind the Master began percolating around 1920, when the Russian painter Nicholas Roerich and his wife, Helena, arrived in the U.S. from St. Petersburg (by way of London). The (unusually charismatic) pair began leading small groups, where Helena transmitted guidance and teachings from an ethereal being she called "Master Morya." Their resulting movement, sometimes called Roerichism, quickly gained traction and wealthy followers — including the foreign-exchange broker Louis L. Horch and his wife, Nettie.
In 1923, Horch decided the Roerichs needed a bigger space. He purchased a mansion on Riverside Drive, between 103rd and 104th Streets, for $195,000 and, over time, several surrounding properties. Five years later, he knocked everything down and erected a soaring mixed-use arts tower for his guru. The idea was to house a consortium of Roerich-affiliated cultural institutions on the first three floors, including a museum for more than a thousand of Nicholas's paintings; the Master Institute; and an auditorium, a restaurant, libraries, plus apartments on the top floors. Horch secured Harvey Wiley Corbett, who had just finished One Fifth Avenue, as architect, and planned to construct the building as an apartment hotel, circumventing city height restrictions for residential buildings. Almost all of the nearly 300 units were studios and had serving pantries instead of kitchens, not unlike the Hotel des Artistes on 67th Street. A year later, the building was finished. Albert Einstein, unable to attend the opening because of illness, sent his congratulations via letter.
Less than two weeks after the Master opened, the stock market crashed. But even in the depths of the Great Depression, Horch had no trouble filling the apartments, many of them cork-floored studios with wide views of the river. The rent, $75 a month, covered maid service plus membership in the Roerich Society, whose benefits included access to activities. One week there would be a Bulgarian-folk-embroidery lesson, the next a lecture on biopsychoanalysis in Buddhism. Dance recitals were held often. The spiritualist George Wehner put together weekly séances with the English pulp writer Talbot Mundy and the costume designer Natacha Rambova in which they filled apartments with hymns and headbanging. Roerich's devotees, including Franklin Delano Roosevelt's secretary of Agriculture Henry Wallace, were often spotted in the building studying landscapes of Tibet in the galleries.
In the early '30s, the building started to feel the effects of the crash. The Master fell into receivership, and soon the Horches and the Roerichs were on the outs. ("Under the guise of spirituality, we have witnessed the service to egotism and self-glorification," reads one letter from the former to the latter.) The courts ultimately gave the building to Horch, who in turn shuttered the Nicholas Roerich Museum and booted Roerich loyalists from their apartments.
Yet the building continued on as a multi-disciplinary arts space. The Roerich Museum was replaced with the Riverside Museum, and guests flooded the theater to hear Dylan Thomas read poetry or to see productions directed by Gloria Monty. And artists kept moving in, drawn to the practice-friendly environment and the (relatively) cheap rent with a view. "There were two kinds of people," says Elliott Shapiro, who arrived in 1971. "Artists and people who had been there since it opened. My floor consisted of older women, all retired schoolteachers and social workers."
Over the years, it wasn't uncommon for clumps of similarly employed people to live near one another in the building. Throughout the years, there have been little communities of architects, tour guides, vocal coaches, and Broadway ushers in the building. "The ushers will catch you in the elevator and say, 'Can I get you house seats next Wednesday?' " says resident Peter Glebo. "I'm like, 'It's okay, I've seen Waitress three times.' " When Shapiro first moved in, he says there were a lot of Japanese businessmen around: "Young guys. Always wore beautiful dark suits." (This phase ended in 1972, when one of the men, Atashi Kurahara, was killed by a group of muggers on 103rd Street. Within the month, Shapiro says, all of the men had moved out.)
Shortly after Horch's death in 1979, the family sold the building. A few years later, the Master underwent a co-op conversion. Building-wide ownership kick-started the upscaling. In 1996, the building's board initiated renovations — repointing the exterior, restoring the entrance's cornstalk detailing, and installing sleek elevator doors with a geometric motif. Now, of course, there's a new disparity: the people who bought their apartments in the early days and have managed to hold on to them (some still cook their dinners in the squished kitchenettes) versus the new tenants — doctors, lawyers, and Columbia professors, who've scooped up multiple studios to renovate or combine. (According to one resident, Newsies! director Jeff Calhoun even managed to fashion a duplex by buying the apartment downstairs from his.)
What the Master is not is a family building. At the end of the day, it's still mostly studios — and the people who choose to live in them. "When you have all these studios in one place," says Tony Bien, who has lived on the 16th floor since 1976, "you wind up with a lot of loners. Some by choice, who do very well in their decision to be alone. And others who have been, fatefully, destined to be alone — and not to their liking. The result is that we have a disproportionate number of screwballs around this place."
The Marred Stupa
Tenants say the Buddhist shrine crowning the top of the structure was originally made of copper and that, during World War II, it was covered in black tar and asphalt to better conceal the building from potential air attacks.
The Semi-Legal Office of Dissent Magazine
After the death of its business manager Simone Plastrik in 1999, Dissent magazine was suddenly officeless. Soon after, a sublet was found for it in a studio on the 20th floor of the Master. "The co-op board looked the other way, even though businesses were not allowed, because, as the managing agent said, 'Dissent has a certain cachet on the Upper West Side,' " Maxine Phillips, the magazine's former executive editor, wrote in an essay for n+1. "The apartment's owner even lowered the rent when she found out who her subtenants would be."
The Corner Windows
The building was apparently the first in the city to have corner windows, though they weren't particularly well received — a critic for 'Architecture' magazine called them "a gimmick."
The Roerich Museum Up the Block
Two years after Nicholas Roerich's death in 1947, his loyalists installed whatever works of his they could find in a West 107th Street brownstone.
The Consolation-Prize Paintings
In order to save money with the building's insurance carrier, residents on the 16th floor had their ceilings knocked down in 2016 to move shut-off valves from inside their apartments out to the hallway. Resident Tony Bien suggested that those living on that floor have their maintenance fee reduced, but the board dismissed the idea. Bien settled on a simpler request: a few hundred bucks for purchasing and framing prints from the Roerich Museum to hang on their floor. The board agreed.
The Church Downstairs
For decades, the building rented out its auditorium space to the Equity Library Theatre, an actors' showcase founded in 1943. Resident Kathy Ralph says that while she was doing her laundry once, "this guy from Oklahoma! came through in chaps and shouted, 'Get out of the way. I have to make my entrance!' " Since 1993, the auditorium has been leased to Zoe Ministries, a church presided over by Master Prophet Archbishop E. Bernard Jordan.
The Fireproofing
According to resident Mary Beth Kelly, original owner Louis Horch was a pyrophobe, leading him to have the apartments' doorways and closets constructed of metal and the floors laid with cork tile. These prevention measures proved partly successful: When a fire broke out in an 11th-floor apartment in 1952, the damage was minimal.
The Musicians' Floor
The third floor has 13-foot ceilings because the units were originally used as musicians' practice studios. They have since been converted to apartments, but it's supposedly now the only floor where new residents are permitted to have baby-grand pianos.
The Recently Landmarked Lobby
In the mid-'90s, the board hired Beyer Blinder Belle, whose portfolio includes renovations of Grand Central Terminal and the Ellis Island immigration station, to create a dead air space as a buffer against the winds coming off Riverside Drive.
The
People
Who
Live
There
Inside six apartments.
Mary Beth Kelly, psychotherapist
Moved in 1995
"In 1995, my husband was reading the Times — this was back when they still advertised apartments. And he yelled to me from, I think it was the toilet, "Mary Beth, here's one. It's calling itself a 'Jewel in the sky.' " I said, "You know, they all say that." And I really had seen just about everything in our price range on the market at this point. When we walked into this apartment, which was Mr. Horch's, originally, it was pretty much a wreck. His daughter-in-law was living here, and it seemed like it hadn't been touched since the '50s. Then we saw the terrace. We walked out, and I turned to my husband, and I said, "We have got to give them the asking price within 20 minutes or we're going to lose this place." And so that's exactly what we did."
Elliot Shapiro, Retired Criminal-Defense Attorney
Moved in 1971
"When I moved in, the apartment was $212 a month. The building was a really good scene for a single guy. There were a lot of single girls living there, and a lot of them were artists because it was cheap and it was studios. The telephone booth was a big spot for meeting girls, when that was still there. I met two women down there who ultimately started coming by my terrace often at night. We would lie out there and look at the stars. People say you can't see stars in New York City. But you could see them from my terrace."
Belmont "Monty" Freeman, architect
Moved in 1991
"About ten years after I moved in, the lady next door died. She'd been rent-controlled, and the building's sponsor — the holder of the building's unsold shares — came knocking on my door one night. He's this very brusque, vulgar, New York–landlord–y–type guy, and he goes, "Want to buy that apartment next door?" I said, "Oh, sure, how much?" He said "$120,000." I said, "Oh, you're crazy. It's not worth half of that." And he said, "Oh, fuck you, I'm gonna rent it again." And slammed the door in my face. I freaked out, thinking I'd made the biggest mistake of my life. I was in agony for days. But then he calls me four days later, just as I was about to call him and tell him I'd scrounge up the money, and goes, "You're willing to give me 60? And if so, can you close next week, or do you have to fuck around with a mortgage?" I called my mother, who sent me a check for $60,000. Now I have this beautiful one-bedroom apartment with two terraces. Once, I got a totally unsolicited offer for $2.75 million for it."
Helane Rosenberg and Yakov M. Epstein, professor of Creative Arts and Professor Emeritus in Social Psychology
Moved in 2018
"We moved in three years after our daughter, Allegra, did, and two years before my son, Nathaniel, bought. He's 11 floors up, and if he needs to see me, or if he, you know, needs $20, he just comes bounding down. I'm on the board now, and everyone is always checking in on the kids. Someone every day will say, "Oh, Nathaniel is looking really good," or "God, what's the matter? He needs a haircut." Or different people on floors will tell me that Allegra seems really happy or will ask how her auditioning is going. Allegra was in Dickinson, the Apple TV+ series, and when the second season — which was much better than the first season — came out, I told everybody to watch it. They'd stop me in the hall and say, "Oh boy, she was so good in that one.""—H.R.
Allegra Heart Epstein, Actress
Moved in 2015
"My family has three apartments in the building. One day, my manager was like, "You know what? You guys |are the real-world Maisels." It's true: We're this neurotic Jewish family, we talk over each other, we're always in bouts of anxiety, and you never know who's going to be in whose apartment. I steal my parents' food and leave crumbs on the ground, which is how my mom always knows I was there. Just the other day, my mom was like, "You can't come at 4 a.m. in our apartment to get crackers anymore," which is annoying, but I guess I get it. We're all very comfortable with each other. Recently, my boyfriend's sister was staying |in my apartment, and we went over to my mom and dad's, and my dad was in the bathroom the whole time. And as we're getting ready to leave, I hear from the bathroom, "Bye, Allegra!""
Marcia Clark, painter
Moved in 2005
"I went to view a studio apartment that had been listed one day, and this guy — a building manager or something — whispered to someone that this space at the top of the building that used to be Roerich's meditation room was available. He wasn't eager to show it to me, but I kept going back and eventually got in. It was in extreme disrepair. Leaking everywhere. The elevator didn't go up to it because there was no space. But it was amazing. Tiny balconies on all four sides of the apartment; every room fans out from a central core. The windows aren't big, but of course I have a 360-degree view. I was doing Buddhist meditation at the time, so the idea of being in what had been his meditation hall was of interest to me. It has good vibes."
A
Sulcata
Tortoise
Recently
Moved
Onto
the
Third
Floor
In March 2016, one tenant (who prefers to remain anonymous) found himself unexpectedly living with a 35-pound sulcata tortoise. Here, his story.
"The community center I'd been working with thought it would be nice to have a tortoise, so I volunteered to find one. I called Lorri Cramer, the person JFK airport reaches out to when they apprehend someone trying to smuggle turtles. By the time Lorri found me a tortoise, my organization's building was under construction, so I asked this pet store on Broadway if he could stay there. Months later, they called me and said, 'Your tortoise is trying to mount the other tortoises. He has to go.' So now this rapey, violent tortoise lives in my small studio."
The son of building owners Louis and Nettie Horch, Frank was a part owner and building manager of the Master. In 1975, he was shot in the boiler room. The murder was never solved, but residents have their theories.
Theory 1: "The killer had to have known the boiler room was one of the only spaces Frank would go where the gunshots would be muffled, and the police found cigarettes the killer was probably smoking while waiting. My take? He was in way over his head with money." —Elliot Shapiro, a resident and retired criminal-defense attorney
Theory 2: "It must have been an inside job because even in the '70s, that building was very secure. You could not come into that building without being stopped. Twenty-four hours, there was somebody at the desk." —Rachel Yohannes, a former resident and Realtor
Plus, a Conspiracy Theory: Cryptologist Louis Buff Parry has explored in a documentary that the Stone of Jacob, from the Book of Genesis, was stored inside the building's cornerstone, which happens to be located in front of the boiler room — and that Frank's murder could have been linked to an attempt to steal the artifact.
The
Building's
Lecture
Series
Tends
Toward
the
Obscure
Every so often, the building's residents gather around the lobby stairs for a presentation.
Kathy Ralph, a former building board president, launched the periodic lecture series "Monday Night at the Master'' in 2012. Every few months, around 25 residents (and some outsiders) gather at a stairwell in the building's Riverside lobby, where a replica of Roerich's painting Treasure of the Angels hangs, to listen to a resident speaker selected by Ralph over wine and cheese. Despite the name, "it can also be 'Wine on Wednesdays,' 'Talks on Tuesday,' " she says. Lectures have included a Met conservationist detailing her restoration of the museum's Golden Harpsichord of Michele Todini and a live demonstration of Asian-style brush paintings. "I've been involved in t'ai chi and qi gong for like 40 years," says resident Elliot Shapiro. "I mean, I was taking karate in the early '60s. So I gave the building a few qi gong demonstrations."
How
to
Get
an
Apartment
Here
It's not overwhelmingly difficult to buy an apartment in the building. Right now, there are six on the market, and 13 have sold in the past year. Rentals come up occasionally as well — about one per month — and tend to cost around $2,000. Rachel Yohannes, a Realtor at Oxford Property Group, grew up in the building and, per one resident, occasionally gets information on apartments that aren't yet up for sale.
.

Four for Sale