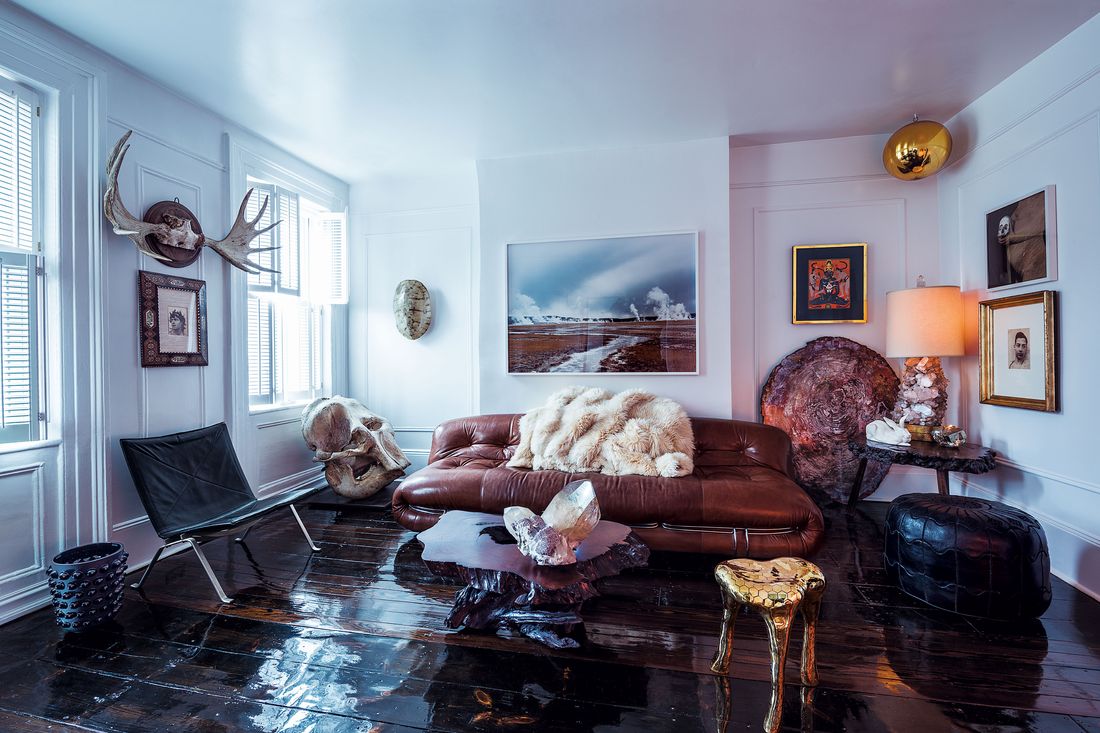 The Living Room:
"I am a fetishist when it comes to objects," Michael Reynolds says. "Every area is a shrine for me. I need things around me that hold energy and have history. Bone is very sacred to me"wood, stone, and bone. It's very shamanic to me." A photograph by Victoria Sambunaris from the Yancey Richardson Gallery hangs over the Tobia Scarpa couch, and a black leather Poul Kjaerholm chair from R 20th Century is against the wall. A nineteenth-century elephant skull on the floor in the corner is from the late antiques dealer Amy Perlin.
Photo: Francois Dischinger
This story was originally published in the May 6, 2013 issue of New York Magazine.
This is an East Village tenement railroad; we didn't want to rob it of its architectural integrity, whatever that means," Michael Reynolds says, sitting in the living room of the apartment he shares with Eric Hoffman, the very same apartment he remembers visiting as a little boy when his grandparents lived there. "We restored some of the details, but this is what it is, so let's make this our own tenement museum." Back in 1945, Michael's grand­parents, Caterina and Mariano D'Angelo, bought the building with savings from her work as a seamstress for Bergdorf Goodman. "My grandparents were put together by a matchmaker in Sicily who misled my grandmother into thinking that my grandfather had money, as she wanted to open her own fabric shop." That was not the case, and so they emigrated to America and then ultimately to the very spot Michael and Eric are sitting in today.
Reynolds, a freelance design editor, and Hoffman, who runs his own creative branding agency, moved into the apartment eight years ago, and although they have spiffed up the entrance and hallways with fresh paint and new hardware, the layout of the two original apartments, which his grandparents joined when they bought the building, remains pretty much the same. They did have a faux-wall door created in the living room — "à la Versailles" — to hide a functioning entrance to the living room, and they tore up layers of linoleum to unearth the original nineteenth-century floor planks, which they stained ebony. But no amount of work can stop the past from seeping out of the walls and ceilings. Nor would they want it to: "One of my earliest memories," Michael recalls, "is in the old dining room, now my office, when my grandmother would make macaroni. They would be hanging everywhere — she had a laundry line hanging in the dining room, and there would be macaroni drying on the backs of the chairs. We knew what we were having for dinner that night." Michael's parents also lived in the building when they were first married, before moving to Scarsdale to raise their family. Over the phone, Michael's father, Harold Reynolds, tells the story of his first encounter with Michael's mother. The year was 1950, and he had just a few coins in his pocket when he went into the D'Angelos' Italian grocery store on the ground floor. The girl at the counter had fair skin and black hair, and when he saw how much ham and cheese she was cutting for his sandwich, he had to warn her that he had only 35 cents. " 'Oh, that's okay,' " she said. "The man behind me on line said, 'I have never seen a 35-cent sandwich like that! If I were you, I would marry her!' " And so Harold did marry Josephine, the daughter of Caterina and Mariano D'Angelo. It would surely give Caterina satisfaction and pride to know that today Michael is back where she air-dried pasta, and to hear him say this: "Living here has made me embrace what I love about New York, and it really made me embrace Weegee photographs, and it made me embrace Lewis Hine and all his immigrant photography — those are all of my memories, like going to the bialy man with my mother. I was scared of the old tenants when I was little, but now there isn't anything that I wouldn't do to have them back."