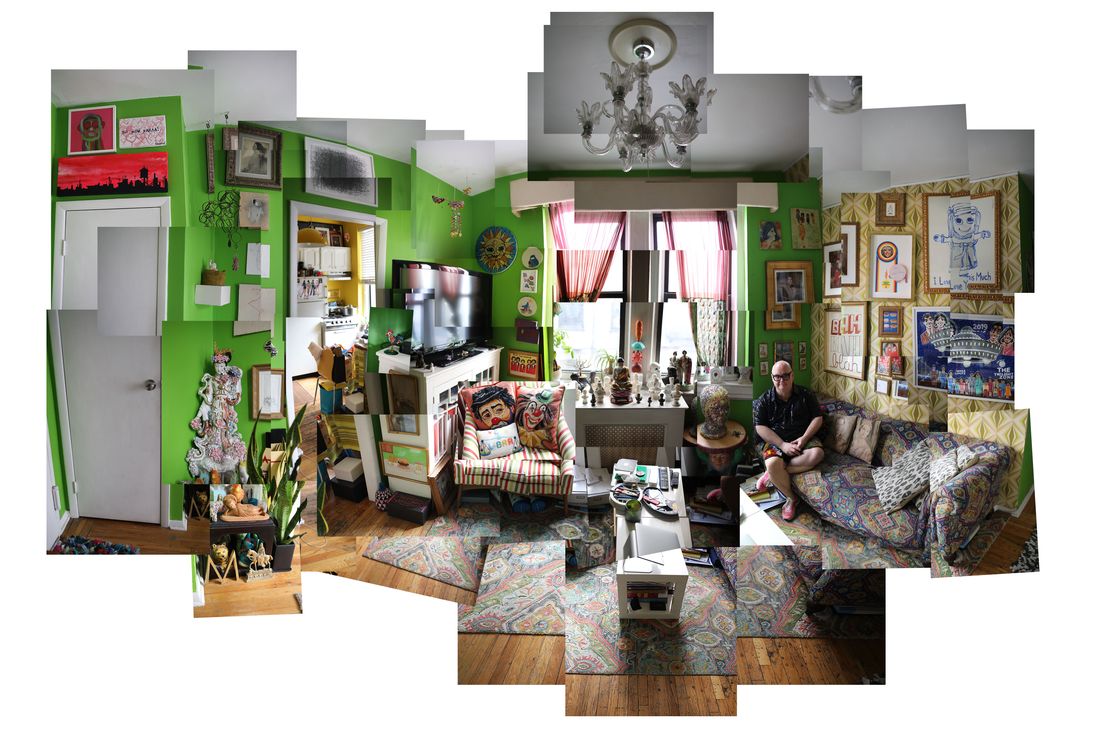 The living room.
Photo: Lucas Michael
I'm not exactly a hoarder," Mickey Boardman tells me as we sit amid the eccentric abundance of his living room. "I have hoarder tendencies. I can get rid of things — I just get new things faster than I can get rid of them."
Boardman has been at the epicenter of the downtown social and cultural scene for decades, seemingly invited to a certain kind of everything (once he was named one of the city's "Most Photographed Faces" by this magazine, which holds up). He moved to New York to study fashion design at Parsons, got an internship at Paper magazine in 1992, and basically never left. Better known as "Mr. Mickey" — the name he took for both an advice column he wrote and his branded clothing line for Live Rocket (he's pictured wearing his own designs from the collection) — he remains Paper's editor-at-large.
The paintings The Scream (1), by Oscar O'Neill; You're My Ideal (2), by Nikita Gudzovsky.
The corner art Sparkle Sun (3), by Tabboo!; a hanging piece (4) from the National Crafts Museum & Hastkala Academy in New Delhi; needlepoint art by Negine Jasmine Sekandari (5).
The clown pillows (6) were a gift from Kim Hastreiter; the Libra pillow (7) is by Jonathan Adler.
Boardman has an extensive collection of busts (Gandhi, Mary McLeod Bethune, and Harriet Tubman among them). Next to them, he keeps his Staffordshire figurine collection (8).
The ceramic goddess (9) is from Pearl River Mart. The reclining Buddha (10) is from the Kangra airport gift shop in Dharamshala, India.
An autographed tambourine (11) from Connie Stevens.
BLAH BLAH BLAH (12), by Tauba Auerbach.
The "sparkle head" (13), by Monica Valentine, is on a Philippe Starck gnome table (14).
"The sofa and rug (15) were found by one of my best friends, the interior designer Fernando Santangelo," says Boardman. "He made the curtains, too, from a fabric I bought in India."
Pillows made from tapestries (16) depict King Leopold III and Queen Astrid of the Belgians.
Since 1993, he's been living on the edge of Chinatown in a second-floor walk-up that has steadily become populated with the things that catch his eye, from a tambourine autographed by Connie Stevens, to Staffordshire figurines, to royalty-history books, to Phyllis Diller's paintings. Everything is in what might seem like a jumble, but each item, he explains, is actually meticulously curated, and the ebb and flow of objects and art establish an evolving order as time goes on.
"I don't even think I owned a pot or pan or anything" when moving in, Boardman recalls. "At first, I got everything at flea markets, thrift stores — clothes and collectibles more than anything, but I am terrible at visualizing what things can be in the end."
It got to be a bit much, even for him, so in 2009, he called on Drew Elliott, his friend and former co-worker at Paper, to do a makeover. "I asked him, 'How can I make order out of this mayhem and insanity?' " It took Elliott two weeks to establish a new way of living for Boardman, who relinquished stacks of magazines to make way for a gallery wall of art mostly by friends, including the painter Tabboo! (a.k.a. Stephen Tashjian), and needlepoint pillows (clowns from Kim Hastreiter; King Leopold III and Queen Astrid of the Belgians from interior designer Fernando Santangelo). There are also items from his travels to India and Nepal, where he helps support Citta, a nonprofit that builds schools, hospitals, and women's centers. His holdings might be added to and subtracted from, but they are here to stay. "It's so great to have a whole collection," Boardman says. "It also gives my shopping and perusing a focus, so I guess I could not buy anything, but at the same time, I just think the hunt is so fun."
I Love You This Much (17) is a watercolor by Tabboo! that he gave Boardman for his 30th birthday.
A painting of Boardman (18), by Scott Lifshutz.
Boardman in a mid-'90s photograph (19) taken by British artist Nick Waplington at a Visionaire party.
A wall of Phyllis Diller paintings (20) includes a portrait of Boardman commissioned by Kim Hastreiter. "You'd go to Phyllis's house and have cocktails and she'd tell jokes and then you'd look at the art — which all had little price tags."
A bedazzled COVID mask (21), by Eric Vidmar.
The fabric dolls (22) are from Angola.
The white and black bananas (23) are by ceramicist Carol Joo Lee.
Boardman's father's childhood desk and chair (24), which Mickey kept in his bedroom throughout his own childhood.