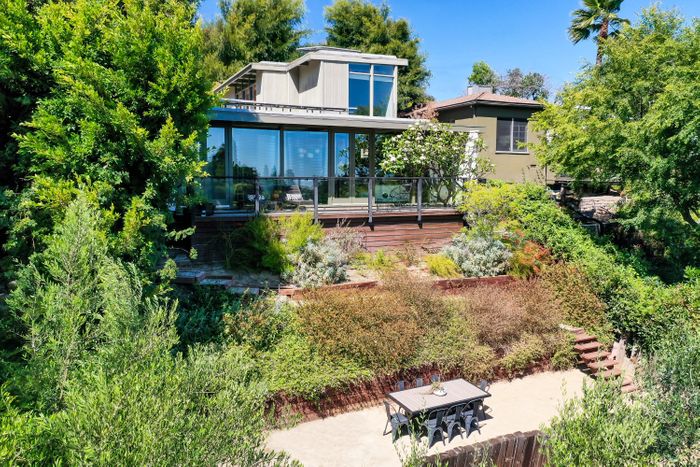 Photo: Photos by David Charbonier, courtesy of Tracy Do and Elias Tebache/Compass
This story was originally published by Curbed before it joined New York Magazine. You can visit the Curbed archive at archive.curbed.com to read all stories published before October 2020.
Location: Los Angeles, California
Year built: 1956
Architect: Eugene Kinn Choy
Specs: 3 beds, 2 baths, 1,718 square feet, 0.084 acres
Price: $1,995,000
Born in Guangzhou, China, in 1912, Eugene Kinn Choy immigrated to Southern California with his family as a child. A 1939 graduate of USC's School of Architecture, Choy established his own firm in 1947 and was the second Chinese American, after I.M. Pei, to join the American Institute of Architects.
In the late 1940s, after the U.S. Supreme Court ruled the enforcement of racial housing covenants unconstitutional, Choy became one of the first Asian American residents of Silver Lake. Along with his own family's residence, completed in 1949 and photographed by Julius Shulman the following year, Choy designed a handful of apartment buildings and single-family residences in the neighborhood, including this post and beam at 3022 Windsor Avenue on the southwest side of the Silver Lake Reservoir.
Originally a single-story two-bedroom, one-bath home when built in 1956, the house was expanded in 1973 by longtime owners Kiyoshi and Mizuye Kawaguchi, who hired architect Jack Levinson to add a second-story family room and bathroom. A subsequent owner had the hillside home revamped in 2008 by architect–interior designer Thomas Michna, who updated the kitchen and baths, replaced the spiral staircase with a straight one, and converted the upper-level extension into a master suite. Other updates include the addition of a water feature in the front courtyard, redwood deck, and new roof with solar panels.
But plenty of period details remain, among them beamed ceilings, narrow-ribbed wood paneling, a gas fireplace with a floating concrete hearth, and walls of glass with hillside (but not reservoir) views.
In addition to the sizable rear deck and front courtyard with barbecue, exterior spaces include a back garden with multiple terraces. Take a virtual tour here.