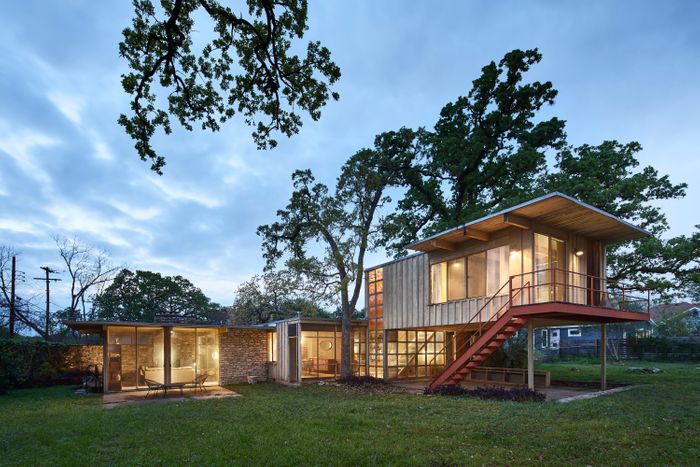 The elevated addition built in the '60s connects to the original structure through two stories of gridded windows.
Photo: Courtesy of Andrea Calo
This story was originally published by Curbed before it joined New York Magazine. You can visit the Curbed archive at archive.curbed.com to read all stories published before October 2020.
In Time Capsules, Curbed unearths homes hitting the market for the first time in a long time — or maybe ever — in hopes of finding mint-condition bathrooms, vintage kitchens, and plenty of original architecture.
Location: Austin, Texas
Year built: 1950
Last sold: 1993
Specs: 4 beds, 3.5 baths, 2,332 square feet, 0.56 acres
Notable changes: Elevated addition by original architect, enclosed front porch
Price: $1,590,000, including an adjacent 0.14-acre lot
Sitting on a leafy street in Austin's Hancock neighborhood, about ten minutes north of downtown and five minutes from the University of Texas at Austin campus, this classic post-and-beam house is advertised as both a vintage treasure "preserved in time" and (for those a bit more cynical) a "rare developer opportunity."
Designed by architect George L. Walling, an Austin native whose works spanned styles like Italian Renaissance Revival and French château, 4205 Caswell Avenue is one of his later-career designs with all the requisite mid-century details: floor-to-ceiling windows, tongue-and-groove ceilings, wood paneling, built-in shelving, a peachy Formica kitchen, and site-gathered masonry walls.
"The stone walls are probably what I first fell in love with, especially the simple rectangular slab facing the front door," says the home's current (and only second) owner. "That, to me, is the heart of the house."
He left many things just as he found it, from those stone walls to the kitchen counters and cabinets to the greige wood paneling and old sheds out back. A few interior updates added some pop and color: a cool-blue shag carpet in the living room, checkerboard cork floors in the kitchen, and bright tiles in the bathroom.
In the 1960s, the first owners, a pair of doctors who lived in the house until their 90s, worked with the original architect to construct an elevated addition, which connected to the existing structure via a stairwell enclosed by gridded windows; it's currently a studio-office above the ground-floor library. The only other structural change, also made by the first owners, was on the façade, where wood panels were added to turn a porch into more interior space, now a utility and storage hall.
In the current owner's time there, the surrounding homes haven't changed much either, with most neighbors favoring renovations over teardowns. The biggest, newest restoration is just around the block, where a historic Mediterranean Revival mansion on ten acres is opening this month as Commodore Perry Estate, a luxury urban resort interpreted by maximalist interior designer Ken Fulk.
The house, now on the market with an adjacent 0.14-acre parcel in tow (the bonus lot is asking $395,000 if purchased separately), sees three paths forward. A mid-century lover can scoop it up as is, renovate as they wish, and use the rear parcel for an accessory dwelling unit (ADU), pool, or extra-large backyard. A preservation-minded buyer game for a work-intensive local-landmark application could save the house for posterity — and on taxes if the application is approved. On the other extreme, someone unmoved by the architecture and undaunted by potential neighborhood opposition could try arguing for a teardown. According to listing agent Brian Linder, the lot could theoretically be divided into as dense of an arrangement as four lots with two units each — a main house and an ADU.
While Austin certainly has its share of high-caliber mid-century homes, time capsules without major updates are more rare. Although this house isn't currently a landmark, a plan to raze it would still have to be approved by the city's Historic Preservation Office. Linder spoke to a couple of staffers there who said they will "closely scrutinize" a demolition permit before allowing subdivision.